House Detailing in Tulsa
Your home needs care and attention to stay properly maintained and keep it looking (and feeling) great! However, it can be tough to schedule and keep on top of. Let Shack Shine take care of your home's maintenance work so you don't have to! We offer interior/exterior window washing, gutter cleaning, power washing, and Christmas light installation, all done by professionals who know how to treat your home right. 
We make it easy to keep your home looking its best. Call or book online today and we'll make sure you have the shiniest home on the block!
Cities serviced
Bixby
Broken Arrow
Catoosa
Coweta
Owasso
Tulsa
Tulsa
1-888-808-7751
Hours of operation:
Monday to Friday 8:00am to 6:00pm
Power washing services in Green Country
Shack Shine Tulsa can't wait to make your home the shiniest home on the block! The best part is – you don't even have to do the dirty work.
Our team of friendly, uniformed technicians will make your home shine in one detailed visit. Whether you need to shine up your outdoor living space for summertime with our power washing services or shine up your windows to let the sunshine in, we can help.
Looking to make your home twinkle, sparkle, and glow for the holiday season? Shack Shine will work with you to design the perfect Christmas Light display for your home. 
If you're ready to have a home that shines again, book your service today! Your home will love you! 
How it works
Step 1
Book your appointment online or by calling us at 1-888-808-7751

Step 2
On the day of your appointment, we'll arrive on time and complete the work in one detailed visit.

Step 3
Sit back, relax, and enjoy having the shiniest home on the block
Book Now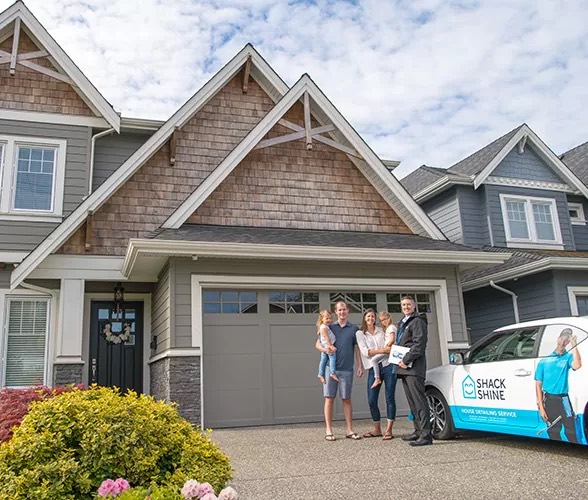 Shack Shine Tulsa
Patrick Teel
Hello! I am the proud owner of Shack Shine Tulsa. I love the home services industry and I jumped at the opportunity of being involved with Shack Shine because I firmly believe in its vision and core values: Passion, Integrity, Professionalism, and Empathy. Following extensive research into entrepreneurial opportunities, I have come to believe Shack Shine has the required leadership and systems to become the chosen brand in the home detailing business. I truly believe in its vision and culture of "People First".

I recently returned to the Tulsa area following a 34-year career working as a Soldier and Civilian for the US Army. I have extensive experience in customer service and leadership and believe that my experiences translate well to this industry.

I am proud to return to the area and want to be a leading member of the community and want to demonstrate to our customers our attention to detail and quality services you will be proud to show off.