Power Washing in Orlando West
Your home needs care and attention to stay properly maintained and keep it looking (and feeling) great! However, it can be tough to schedule and keep on top of. Let Shack Shine Tampa take care of your home's maintenance work so you don't have to! We offer interior/exterior window washing, gutter cleaning, power washing, and Christmas light installation, all done by professionals who know how to treat your home right. 
We make it easy to keep your home looking its best. Call or book online today and we'll make sure you have the shiniest home on the block!
Cities serviced
Apopka
Baldwin Park
College Park
Colonialtown
Horizon West
Lake Butler
Lockhart
Maitland
Mount Dora
Ocoee
Orlando
South Downtown
Windermere
Winter Garden
Winter Park
Orlando West
1-888-808-7751
Hours of operation:
8:00am to 7:00pm Monday to Sunday
Power washing professionals in Orlando West
Shack Shine Orlando West is proud to shine Orlando, one home at a time! Life is busy enough, and we want to make things easy for you, so you can enjoy doing the things you love with your family and friends.
Our window cleaning services will keep your windows sparkling all year round. Our team of professionals uses the latest in water purification technology to remove any built-up dust, dirt or pollen that can accumulate on windows.
Looking to give your driveway that extra shine? Our power washing services are just the thing that you need. Over time, dirt, algae and sand can build up, making outdoor surfaces look dull. The team at Shack Shine Orlando West will have your driveway looking new in no time, so you can enjoy some free time soaking up the sun! 
We don't just stop there – Shack Shine will shine up your home for the holiday season with our Christmas light installation services. Our team of professionals will work with you to create the perfect custom light installation for your home and complete the installation – leaving you with the brightest home on the block! 
Are you ready to take back your weekends? Call Shack Shine today for your free estimate! 
How it works
Step 1
Book your appointment online or by calling us at 1-888-808-7751

Step 2
On the day of your appointment, we'll arrive on time and complete the work in one detailed visit.

Step 3
Sit back, relax, and enjoy having the shiniest home on the block
Book Now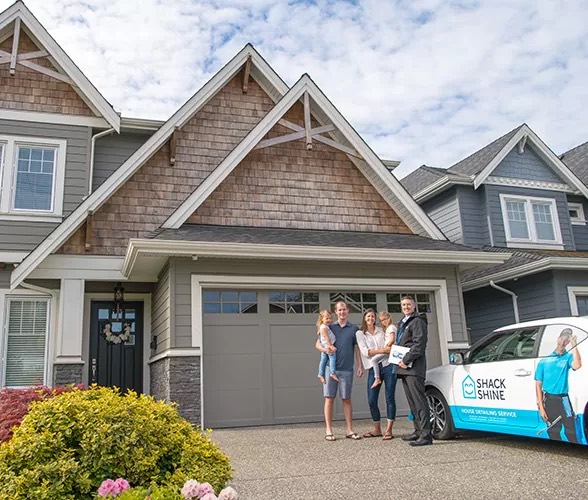 Shack Shine Orlando West
Ryan Moak
Hi, I'm the proud Franchise Partner of Shack Shine Orlando West. I love calling Orlando home and am excited to bring Shack Shine's exceptional house detailing services to the area. I firmly believe in the vision to become the chosen brand in this market and fully align with the principles and core values we live by every day: Passion, Integrity, Professionalism, and Empathy. When not making homes shine, I enjoy spending time with family and friends, exploring the beautiful city, playing tennis/golf and giving back to the community, including a passion for animal causes.
I look forward to meeting you!