Professional gutter cleaning in Seattle and nearby areas
When it rains, it pours—Seattle residents know this feeling as well as anyone. And when it comes to keeping your home well-maintained and in tip-top shape, having properly flowing gutters is one of the most important chores to take care of. If you're in need of a convenient gutter cleaning service from a friendly crew of professionals, you've come to the right place. At Shack Shine Seattle, our team is ready and waiting to take all the stress and hassle out of cleaning your home's exterior so you can take back some of your hard-earned free time. 
We're sure there are ways you'd rather spend your weekend than up on a ladder scooping muck out of your gutters, so let us take care of it! Doesn't an afternoon catching a Mariners game with friends or a family trip to the Woodland Park Zoo sound like a better way to spend your Saturday than cleaning out your gutters? Leave it to us—we've got you covered. 
Don't let your home get caught with clogged gutters on a rainy Seattle day, give us a call now! Learn more about our gutter cleaning services in Seattle below.
How it works
Step 1
Book Your Service Online or by Phone
Step 2
We'll Complete Your Service in One Detailed Visit
Step 3
Enjoy Your Happy Home with Clean, Flowing Gutters!
Book Gutter Cleaning
Making Seattle homes shine like new again
We all know that gutter cleaning is an easy chore to put off until next weekend—what's the big deal, right? Not quite! The last thing you want is to be caught on a rainy day with clogged gutters. Not only does this make your home look less than its best, but it can also cause further damage over time. Clogged gutters tend to overflow when it rains, causing water to run down your walls and pool around your home's foundation. This creates the potential for erosion, cracks and settling in the foundation along with damage like rot to your walls. Damage like this is much more expensive and inconvenient to fix if it occurs, so let's make it a non-issue! 
Once we've thoroughly cleaned out those gutters, we'll run water through them to make sure everything is flowing properly. We'll also make sure to wipe down the outsides for a sparkly clean look! Our crew will move any outdoor furniture as needed and return everything where it belongs once we're finished. There's nothing we love more than a job well done! Leave the ladders, water and wet debris to us—we've got you covered.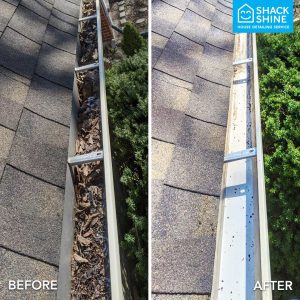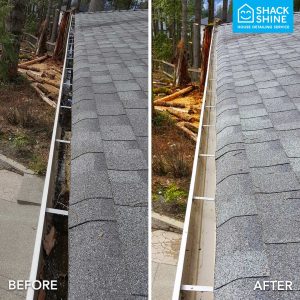 Cities we service
Bellevue

Issaquah

Kent

Kirkland

Maple Valley

Medina

Redmond

Renton

Sammamish

Seattle

Woodinville

 
Gutter cleaning services we offer
Interior gutter cleaning

Outside gutter washing

Soffit and fascia washing

Roof blowing for debris removal
Gutter cleaning FAQs
Q: How do you clean customers' gutters?
A: At Shack Shine, we clean gutters by hand and with good old fashioned scoops. For more stubborn build up, we can also break out the latest gutter cleaning technologies, including high-powered vacuums.
Q: Why is gutter cleaning important?
A: Gutters funnel water off your roof and safely into your home's perimeter drainage system. When clogged, water can overflow and leak into your home's walls and foundation, causing major damage in the long term.
Q: How often should I have my gutters cleaned if I live in Seattle?
A: We normally recommend that customers get their gutters cleaned at least twice a year, in the spring and fall. In a climate like Seattle's, however, frequent rainy weather may be cause for an extra cleaning or two throughout the year. If water isn't flowing through them properly and pooling anywhere around your home, it's time to give us a call! 
Q: How much does gutter cleaning in Seattle cost?
A: The final cost of our gutter cleaning service will largely depend on the size of your home and whether you need any other services from our friendly crew during their visit to your home. If you need more info on our pricing, we're always happy to come and provide you with a free, zero-obligation estimate for our Seattle gutter cleaning service.