House Detailing in Abbotsford
Your home needs care and attention to stay properly maintained and keep it looking (and feeling) great! However, it can be tough to schedule and keep on top of. Let Shack Shine take care of your home's maintenance work so you don't have to! We offer interior/exterior window washing, gutter cleaning, power washing, and Christmas light installation, all done by professionals who know how to treat your home right. 
We make it easy to keep your home looking its best. Call or book online today and we'll make sure you have the shiniest home on the block!
Cities serviced
Abbotsford
Aldergrove
Chilliwack
Mission
Shack Shine Abbotsford
1-888-808-7751
12231 Senda Court, Mission, BC, V4S 1B8
Hours of operation:
8:00am - 6:00pm Monday to Satruday
Professional house washing in Abbotsford
Are the wet winter months getting the best of your home? Shack Shine Abbotsford wants to help you! Our professional house washing services will remove the mold and mildew that builds up as a result of the wet, muggy weather. Not only will you be protecting the longevity of your siding, but you also have the shinest home on the block! 
Looking to prepare your home for the rainy season? Shack Shine's gutter cleaning services will do just that. Our team of professionals will remove the leaves, dirt and debris that can accumulate in your gutters over time. You'll have peace of mind knowing that your gutters are flowing once the rain hits. 
We don't just clean the exterior of your home, we also light it up too! Shack Shine's Christmas Lights installation service will make your home twinkle, sparkle, and glow for the holiday season. You'll be able to custom design your lights display with our team, and we'll take care of the hard work. Our teams always hang your lights and check them twice!
Are you ready to put some time back in your calendar to catch a concert or sporting event at the Abbotsford Center? Call Shack Shine today! 
How it works
Step 1
Book your appointment online or by calling us at 1-888-808-7751

Step 2
On the day of your appointment, we'll arrive on time and complete the work in one detailed visit.

Step 3
Sit back, relax, and enjoy having the shiniest home on the block
Book Now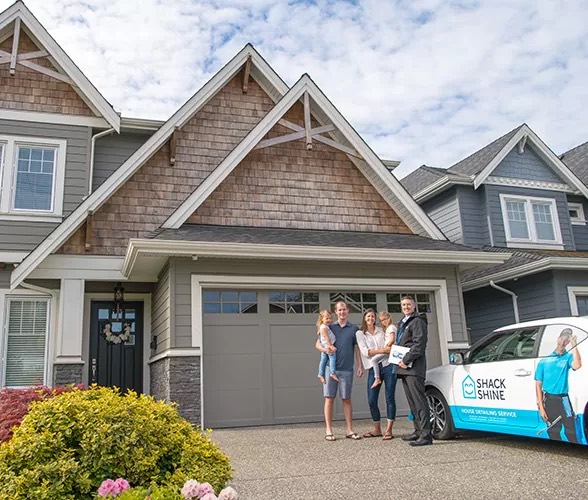 Shack Shine Abbotsford
Cody Smith
Hi, my name is Cody Smith and I am the Franchise Partner from the Shack Shine Fraser Valley region. My drive and passion for taking care of people and their homes are perfectly timed for me and my team of dedicated workers. I am excited to shine homes and make them sparkle beautifully for you.
I enjoy the area we are in and have so much respect for our community as it's home to my family and me. I look forward to meeting more of the people here in our community. Your home is a place that you take pride in. I take pride in making it look like your dream with my attention to detail.
As a family man who enjoys all of the outdoor experience when I'm not shining homes, I'm with my 13-year-old daughter Allyson and fiancé, Tera finding some water. We make it a habit to explore BC and its gorgeous scenery. I appreciate your time in getting to know my team and me better.
We service all of Chilliwack, Abbotsford, and Aldergrove currently.