Window cleaning service in Calgary and surrounding areas
Are you tired of looking out the window for that beautiful view and only noticing fingerprints, smudges and stains? We know what that's like—and our crew of friendly, professional residential window cleaners is ready to make them shine like new! We'll take care of both the inside and outside of the windows, even getting to all those hard-to-reach areas so you don't have to spend your weekend tip-toeing on a ladder. 
Window cleaning might be an easy chore to put off, but having a home full of sparkling, streak-free windows makes all the difference when you, your family or guests walk through the door. Between Calgary's icy winters and rainy, humid summers on the outside and all those marks from dust, kids and pets on the inside, your home will thank you for calling the window cleaning pros at Shack Shine Calgary. We're ready to take care of this pesky chore so you can take back your weekend! Doesn't a trip with the family to the Calgary Zoo or a day out at Stephen Avenue Walk with friends sound like a better way to spend your Saturday than cleaning windows? We've got you covered.
How it works
Step 1
Book Your Service Online or by Phone
Step 2
We'll Complete Your Service in One Detailed Visit
Step 3 
Enjoy Your Happy Home with Clean, Streak-Free Windows!
Book Window Cleaning
Window cleaning near you, done right
When your local Shack Shine team comes to your home, you can always count on us giving the same level of care and attention to detail that we would in our own homes. Our crew can clean just about any type of window, including single pane, double pane, french pane, skylights, glas panels, storm windows, patio covers, solariums and more! If it's made of glass, our crew will make it look like new again—we've got the right equipment for the inside and outside of just about any window.
We use the latest water purification technology to make sure that new shine on your window is completely free of any spots or streaks. For those high-up and out of the way windows, we use water-fed, carbon fiber extension poles to reach and clean them with maximum efficiency. If a little extra attention is needed for that like-new look, we'll use a microfiber cloth in those stubborn spots. We're all about a job well done—one visit from our crew, and those windows will shine so bright you need to throw on your shades!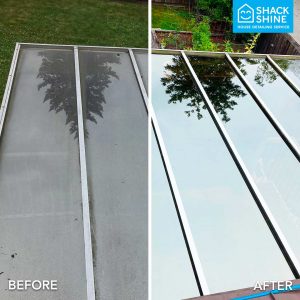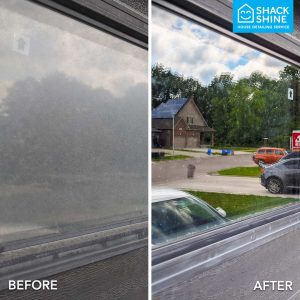 Cities we service
Shack Shine Calgary is happy to offer our window cleaning services in the following cities:
Bragg Creek

Calgary

Chestermere

Okotoks
Window cleaning services we offer
At Shack Shine Calgary, we offer an array of professional window cleaning services to meet the needs of your home
Exterior window cleaning

Interior window cleaning

Storm window cleaning

Glass rail panel cleaning

Skylight washing

Screen cleaning
Gutter cleaning FAQs
Q: How do you clean windows without streaks?
A: For interior windows, we utilize a tried and tested applicator and squeegee method using filtered water and biodegradable window cleaning solution that doesn't leave hard minerals behind, which makes your windows sparkle, not streak. For exterior windows, we use a telescopic water-fed pole reaching up to five stories high with water that's purified through our advanced four-stage water purification system to ensure crystal clear and sparkly windows and frames.
Q: Can you wash my windows in the winter?
A: We can clean your windows just about any time you like, but doing so during the winter may not serve you the best in the long run as Calgary sees lots of rain, snow and ice during this time. If you're not sure when the best time is for window cleaning, give us a call! We're always happy to help however we can. 
Q: How often should I have my windows cleaned in Calgary?
A: As much as you like! At the bare minimum, we recommend twice a year—in the spring and fall—to help increase the longevity of your home's window glass, but we also know that windows can become dirty quicker than most of us would like. In that case, we're always happy to come out for an extra cleaning!
Q: What window cleaning solution do you use?
A: We simply use filtered water with a touch of biodegradable window cleaning solution. The purified water ensures there's no streaks from minerals, and our biodegradable solution prevents any damage to the surrounding landscape.