From Gunnery Sergeant of the U.S Marine Corps to Business Owner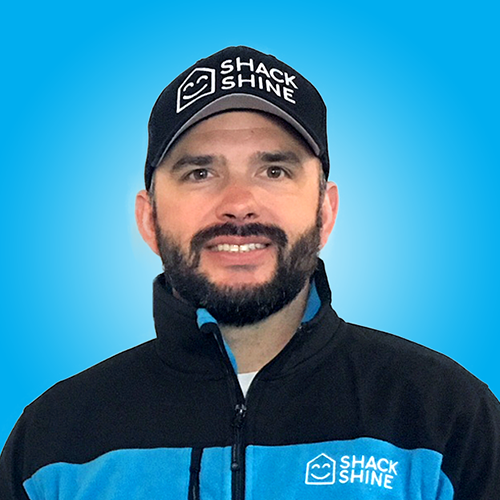 For a business to thrive, it needs a natural born leader — and as a former Gunnery Sergeant in the U.S. Marine Corps, Adam Snouffer was made to take a team to victory. For nearly 20 years, he honed his leadership skills by working his way up through the ranks. But when he retired, it was time to put his experience toward something he'd always been dreaming of: business ownership. Here's how he became a franchise owner with Shack Shine.
Why did you choose Shack Shine?
I chose Shack Shine because of the company's concerted effort to bring quality to the home services industry. I also wanted to join the O2E Brands family because of their passion for people and finding the right fit for their culture.
What was your background prior to Shack Shine?
I was in the Marine Corps for 17 years (13 years active and four years reserves). I made it to the rank of Gunnery Sergeant, and my last billet held was as a Platoon Sergeant, in charge of 40 Marines and 12 Amphibious Assault Vehicles.
What are you looking forward to most about being a Shack Shine business owner?
I'm most looking forward to finding and employing the right people, and building something and watching it grow. I truly find solace in others achievements, and to help facilitate that is very gratifying.
What are your passions outside of work?
I enjoy golf, BBQing, jet skiing, and riding motorcycles.
How are you involved with your community?
I recently joined a veterans networking group, with emphasis in volunteering to give back to the community. Personally, I would like to focus on hiring veterans for my franchise, as I know first hand how tough the transition can be to go from warfighter to civilian.
What makes San Antonio unique?
Definitely the city itself! It's home to the Alamo and the Riverwalk, it is a very family friendly environment for a metro, and you can even wake up in the morning and see deer feeding in your front yard.
Fun facts about you, or anything else you'd like to share?
Like I previously mentioned, during my last billet in the Marines, I had 12 Amphibious Assault Vehicles with a platoon of Marines. I want to do the same now, only with O2E Brands trucks and employees. I'd like to build up my "platoon" and maybe one day I'll own four of each emerging brands!
Read More News