Shack Shine in the news
You may have seen us in Forbes, the Globe and Mail and Shaw TV. Check out our best media hits, and our monthly column in Forbes below.
Follow Shack Shine's series on Forbes: Notes from a Startup Launchpad
The Most Important Lesson for New Entrepreneurs
Anyone new to business may not realize that learning how to raise the capital to get started is the first step to entrepreneurial success. Read more about "finding the money" from Shack Shine CEO, Brian Scudamore, and Managing Director, Dave Notte.
Read this article on Forbes.com
 How to Create an Amazing Workplace Culture from Day One
Shack Shine stand out as the young and vibrant new kid on the block In the O2E Brands family largely due to the culture created by founder and managing director, Dave Notte. Learn how Dave created an awesome culture at Shack Shine in just over a year, and how you can grow a successful startup culture, too.
Read this article on Forbes.com
When the Rubber Hits the Road
In this second instalment of Notes From A Startup Launchpad , we share the value of investing time, heart, and just a little bit of grit to get a startup off the ground – right.
Read this article on Forbes.com
Trust Your Gut, Take a Risk
Brian Scudamore could see beyond Shack Shine's catchy name. A house detailing service (windows, gutters, and power washing), built on providing an exceptional customer experience in an industry didn't have a recognizable category leader made Shack Shine the perfect fourth addition to the O2E Brands family.
Read this article on Forbes.com
---
Watch our Legendary Huddle
Huddles aren't just for football players. Every day at 10:55am, everyone at the Junktion stops what they're doing and comes together for a 7-minute stand-up meeting. Not only does it connect everyone, it makes us a stronger team and it cuts down on a LOT of needless emails and meetings. Franchise Partners participate in this key part of our company's culture by phone or in person when they visit the Junktion.
Why Taking Time Off Can Benefit Your Business
Whether you're just starting out or midway into a startup, it's common to feel like you've run out of ideas and passion for your business. This is where Shack Shine Managing Director, Dave Notte, was before he started the company. Dave went on a one-year vacation where he conceptualized Shack Shine. Learn more about how Dave spent his year and how he came to the conclusion to start a house detailing business.
Read this article in the Globe and Mail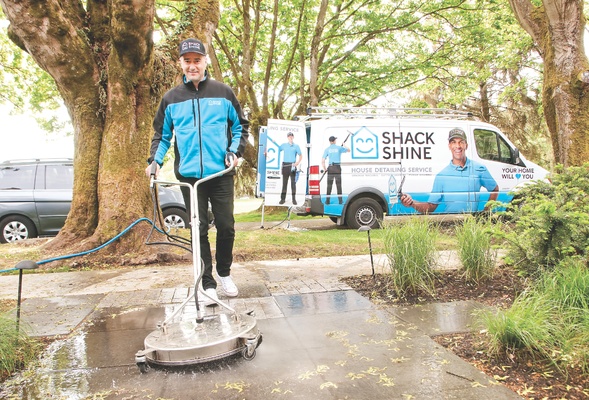 Successful Franchise Entrepreneurs Share Expansion Lessons
Founding a successful franchise brand is challenging enough for most entrepreneurs, let alone overseeing several additional ones. Read more the lessons serial entrepreneur, Brian Scudamore,  has learned from launching Shack Shine, O2E Brands' fourth home services company.
Read this article in Business Vancouver
Brian Scudamore on Shaw TV with Fiona Forbes
Brian Scudamore tells Shaw TV's Fiona Forbes how we're taking the ordinary business of window and gutter cleaning and making it exceptional through Shack Shine.
Request Information