3 Reasons Why You Need to Clean Your Rain Gutters Regularly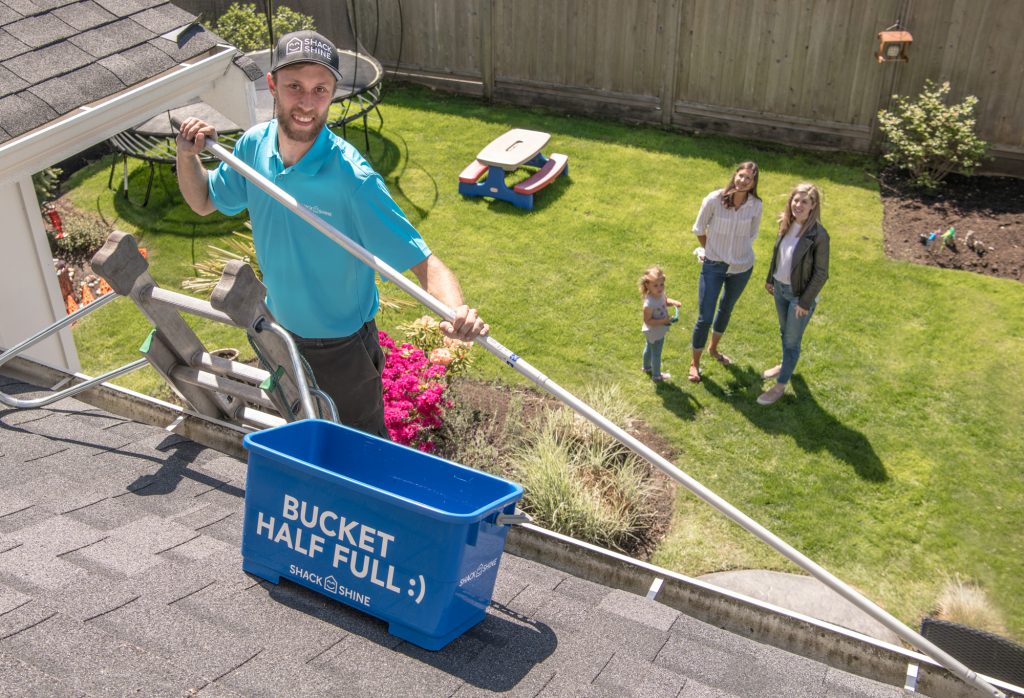 We have two questions for you today:
Question #1: Have you taken your cozy sweaters out of your clothing storage yet? 

Question #2: When was the last time your home had a thorough

rain gutter cleaning

?
Ok, ok, these questions may not be related to each other, but if you think about it, they kind of are. 🙂 
Fall and winter bring so many cozy, heart-warming experiences for you and your home. Think pumpkin spice lattes or Christmas lights, or both!
Back to your gutters – if you can't remember when you last had them cleaned or have noticed a waterfall forming by the side of your home, it might be time to get them done again! 
Gutters may not be the first item on your mind when it comes to making your home happy, but they play an important role in keeping your home smiling and safe. Here are the three most important reasons why you should have your gutters regularly cleaned.
#1) Prevent Water Damage to Your Home
When clear, a gutter can safely catch, carry, and dispose of rain. However, if the gutter is blocked by debris, the water is no longer able to be safely carried away and begins to overflow. As the water pools over the sides of the gutter, it creates one of those waterfalls you may have seen around your house. The real issue comes from the side of the gutter that is facing your home. The water from the gutters can pool onto your roof and cause expensive internal and external damage to your home.
If you have noticed any waterfalls forming around your home during rainy days, be sure to give our friendly gutter cleaning technicians a call!
#2) Protect Your Roof and Gutters
As you can imagine, a gutter full of debris and water build-up can be quite a bit heavier than the steady flow a gutter is intended for. Too much extra weight can actually damage your gutters and cause them to sag.
Not only can having clogged gutters damage the gutters themselves, but it can also damage your roof. Continuous exposure to overflowing water can rot away shingles and lead to leaks and mold.
#3) Discourage Pests
Did you know clogged gutters make great homes for all sorts of critters? Yikes! 
Rodents in particular love to build nests in clogged gutters. Once a critter sets up shop in your gutter, you can be sure it will be on the lookout for snacks around (or inside!) your home.
Not a fan of furry freeloaders? Regular gutter cleaning is a great way to discourage any unwanted house guests from calling your gutters their home.
Gutter Cleaning With Shack Shine: Your Home Will <3 You
Regular rain gutter cleaning is an important part of maintaining your home that can often get lost in the shuffle of hectic schedules and busy weekends. And that's okay!
At Shack Shine, we make it easy and convenient to keep your home safe and shiny. Our rain gutter cleaning services ensure that your home is ready for the changing seasons by clearing your gutters of whatever the weather may bring. For a free estimate for professional gutter cleaning services, don't hesitate to contact our friendly, uniformed technicians today!
Read More News