A Lifetime of Entrepreneurship, A Legacy for the Future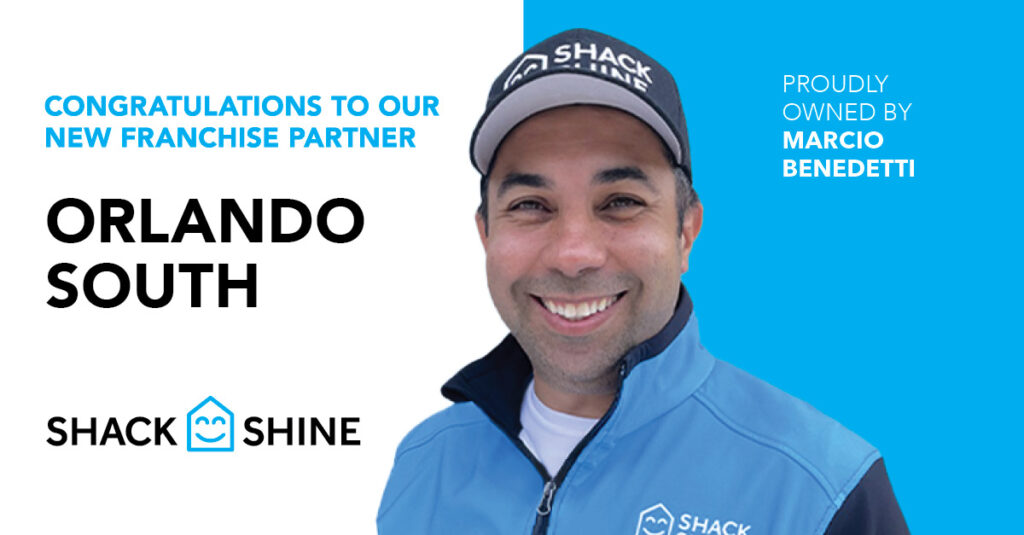 For some entrepreneurs, business ownership is a lifetime, and a lifelong, career and pursuit. Marcio Benedetti is one of those business owners; someone who's been in ownership and operation for a large part of his life. When it comes to his current business—his Shack Shine business currently serving Orlando South—he's got a ceiling from his previous business along with a vision of leaving a meaningful legacy for his daughters to thank as the catalyst for helping him find and pursue the magic of being a Shack Shine franchise partner.
When we say 'lifetime business owner', we mean it; Marcio has been a self-made entrepreneur since about 13 years old. Drawn to the challenge of business ownership and with a sincere enjoyment in every aspect of business—customers, employees, marketing, operations—Marcio approaches his customers with a focus on treating them like family; a core tenant to all his businesses – Shack Shine inclusive.
Finding Shack Shine was part timing-, part chance-, and part change-fuelled. Shortly after moving his family to Orlando, Florida (after living in Washington, DC for 11 years), Marcio didn't sense he was in the space, or that it was the time, to grow his cleaning company. Since there was so much change already afoot, he knew whatever he did next he'd need a sense of support to make it happen. Accessing a system where sales, marketing and overall support were all in one place fit the bill very nicely.
One of the ways Marcio wanted, and has been able, to leverage the franchise model is around growth. Scaling—while a challenge in his previous cleaning business—has been able to happen fast – which he credits to franchising. And a big draw to Shack Shine? Its relationship to 1-800-GOT-JUNK?'s tenure and stellar systems.
Beyond the great brand recognition and reliable and proven systems, Marcio's experience in home flipping and renovations gave him exposure to the home detailing industry – making Shack Shine a relevant business to his professional expertise. Yet, the biggest draw to the business wasn't any of those reasons – but the magic around this business. In Marcio's words:
'Offering something simple but making it exceptional for the customer…that really spoke to me.'
Since moving to Orlando, Marcio and his family have learned a lot about the area. One thing that stands out? How much pride people take in their homes, and how many opportunities there are to help them bring out the best in their exterior home care – no matter the season. Marcio even made sure to note how excited the Christmas light season gets him!
He's in it to keep up his lifetime journey of entrepreneurship alive, to serve his customers with a feeling of family, and to focus on family outside the business itself; Marcio's out to create a meaningful legacy for his two daughters: something they can be proud of.
It's been a thrill to watch Marcio grow his business since it launched in 2021 – and we can't wait to see what he does with it in the years to come!
Read More News