A Well-Timed Leap Into A Long Time Goal; How Houston West Landed Their Own Shack Shine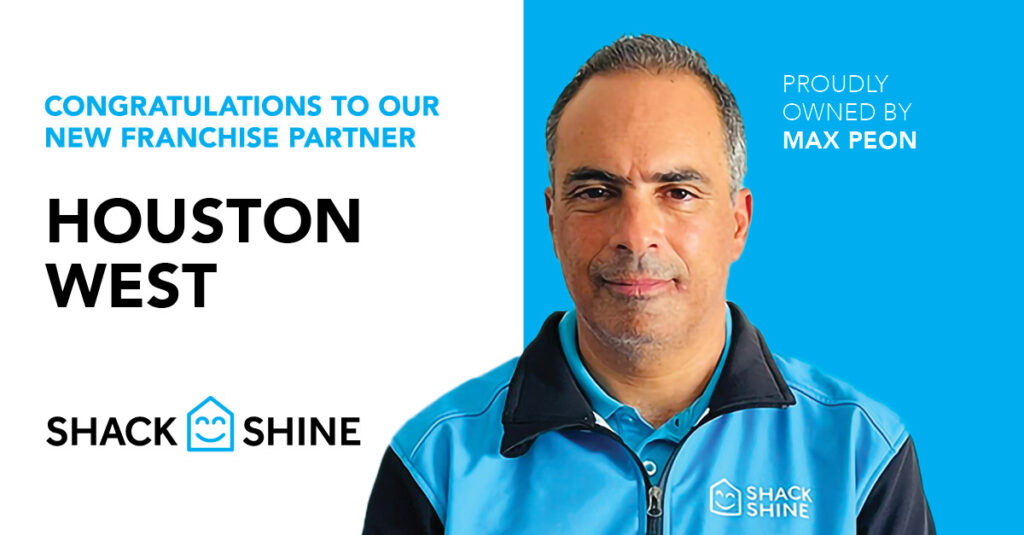 The idea got planted in California, and the business got built in Texas. That's the beauty of friends starting new, exciting chapters, and you starting one too…in a whole other state and city. Because if the Shack Shine franchise in San Diego was freshly launched – that didn't mean that Texas wasn't primed and ready for a franchise of its own, right? Right.
It wasn't that simple – yet that's the story of Max Peon and the Houston Shack Shine. Well part of it, at least.
The stars aligned when a friend introduced Max to Shack Shine: he was at the precipice of a personal transition (a move to Texas), with a career's worth of experience in helping other people build companies, and a healthy sense of urgency in chasing a lifelong dream of starting his own business.
After learning about Shack Shine, Max reached out to the franchising team to see what the possibilities in his prospective territory looked like. At the time, the franchise in that area was taken; someone had paid for it and was just about to move to open the business. Slightly disappointed but still curious about other business ownership opportunities, Max continued looking for other options. Then, an unexpected message landed in his inbox: the move didn't go through, and the franchise in his specific territory was freshly available.
Building his own business delivers on a longtime desire to do for himself what he spent years doing for other people: bringing his expertise and experience in systems and processes (an Engineer by trade, he's got this skill dialled) to build thriving businesses. With a career's worth of experience offering his skills to others, he's ready to see his focus and attention to detail show up in the kind of business, kind of community and kind of team he can build on his own. His version of success? Putting in the hard work and reflecting on the goals he's able to achieve along the way.
Landing in Houston's West side, Max has found himself establishing his community and his business surrounded by people just like him; families with family homes that they care for and care about. The community's got major growth potential – meaning so does the families he can support in caring for their properties.
Beyond working to grow and expand his business, Max is in pursuit of a life filled with movement, family, and friends. He's living into a purpose of helping people and finding ways to bring his skills and passion for how processes can make life—and business—flow with so much ease, enjoyment, and space to expand into.
Read More News