The Best Time to Clean Your Home's Exterior
Do you ever wonder when you should have your home's exterior cleaned? Are you able to list off all the cleaning tasks that need to be done for the interior of your home but have no idea where to start for the exterior? Shack Shine has you covered! We've broken down all the services and times of year for our House Detailing services so your home can twinkle, sparkle, and glow all year long.
What exactly is house detailing, and when does my home need it? Think of House Detailing as the cleaning jobs required for your home's exterior. Lucky for you, Shack Shine's services cater to exactly that! We've broken down each service and timing in this article so that you can keep your home shining all year long.
Keeping your home clean is a year-round job, both inside and out. Regular window, gutter, power washing, roof, and house washing services can help you maintain your home's beauty and value while minimizing the risk of damage to your property. The environment and climate will determine when and how often you should book specific house detailing services. Luckily, the team at Shack Shine makes it easy for you!
Window Cleaning Services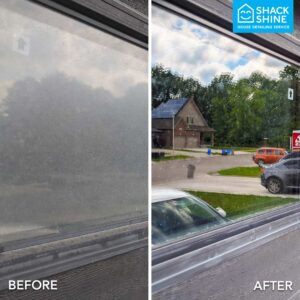 Having bright, shiny clean windows helps you soak in every last drop of sunlight in your home. Slowly but surely, environmental elements such as dirt, dust, sand, or even pollen can begin to leave a film on your windows, decreasing the light in your home.
A good rule of thumb, no matter where you live, is to have your windows cleaned twice yearly. We suggest once in the spring to enjoy the sunlight and look out into crystal clear windows; and once in the fall, to keep the heat in as the weather starts to cool.
Ensuring you have your windows cleaned regularly will help prolong the life of your windows, prevent scratching from accumulated debris, and save you money in the long run.
Gutter Cleaning Services
If you live in a region that falls victim to heavy rainfall, you may know what it's like to have an overflowing gutter scare (hopefully not, though!). Having your gutters cleaned twice yearly will alleviate the buildup of leaves, dirt, sludge, and debris. These elements can accumulate in your gutters, allowing the rain to flow freely away from your home's foundation.
So when is the best time of the year to have your gutters cleaned? We recommend the spring after leaf residues have had time to settle in the gutters and again in late fall before winter sets in for good. Cleaning gutters at these times will ensure that your gutters are clear and free-flowing for when the rain comes so that your gutters can direct rainwater away from your home's foundation.
If gutters are left uncleaned for too long, water can't flow away from your foundation. Instead, misplaced water will leak down your siding to your foundation and slowly deteriorate it, leaving you with costly and inconvenient repairs.
Power Washing Services  
Power washing is essential to keep your home looking its best throughout the year. Almost any exterior surface could benefit from power washing to keep it clean and shiny such as walkways, decks, patios, and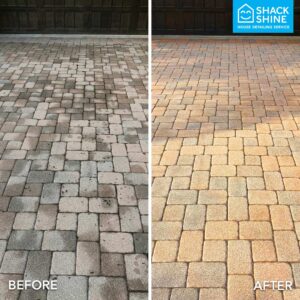 other outdoor surfaces.
The high pressure of a power washing washer removes almost any environmental element like dirt, grime, mold, mildew, algae, pollen, and other pollutants that have accumulated over time.
No job is too big or too small! Depending on what you're looking to have power washed, we recommend aiming for once a year. We suggest a power washing service just before you enter the season when you will spend the most time outdoors. Spaces such as living areas, pool decks or patios typically are cleaned before the time of the year you will utilize outdoor spaces the most. This will ensure that any dirt, algae, or sand has been removed so you can enjoy your sparkling outdoor living spaces. May and June are the most popular to book this service in the northern USA and Canada. In the southern areas of the USA, spring and fall are both popular months for this service because of the milder weather.
House and Roof Washing Services
The double whammy! These two can be completed independently, but they are a powerful combination when completed in tandem. We will start by cleaning your roof and removing accumulated debris like leaves and branches. Once all that is clear, a cleaning solution is applied to your roof and washed away to remove more stubborn elements like algae, moss or mold.
A breakdown of services needed per season.Once your roof is clean, your house wash will begin! We will work down to your home's siding using a cleaning solution and a water-fed pole to remove any built-up dirt and grime. After the service has been completed, your roof will shine, your siding will look brand new, and your home will be the shiniest on the block!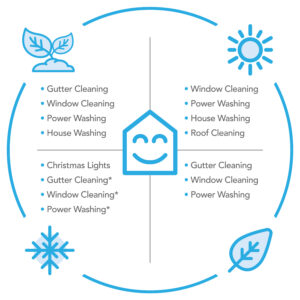 These services can be completed less frequently than the others; once a year to every two years is ideal.
Keeping your siding and roof clean will reduce wear and tear throughout the year and extend the life of these surfaces.
Window cleaning, gutter cleaning, power washing, and roof and house washing services provide many benefits throughout the year if done regularly. These services help maintain your home's beauty while protecting it from potential damage caused by outside elements. Ultimately these services will give you peace of mind knowing that everything from top-to-bottom is being taken care of, so you don't have anything else to worry about! The timelines provided are a rough guide, and the services can be completed during a season that fits your lifestyle best. To the left, we've created a quick guide of when each service can be completed for you!
BOOK NOW