Christmas or Halloween? Install Christmas Lights Early and Enjoy Both!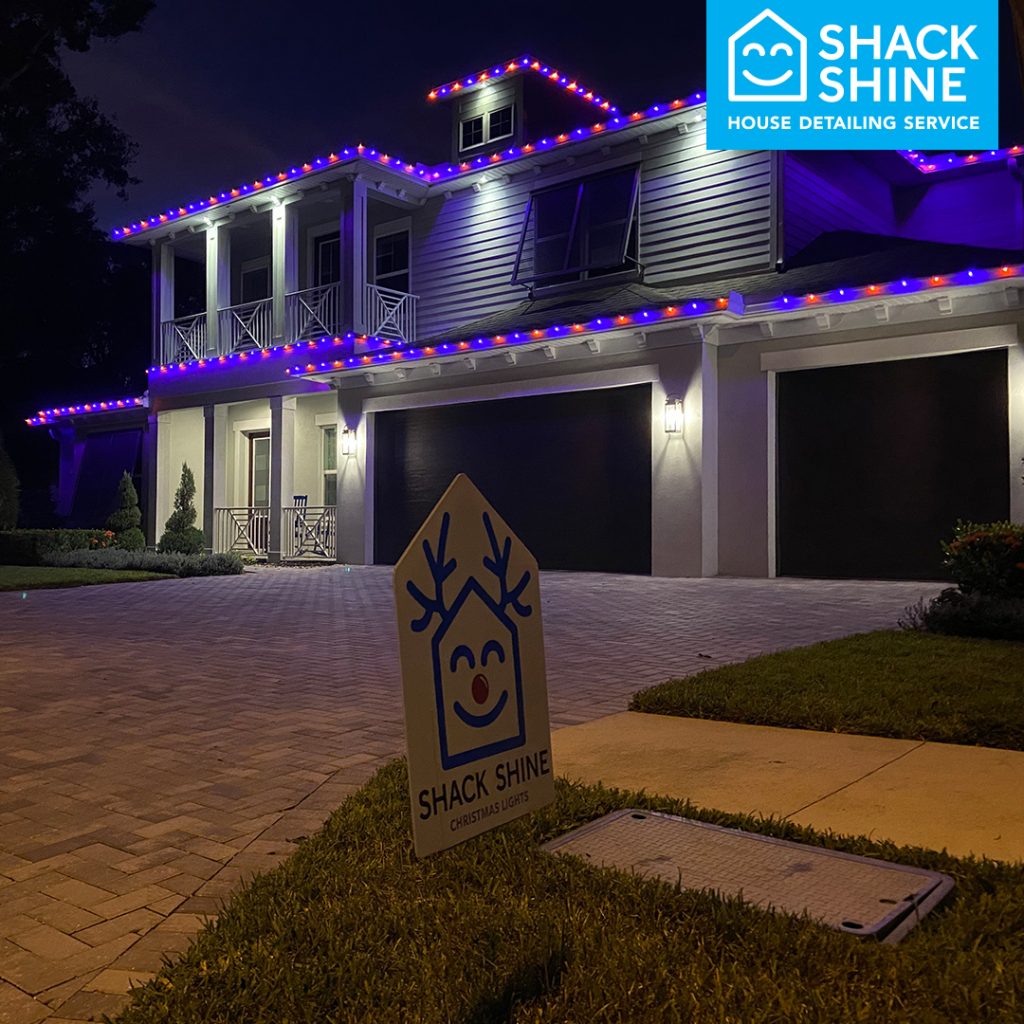 The Pumpkin Spice Latte season is upon us and you might be wondering when you should start thinking about Christmas light installation! We could be a little bit biased (just a tiny bit :), but we at Shack Shine believe it is never too early to start spreading some Christmas cheer! 
That's exactly why we have our Christmas lights installation team ready to go (as early as all-year-round) to help you make your house the shiniest one on the block. 🙂
Whether you are looking to spice up (pun intended) your Halloween decor or ready to kick off the holidays early, Shack Shine is here to help you. Here are the three reasons why it is never too early to start decking the halls by installing your Christmas lights now!
#1) Enjoy the Light Show for Longer
Few things are more gratifying at Shack Shine than the expressions of our customers when they see their professionally-lit home for the first time. The anticipation! The unveiling! The shining spectacle of it all! It's like a red carpet event where your home is the star—it would be a shame to limit such an event to just one month.
By installing your Christmas lights early, you get to enjoy the amazing light show for much longer. Best of all, there is literally no downside to installing your lights early! When you contact Shack Shine for help with outdoor Christmas lights, we make your home shine with one detailed visit and then return to take them down after the holidays have ended. It's all included in our high-value package—when you want to put your lights up is completely up to you.
#2) Make Your Home Shine
Trust us, your home will love you for it! Installing Christmas lights early is the perfect way to bring joy to you and your neighborhood. 
Picture this—it has been a long day at work. The days keep getting shorter and it is already dark as you are driving home. You turn a corner and notice a house on your street—brightly radiating through the dark, with a vibrant display of colors and holiday cheer.
Sounds nice to come home to, right?
There is a certain magic to Christmas lights that goes beyond the bulbs, and let's face it, everyone can always use a little more magic in their lives!
#3) Be a Trendsetter
Just like you, your home is unique, special, and deserves to shine! Putting your Christmas lights up early is the perfect way to help your home stand out and turn heads.
With our professional Christmas light installation service, we really want to make your home shine in a way that your home deserves. When we help with outdoor Christmas lights, we use a custom approach that caters specifically to your home. 
No two homes are the same, which is why we light up your home in a way that is unique to it. When we finish with your home's Christmas light glow-up, it is always the talk of the block!
Making Your Home Smile With Shack Shine
When Shack Shine helps with installing outdoor Christmas lights, we put happiness into every detail. With a visit from our friendly, uniformed technicians, our professional Christmas lighting makes your home smile brighter than ever before. Interested in booking our Christmas light installation service? Reach out to our Christmas light experts and we would be happy to make your home shine!
Read More News