For this serial entrepreneur, the move to Shack Shine couldn't have happened at a better time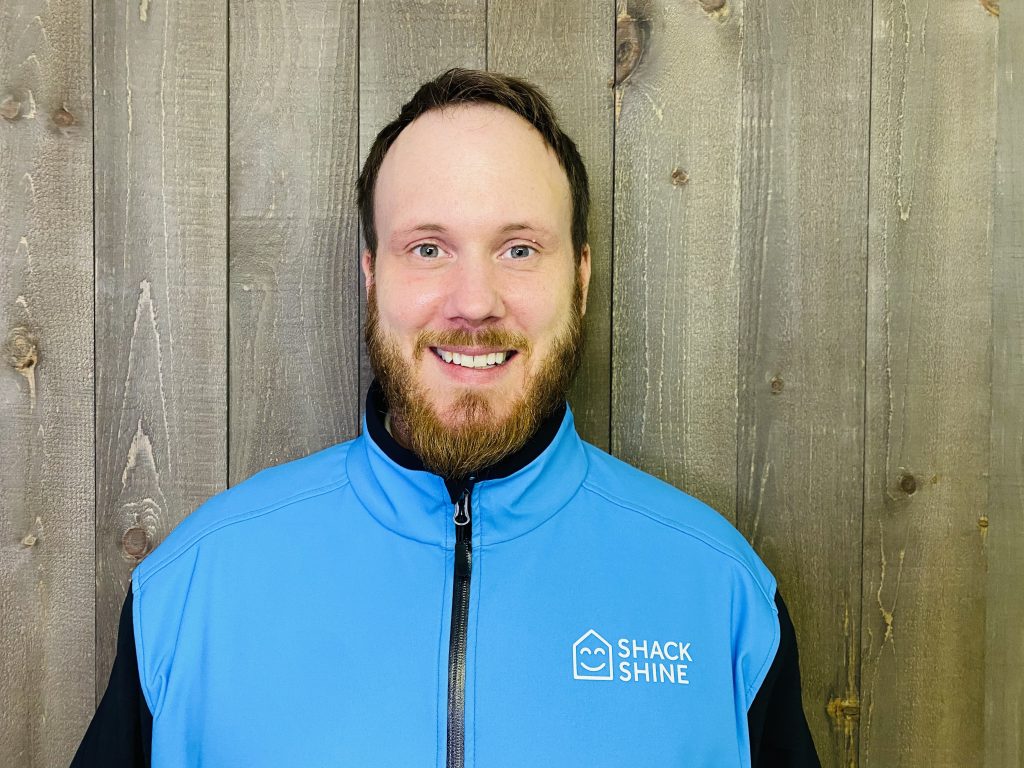 Meet Jeremy Zeyl, the latest Franchise Partner to join the Shack Shine family. When the pandemic nearly killed his music business, Jeremy realized it was time to make the change to home services. Read on to find out why this father of two jumped on the opportunity to franchise with Shack Shine.
Q: Hi, Jeremy. First off — what made you want to own a business?
JZ: I've always been a bit of an entrepreneur — I've run my own business in one shape or another for the past 15 years. It started after university when I began by running a home services franchise. Then, I launched a music business, and actually had a 15 year live music career. After that I founded and started a composting business that diverted organics from landfills to organic vegetable farms. After I sold that business, I saw an opportunity in the area of pressure washing and exterior home cleaning. I thought about starting my own business once again, but when I discovered the branding and systems for Shack Shine, I decided I wanted the support rather than having to do it on my own.
Q: Why now – what was it that made you take the leap? 
JZ: A couple of different factors. Number one: I've operated a live music business for a number of years, meaning I had to be on the road either by myself or with my family. In the last two years, I performed more than 188 shows in a period of 14 months — and I have two kids, Isaiah and Kiara (11 and 7). In the last year or so, I've been looking for something that didn't involve as much travel. Number 2: COVID-19 killed my music business. When it happened, I started falling back into my other skills — carpentry, building fences and decks — while researching and thinking about my next move. To be honest, I am thrilled by the lifestyle change of not having to travel as much nowadays.
Q: In your opinion, what are the benefits of joining a franchise system? 
JZ: I can see the benefits already, particularly in the area of branding support. I've started my own businesses before, and it's really refreshing to come into it with half the business already taken care of. Of course, you do pay for it in the form of royalties — but for me it's a no-brainer. If I were to start this type of house detailing service on my own, it would have taken me 5-10 years to get to where it could even compete with something like this. The branding and the systems, including the sales centre, the team, and the coaching — you just can't beat that. Now, I can be confident in starting a business despite no background in window cleaning or Christmas lights. You don't have to be an expert in the field anymore, because they provide you with the training and support that you need to be successful.
Q: Why Shack Shine, what made this the right fit? 
JZ: This business is the right fit because of the home services element. I'm a homeowner myself, so I get it when people take a lot of pride in their home space. I've actually toyed with the idea of becoming a realtor in another life…I just like talking about homes! Shack Shine appealed to me in particular because of how nimble and quick its services are. I want to help serve customers but I like being in and out in less than a day. 
Q: What are you most looking forward to about being a business owner?
JZ: Meeting and building the team that I'm going to hire. At the end of the day, it's all about people! The success of this franchise and my business is going to be based on the people that I can hire, so that's the first thing that I'm thinking about. 
Q: What are your passions / interests / hobbies – what makes you happiest and motivates you? 
JZ: I'm very entrepreneurial, I love starting something from scratch and seeing it grow. I love music as well — I studied it at university and became a professional songwriter. I've toured across Canada and into Europe. And I love my kids. 
Q: Tell us about your territory, what makes it unique? 
JZ: My territory covers Brampton and North Peel. I actually don't live in my territory, so I had to take some time to learn about it.  It's a unique area — half of it is a very highly populated urban area (Brampton), whereas the Northern part is mostly farms and larger estates. I look forward to learning more about what that territory is like in the coming year!
Q: How has the virtual element of the process been – the fact you haven't been able to visit the Junktion etc.? 
JZ: I love it. I don't feel as if I'm missing anything. Of course when you're in person there's always more you can get on a relationship building level. But the process — particularly with Jeremy Ennis — has been incredibly rewarding. For me, it's the right move: I'll be conducting all my interviews via Zoom. It just makes sense, on both a cost and efficiency level. 
Thank you and congratulations on your business Jeremy! 
Find out more about our franchise opportunities here.
Read More News