The Business Partners Who Hired Shack Shine… Then Became Franchise Owners Themselves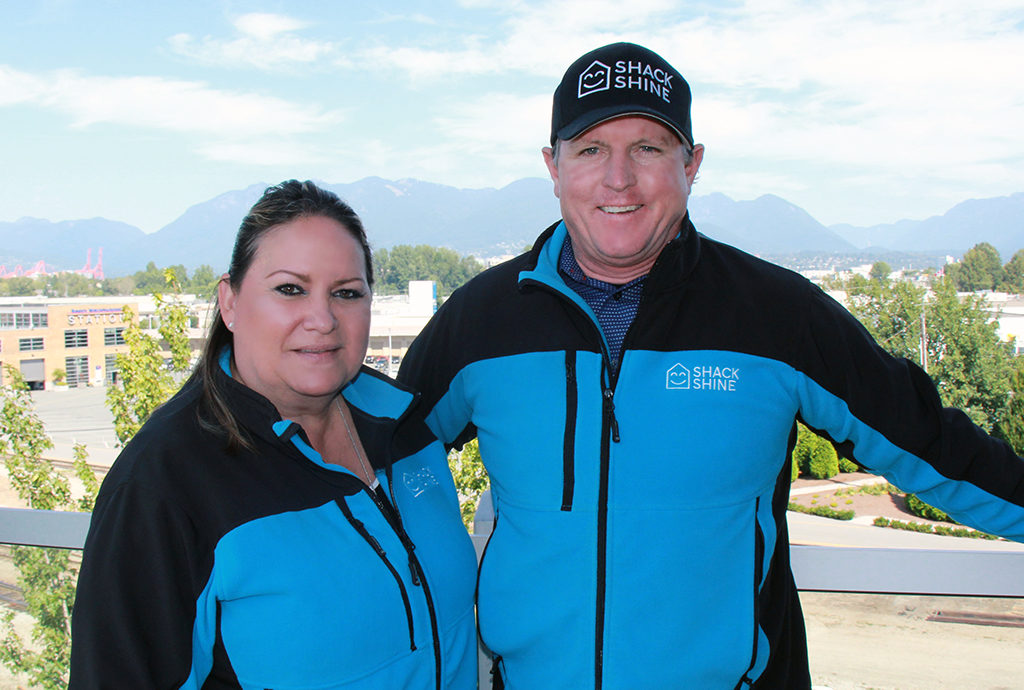 Looking for a new opportunity after 12 years of a family-run operation, these business partners discovered the innovative category of 'house detailing' – and they haven't looked back. Meet Ed Summers and Idania Obarrio, Shack Shine Franchise Partners in Pinellas County South, Florida.
What made you want to own a business?
E: Well, I've been a business owner for the past 12 years, but we were looking for a new opportunity. 
I: We decided that we needed a change, because the industry was changing. So we started looking into franchises. One day Ed was driving around his neighbourhood, and he saw a Shack Shine sign, so he googled it. We saw that they were looking for franchises, and that's where it started. 
E: Yeah I saw that Shack Shine van in my neighbourhood, and I was just really impressed, thought to myself, 'wow that looks like a pretty good operation'. So we started doing some research, we talked to Zach – who is the Franchise Partner in the territory where I live – and then I hired him to do my house. He did an awesome job, really great – and that was the moment that it really started rolling, when we decided Shack Shine was the opportunity for us. 
What are you looking forward to most about owning a Shack Shine franchise?
E: The satisfaction of us having our own business, and being able to hire. Everything.
I: I think also, having people that you can call and ask questions – having that support network. That's a great thing. It's not like they just sell you a franchise, they want to support you and make sure that you fit with them, and that you are happy. They want you to succeed.
What is it about franchising that appealed to you?
E: Franchising is new to us, because our other business was a family-run business – we did restoration on homes that had been damaged by fire, water, or mould. So still home services, but not a very pleasant atmosphere. Shack Shine is all about making somebody's house look nice, whereas before we were going in and tearing a house up. This is a lot more fulfilling – it's the good side! But yeah, franchising appealed because of the structure part. Running the other type of business, we didn't have the structure and the help that Shack Shine gives us.
I: It's also nice that in the Tampa Bay area there's now going to be 3 Shack Shine franchises, so the exposure is going to be like 'oh my god, this must be a huge company'. We all have dinner together, and we're planning to meet once a month or once a quarter to brainstorm. I'm really looking forward to that. 
How do you think owning a Shack Shine franchise will change your lives?
I: I'm hoping to hire the right people and get it going, make it a success over the next few years so that we can retire early. That's my goal. 
E: Yeah, I have two teenage boys, so you know as they get older, I would love to turn it over to them, once we get the business going. I want to build that legacy.
What are you passions outside of work?
E: Football games, hockey games.
I: We have season tickets to the Buccaneers and the Tampa Bay Lightning.
E: Yeah we do a lot of that. And then fishing and skiing in the winter. Anything outdoors!
I: I'm also a big fan of trivia. I love Jeopardy, I record Jeopardy just to watch it!
What would you say are your main motivators in life and in business?
E: Obviously family, But I also like having control of my own schedule. That's a big part of why we've always wanted to own our businesses, to have that control. 
 I: We're going to be super busy at the beginning, as we start and grow our Shack Shine business, but as it builds, and we get the right people in place, it's definitely going to give us more time. I love to travel. So that's the motivation for me, you know? Being able to take that time off. 
What makes your territory unique?
E: Our territory is more of an island!
I: A lot of islands.
E: A lot of islands – it's very different, lots of palm trees, lots of beaches… and we have a lot of driveways!
I: A lot of very large driveways!
E: But it's a unique situation in Florida because we're all close to the water, so whenever the wind blows, the salt's blowing in and it's getting on the windows – so we're hoping to have business all year round, and a lot of repeat customers. The seasons won't affect us either because we can keep working all year round, we don't get snow. 
I: And a lot of people have their holiday parties outside, so they want lights, patios cleaned, everything in winter. 
Want to learn more about Shack Shine Franchise opportunities? Contact us to find out if you're a suitable candidate today. 
Read More News