This Former Retail Manager Took Control And Became A Business Owner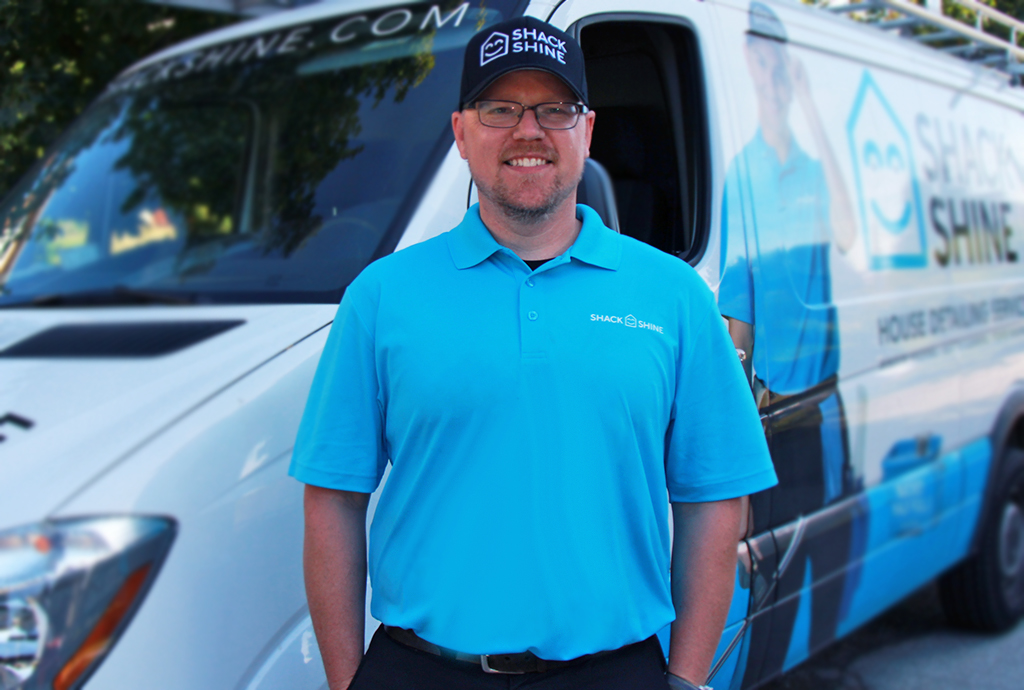 He's a self-proclaimed die-hard sports fan with a 'Type A' personality and ambition by the bucketload. Meet Brian Bensema, Shack Shine Franchise Partner in Southwest Chicago, and discover why he chose franchising, what he loves about Shack Shine, and his plans for a million dollar business.
Hi Brian, welcome to the Shack Shine family! Let's start things off with the big one: what made you want to own your own business?
I've been in retail management for close to a decade, maybe a little bit more – everything from store manager to operations manager. And the thing I found was that the more you work for other people, and the more hours you put in to make them a lot of money, the more you start to think 'why not make that money for myself instead?'. For me, I knew how to run a business from the perspective of management, and so running a business as an owner felt like the logical next step.
Looking back at those initial thoughts that kick-started all this for you, how does it feel to be a business owner now?
The process has been exciting, nerve-wracking, terrifying, fun – if you have an adjective it's probably the right one! It's been almost 6 months since I first started that process – and it's just so good, because you really learn about them, they learn about you, and they make you feel like family by the end of it. If it wasn't like that I probably wouldn't be here.
Now I'm just ready to get going. It's a big thing to wrap your head around: that the buck stops with you. It's your show, you win or you lose, it's all based on you, not what people above you tell you. It's big, but it's liberating and it's exciting.
So why Shack Shine? 
I actually found Shack Shine when I was looking to get 1-800-GOT-JUNK? to pick up some stuff for me, and I saw at the bottom of the website that the same company has other brands. I discovered that there were franchise opportunities at these other brands, and Shack Shine jumped out at me. That's how it started!
The thing about Shack Shine is that unlike a lot of other businesses, it's all about repeat business. So it's not a model where I have to constantly keep finding new customers. Instead, as we build up over the years people will stick will us – they'll remember the great customer experience, they'll remember the first class work we did, and they'll book with us again and again and again. That's what really intrigued me to begin with.
It was definitely good to go out to Vancouver and see everything that's behind Shack Shine too, at the head office 'The Junktion'. To be honest, I was just relieved to see that it wasn't somebody in a basement pretending to be a company! here are franchises like that in the world, I know people who went on a visit, and all of a sudden it's just two people in a basement, so this obviously wasn't like that at all. Instead it's a huge office, so many people, so many great, friendly faces, such an amazing culture.
Why Franchising?
The big thing about Franchising is you're not doing it alone. I have a lot of experience with the managing of a business: running a team, hiring a team, all that kind of stuff, but building from the ground up is a whole different ball game, you know? Knowing how to go about everything from funding to getting all your paperwork in line, I didn't want to shoulder all of that myself. With franchising there's a process already set up, and it's a turn-key operation. I'm not starting from level zero, I'm starting from level one or two. It knocks that beginning of the learning curve down a little bit.
What are you looking forward to most about owning a Shack Shine Franchise?
Control. [laughs] I like being in control of situations. If I need to take a day off, I have to make the decision if I can afford it or not, but it's on me – it's not you know, "sorry we need you in today, too bad". For me it's all about family, too, and having that ability to work around my schedule if I need to.Being type A, I'll probably work 6 or 7 days a week anyways, at least for the first year. But I have the option. It's all about control, and flexibility, and having time to spend with family.
Where do you want to be in 5 years?
I plan on being a million dollar business in 5 years.
Amazing. What would you say motivates you most in life?
I'm type A, I motivate myself! I don't like not being number one, so that's my motivation: to be the best at what I do, because that's how I reward myself. I'm very competitive.
Any passions outside of work?
I do a little bit of everything! I've been home-brewing beer for about 20 years now, so I have a pretty nice set up. I'm also a big reader – my goal is to read 52 books a year. Haven't quite made it yet, 48 is my current record. That's the goal. My mum reads one or two a day, so she kind of makes it hard to not aim high [laughs].
Finally, what makes  your territory Chicago unique?
It's where I'm from. It's family. It's friends. It's the whole reason I went back, to be close to friends and family. It's about being back to my roots and with my mum and my sister, and her family. I would never leave Chicago if I didn't have to, that's who I am. I'm a hard-working die-hard sports fan just like everyone else here – and now I'm going to make their houses beautiful!
Are you interested in learning about Shack Shine Franchise opportunities in your area? Contact us to find out more.
Read More News