How Student Works Painting Prepared This Man for Business Ownership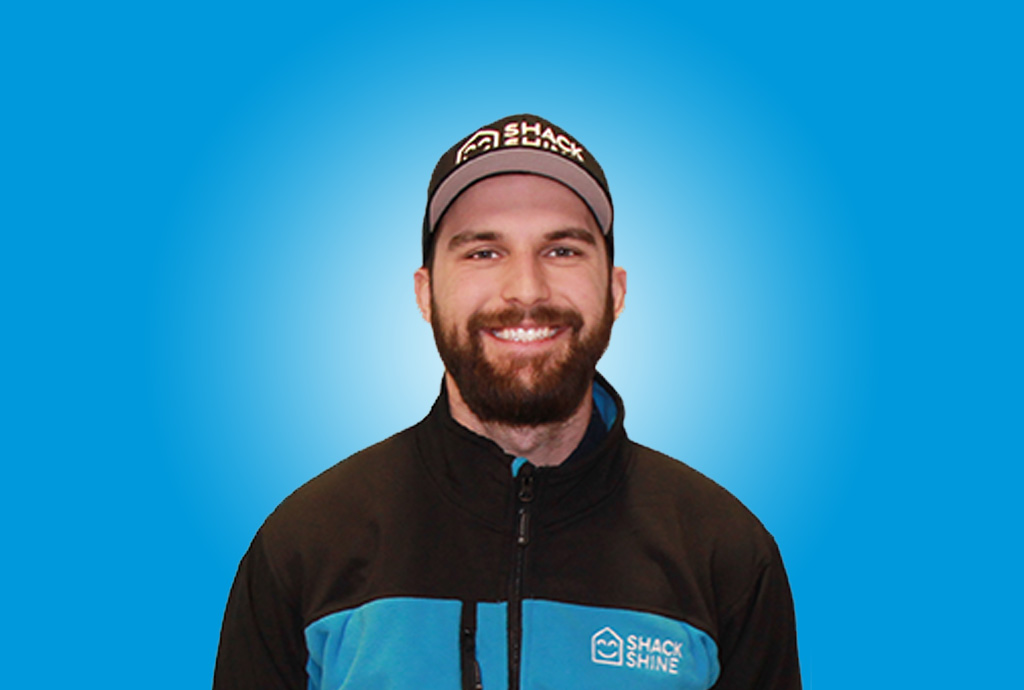 Of the 17 franchise partners in the Shack Shine network, more than a third have something in common: they got their start in business as students with College Pro Painting and Student Works Painting.
Twenty-five year old Martin Baluch ran a Student Works Painting franchise throughout university and gained valuable hands-on experience running his own businesses and leading teams. But after graduation, he was ready for the next step in his career. Here's how Shack Shine gave him the challenge and opportunity he was looking for.

O2E: How did you get involved with Student Works?
Martin: I originally wanted to go into physiotherapy but after a year of trying it out, it really wasn't for me. I started looking for a new business path and joined Student Works to gain experience. My brother had been with that company for a couple of years and had a lot of success. I was inspired by how well he was doing and the confidence he got from running a business. I learned a lot more during four years at that job than I did in four years of business school.
O2E: Why did you make the switch from painting to house detailing?
Martin: I found Shack Shine four months ago, again through my brother. After leaving Student Works, he joined Shack Shine as an Operations Manager at head office. He said my previous experience would make it easy to transition into being a franchise owner.
I shrugged it off at first but the more I learned about the company, the more of an opportunity I saw. When I went to the Junktion (the head office) for my first interview, I fell in love with the culture. Since I first started until now, the amount of growth and potential I see with Shack Shine is unbelievable. It's a brand of hyper-loyalty that people go out of their way to be a part of. It's exciting to join a company that's growing so quickly so early on.
O2E: How did the student painting industry prepare you to own a Shack Shine franchise?
Martin: The first company focused on people, systems, and culture. Shack Shine does too — but at a much larger scale. It's much more systematized and you can feel how invested people are in your success and well-being, especially when you're new. When O2E Brands (Shack Shine's parent company) says people are the heart of the business, they mean it.
O2E: From first interview to launch, you had one of the quickest start-ups in the entire O2E Brands system! Walk me through the process of being awarded the franchise.
Martin: There was a lot to learn very quickly — but with my brother's reassurance, I knew what I was getting into early on. The O2E Brands and Shack Shine leadership team also invest so much of their time to make sure you're the right fit. And vice versa: the further I got down the line, the more I knew it was perfect for me.
Now in start-up, the biggest challenge is the same as it was with Student Works: recruiting the right people. In this type of industry, turnover is inevitable — but with Shack Shine, people are the brand and our technicians are the face of the company. It's important to find and retain the best people for the job.
O2E: How did you come up with the start-up capital?
Martin: The investment is a lot to consider, but Shack Shine made it easy to go through my options. The breakdown was as follows:
$30,000: My initial investment.
$10,000: Family contribution.
$25,000: In-house financing with Shack Shine for a one-year term.
$15,000: Futurpreneur loan. They provide young entrepreneurs with low, interest-free loans.
O2E: What has been the biggest difference between Student Works and Shack Shine?
Martin: The business model. With Student Works, you don't own any equity in the business — you are awarded the rights to a territory on a yearly basis. It was a great experience for me while attending university, but after graduating I wanted to make a name for myself. There's also a high turnover rate because the company targets students.
With Shack Shine, it's your business and you own real equity. You're building something for yourself, and there's a lot of pride and accomplishment that comes along with that. It's been a very rewarding experience.
O2E: What advice would you give someone looking into franchising?
Martin: There will be a lot going through your head if you're looking to own a franchise. There are so many variables and uncertainties. But the support, systems, and culture that come from being a part of O2E Brands is incomparable. You get to be a part of something a lot bigger than you.
So my advice? Do your research. Talk to family, friends and current franchise partners. This will be one of the most important life decisions you will ever make as you are investing your own time and money into your own business. You can get lots of advice from people, but the final word is yours — so make sure you take the time to reflect. For me, it has been very rewarding. I already see the value and potential in owning a Shack Shine franchise, and it's only up from here.
LEARN MORE
Read More News