I didn't want to have to re-invent the wheel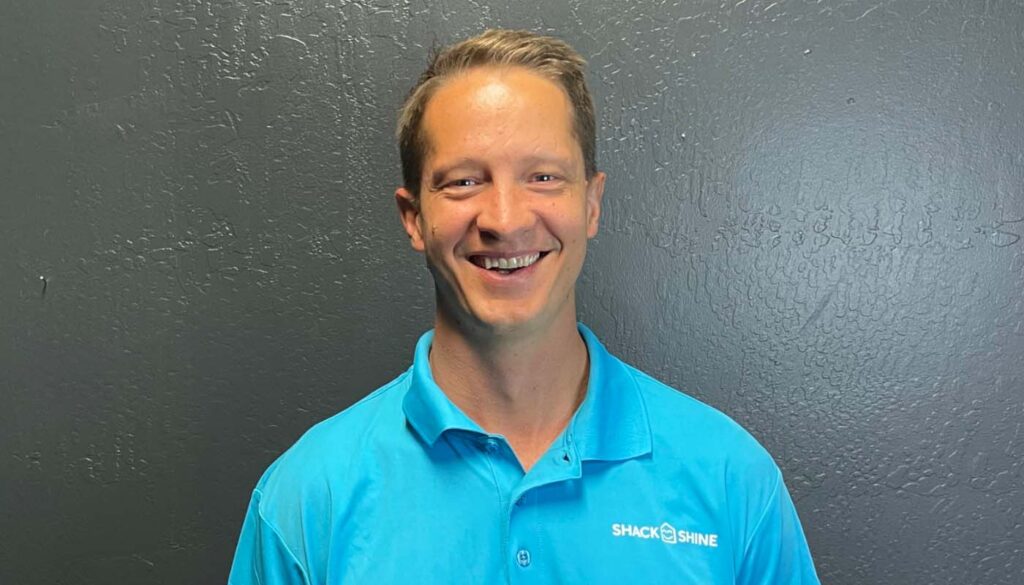 Franchise Partner Patrick Wallain was no stranger to entrepreneurship when he first learned about Shack Shine. He'd owned multiple businesses before, but got tired of trying to reinvent the wheel every time. When the pandemic stalled his special events company, he jumped on the opportunity to diversify his skillset. Enter Shack Shine and franchising…the rest, as they say, was history! 
Read on to find out what Patrick had to say about owning a business, and why Shack Shine was the right choice for him.
Q: What made you want to own a business?
I've owned multiple businesses before, and I realized early on that I didn't want to continue to reinvent the wheel. I wanted a system that I could execute on. When I found Shack Shine, I saw that it had great systems in place. 
Q: Why now – what was it that made you take the leap? 
Everything was sort of put into place by COVID-19. I own a special events company, which was greatly affected by the pandemic, so I needed to diversify what I did for a living. This opportunity to own a franchise presented itself at the right time in my life: I was ready to move into a new arena in my work. I knew that going from B2B to B2C was going to be a big change, and I was ready for it. 
Q: In your opinion, what are the benefits of joining a franchise system? 
The biggest benefit is the playbooks — they already have things that they can recommend to Franchise Partners, systems that have proven themselves to work. You sometimes have to tweak them a little, but in general the playbooks are a huge advantage.
Q: Why Shack Shine, what made this the right fit? 
The recurring revenue was a huge motivator. Plus, I was reassured by the fact that this wasn't Brian's first rodeo (since he'd already built and learned lessons from 1-800-GOT-JUNK?). The residential home services space is a fractured market, and I saw an opportunity to offer a holistic solution to home services that didn't really exist yet. 
Q: What are you most looking forward to about being a business owner?
The best part of owning a business is the potential. When you own a business, the potential is open and completely dependent on what you put into it. You're in control of your future. 
Q: What are your passions / interests / hobbies – what makes you happiest and motivates you? 
I am an outdoors guy: I love camping. I also really enjoy figuring out the intricacies of business and figuring out what works and what doesn't, pulling the right levers. I'm an engineer by trade so solving problems is really fun for me. 
Q: Tell us about your territory, what makes it unique? 
The Phoenix territory is unique in that it's a snowbird location. Lots of people are here in the winter, but the population contracts in the summer. During the detailing season it might be more difficult to find customers, but the holiday season is when we will really have the chance to grow. In the area, we're seeing lots of people with disposable income and overall, the homes are more expensive — so people are motivated to take care of them. Plus, nowhere else will you do an exterior window job in 45 degrees!
Thank you and congratulations on your business Patrick! 
Find out more about our franchise opportunities here.
Read More News