Gutter cleaning experts serving Barrie
Do you need a trustworthy gutter or eavestrough cleaning company in or near Barrie? Look no further; your neighborhood Shack Shine is up to the task. Our expert cleaning specialists are dedicated to making your life easier by relieving you of the stress and bother associated with external home cleaning and care. Give us a call right now, and we'll take care of everything in a single comprehensive visit.
You probably have better things to do with your free time than get elbow-deep in gutter debris and dead leaves. Allow Shack Shine to handle this laborious task so you don't have to bring out the gloves, ladder, and other supplies.
Step 1
Book Your Service Online or by Phone
Step 2
We'll Complete Your Service in One Detailed Visit
Step 3
Enjoy Your Happy Home with Clean, Flowing Gutters!
Book Gutter Cleaning
Quick and trustworthy eavestrough and gutter cleaning near you
Eavestrough or gutter cleaning is a time-consuming operation that is easy to put off. In the worst-case scenario, though, clogged gutters can cause damage to your home because they are no longer channeling rainfall away from the foundation. Cracks, settling, and erosion may occur, all of which are far more expensive and time-consuming to repair than a simple gutter cleaning from Shack Shine. So don't delay—give us a call right away!
Our trained team will thoroughly clean up your gutters with hand scoops and the most powerful vacuums available, moving any exterior furniture as needed and rearranging everything once we're through. Even after we're finished, we'll run water through your gutters to test whether they're working correctly, and we'll clean them up before we go. You can always expect a job well done when you call the professionals at Shack Shine!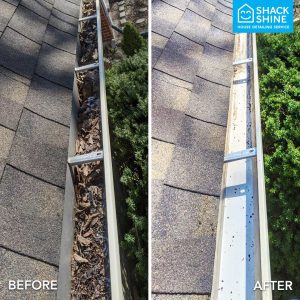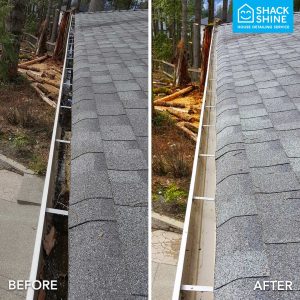 Cities we service
Angus

Barrie

Bradford West Gwillimbury

Collingwood

Innisfil

Orillia

Oro-Medonte
Gutter cleaning services we offer
Interior gutter cleaning

Outside gutter washing

Soffit and fascia washing

Roof blowing for debris removal
Gutter cleaning FAQs
Q: How do you clean customers' gutters?
A: At Shack Shine, we clean gutters by hand and with good old fashioned scoops. For more stubborn buildup, we can also break out the latest gutter cleaning technologies, including high-powered vacuums.
Q: Why is gutter cleaning important?
A: Cleaning up your gutters is essential to ensuring that water is directed away from the foundation of your house correctly. Clogged gutters can cause water to run down the sides of your house, which can lead to accumulation along the foundation, and possibly even creating cracks.
Q: How often should I have my gutters cleaned if I live in Barrie, ON?
A: We often tell people to have their gutters cleaned twice a year, in the spring and the fall. We'll remove all the dirt, leaves and debris that comes along with the fall season, leaving your gutters flowing as they should be!
Q: How much does gutter cleaning cost in Barrie, ON?
A: The size of your house and whether you require any additional services from our friendly team during their visit to your Barrie home will have a significant impact on the final cost of our gutter cleaning service. We're always pleased to come and give you a free, no-obligation estimate for our service in Nanaimo and the surrounding areas.