Positively Shiny, Every Time
Your home needs care and attention to stay properly maintained and keep it looking (and feeling) great! However, it can be tough to schedule and keep on top of. Let Shack Shine take care of your home's maintenance work so you don't have to! We offer interior/exterior window washing, gutter cleaning, power washing, and Christmas light installation, all done by professionals who know how to treat your home right. 
We make it easy to keep your home looking its best. Call or book online today and we'll make sure you have the shiniest home on the block!
Cities serviced
Bloor West Village
High Park
New Toronto
Richview
Bloor West Village
1-888-808-7751
922 The East Mall, Etobicoke, ON M9B 6K1
Hours of operation:
8:00am - 5:00pm Monday to Friday
Our services
Window Cleaning

Clean, sparkling windows are key to having the shiniest home on the block! Shack Shine offers interior and exterior window cleaning to keep your windows in great shape for years to come.

Gutter Cleaning

No one wants to spend the day up on a ladder cleaning out their gutters…except us! Shack Shine will get the job done safely and efficiently. We make gutter cleaning easier than ever.

Power Washing

If your patio, deck, driveway, sidewalk, or any other outdoor surfaces are looking a little dull, Shack Shine can help! Our power washing services will make it all look like new again.

House Washing

Keep the exterior of your home looking fresh with our house washing services. Whether it's siding, stucco, or any other surface, you can trust Shack Shine to make your home shine bright!

Christmas Light Installation

Want to make your home twinkle, sparkle, and glow this holiday season? Let us work our magic! We install custom-fit professional lights and will help you create the design of your dreams.
Bloor West Village window cleaning services
Are you tired of the cleanup on your home that comes with Toronto's cold, wet winters and warm, humid summers? Shack Shine Bloor West Villiage will make the transition between seasons easier for you! Our team of professionals will make the exterior of your home shine again with our power washing services. We can remove the build-up of dirt, algae and moss off most exterior surfaces and bring back the sparkly entry and shiny driveway your home once had.
Our work doesn't stop there! Our bread and butter is our residential window cleaning service. Since you don't get sun all year long, it's essential to ensure that your windows let it all shine through and are free of dust and dirt. Also – cleaning your windows twice a year reduces the wear and tear on them! 
Did you think we only make your home shine? We can also make your home glow for the holiday season! Shack Shine's Christmas lights installation service is the perfect option for those who don't want to lift a finger but still want to have the brightest home on the block.
Spend your time doing fun things, like exploring the annual Ukrainian festival or browsing the Bloor West Villages dining options. Shack Shine will take care of those messy jobs. 
Get your free quote today! 
How it works
Step 1
Book your appointment online or by calling us at 1-888-808-7751

Step 2
On the day of your appointment, we'll arrive on time and complete the work in one detailed visit.

Step 3
Sit back, relax, and enjoy having the shiniest home on the block
Book Now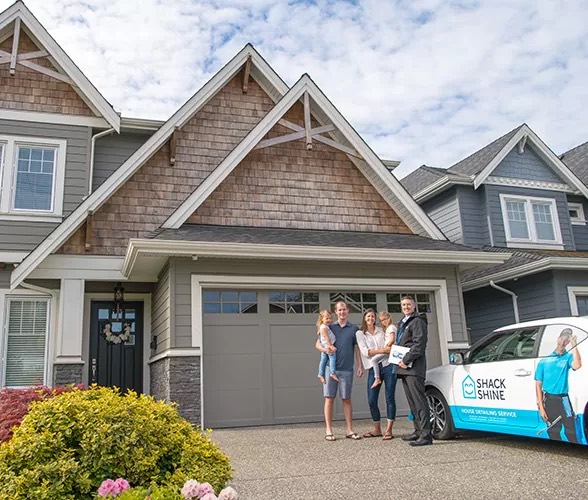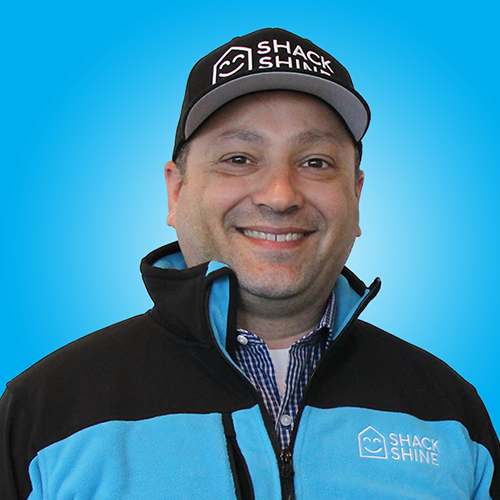 Bloor West Villiage
Fabrizio Cicchelli
I have spent the past 25 years learning the art of customer service. Listening to what a customer wants and then helping provide solutions to problems is the foundation that I use to build my future business and personal relationships. I have worked in the courier industry for 15 years and it taught me how to resolve conflict and how to provide a friendly professional service that people both want and expect. It was this experience that had me take what I learned about service and then build and apply it to a different role which furthered my skills, knowledge and managing style that lead to the role of VP of Operations and Sales.
My desire to be an entrepreneur-led me to discover Shack Shine. With a great brand and using the skills I have learned, I know that this is a cultural fit that will benefit not only us in business but our customers who deserve to have a great home detailing experience.