House Detailing in Chantilly
Your home needs care and attention to stay properly maintained and keep it looking (and feeling) great! However, it can be tough to schedule and keep on top of. Let Shack Shine Chantilly take care of your home's maintenance work so you don't have to! We offer interior/exterior window washing, gutter cleaning, power washing, and Christmas light installation, all done by professionals who know how to treat your home right. 
We make it easy to keep your home looking its best. Call or book online today and we'll make sure you have the shiniest home on the block!
Cities serviced
Aldie
Ashburn
Brambleton
Centerville
Chantilly
Chantilly
1-888-808-7751
Hours of operation:
8:00am - 6:00pm Monday to Friday
Our services
Window Cleaning

Clean, sparkling windows are key to having the shiniest home on the block! Shack Shine offers interior and exterior window cleaning to keep your windows in great shape for years to come.

Gutter Cleaning

No one wants to spend the day up on a ladder cleaning out their gutters…except us! Shack Shine will get the job done safely and efficiently. We make gutter cleaning easier than ever.

Power Washing

If your patio, deck, driveway, sidewalk, or any other outdoor surfaces are looking a little dull, Shack Shine can help! Our power washing services will make it all look like new again.

House Washing

Keep the exterior of your home looking fresh with our house washing services. Whether it's siding, stucco, or any other surface, you can trust Shack Shine to make your home shine bright!

Christmas Light Installation

Want to make your home twinkle, sparkle, and glow this holiday season? Let us work our magic! We install custom-fit professional lights and will help you create the design of your dreams.
Gutter cleaning in Chantilly
Are you looking for a comprehensive house detailing company to make the exterior of your home twinkle, sparkle, and glow? Look no further than Shack Shine Chantilly!
Our team of professionals has you covered for all of your house detailing needs. From gutter cleaning to power washing and everything in between; we will make your home smile again.
If you are yearning for your windows to sparkle in the sun again, Shack Shine's window cleaning service is just the solution for you. Our team uses the latest water purification technology to give your windows that streak-free shine. Your neighbors will be jealous of the sparkle your home is giving off!
We don't stop there. Make sure Santa doesn't miss your home and have the brightest home on the block with Shack Shine's Christmas light installation service. The best part is – you don't have to do any of the hard work. You'll work with our team of professionals to create your custom Christmas light display that is suited for your home, and we'll take care of the rest.
Our friendly, uniformed technicians are ready to get to work. Book your free estimate today!
How it works
Step 1
Book your appointment online or by calling us at 1-888-808-7751

Step 2
On the day of your appointment, we'll arrive on time and complete the work in one detailed visit.

Step 3
Sit back, relax, and enjoy having the shiniest home on the block
Book Now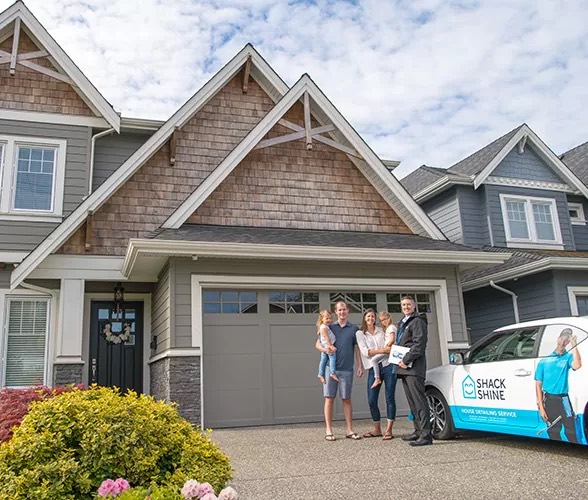 Shack Shine Chantilly
Brent & Rachel Dittman
We are Brent and Rachel Dittman and we are the proud owners of Shack Shine – Northern Virginia. Ever since we got married we have talked about starting our own business, and once we learned about Shack Shine and their exceptional house detailing services and core values, we took the exciting leap into entrepreneurship. We look forward to servicing the Northern Virginia community, making our neighbors smile, and their homes SHINE!