Quick, professional rain gutter cleaning service in Tri-Cities, WA
Are your rain gutters clogged? Looking for a friendly and professional service to help unclog them? Shack Shine has the experienced crew you need to clear out those gutters and we'll get it all done without you having to deal with all the muck and grime that has built up.
Plus, why would you want to spend your limited free time doing chores around the house? Wouldn't you rather be sipping wine at one of the many nearby wineries or taking a relaxing float down one of the inviting local waterways? Let Shack Shine check those pesky tasks off your to-do list while you're enjoying everything the Tri-Cities area has to offer. Our friendly, uniformed technicians can handle all of your gutter cleaning needs safely and efficiently, and will do so in one detailed visit. Book an appointment with Shack Shine today!
Step 1
Book Your Service Online or by Phone
Step 2
We'll Complete Your Service in One Detailed Visit
Step 3
Enjoy Your Happy Home with Clean, Flowing Gutters!
Book Gutter Cleaning
Easy, friendly gutter cleaning near you
Your gutters should be cleaned at least twice a year, but why? Your gutters may not seem like an important component of your home but they are! Rain gutters help remove water from important areas of your home, like your foundation, and guide it towards the street or other drainage areas. As your gutters get jammed up, they are no longer directing that water away from your home which can lead pooling in areas where water shouldn't be pooling. This pooling can lead to cracks in your foundation or other damage that can cost a lot more to fix than an appointment with Shack Shine.
Our experienced crews will get all of that muck and old leaves out of your gutters using hand scoops and high-powered vacuums, leaving your gutters working like new. We'll even move your furniture out of the way and put it back where we found it so you don't have to worry about a thing. We do all this to ensure the water that comes off your home ends up where it's supposed to be. Schedule an appointment with Shack Shine today to get your gutters cleaned without all of the hassle.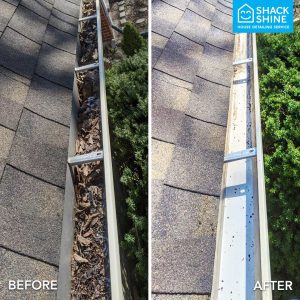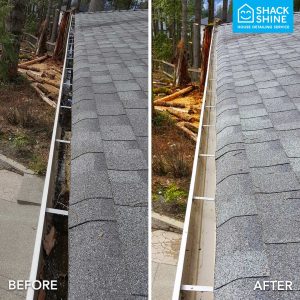 Cities we service
Anmore

Belcarra

Coquitlam

Maple Ridge

Pitt Meadows

Port Coquitlam

Port Moody

Mission
Gutter cleaning services we offer
Interior gutter cleaning

Outside gutter washing

Soffit and fascia washing

Roof blowing for debris removal
Gutter cleaning FAQs
Q: How do you clean customers' gutters?
A: At Shack Shine, we clean gutters by hand and with good old fashioned scoops. For more stubborn build up, we can also break out the latest gutter cleaning technologies, including high-powered vacuums.
Q: Why is gutter cleaning important?
A: Gutters funnel water off your roof and safely into your home's perimeter drainage system. When clogged, water can overflow and leak into your home's walls and foundation, causing major damage in the long term.
Q: How often should I have my gutters cleaned if I live in Tri-Cities?
A: We normally recommend that customers get their gutters cleaned at least twice a year, in the spring and fall. If water isn't flowing through them properly and pooling anywhere around your home, it's time to give us a call! 
Q: How much does gutter cleaning in Tri-Cities cost?
A: The final cost of our gutter cleaning service will largely depend on the size of your home and whether you need any other services from our friendly crew during their visit to your home. If you need more info on our pricing, we're always happy to come and provide you with a free, zero-obligation estimate for our gutter cleaning service in Tri-Cities and the nearby areas.