What We Do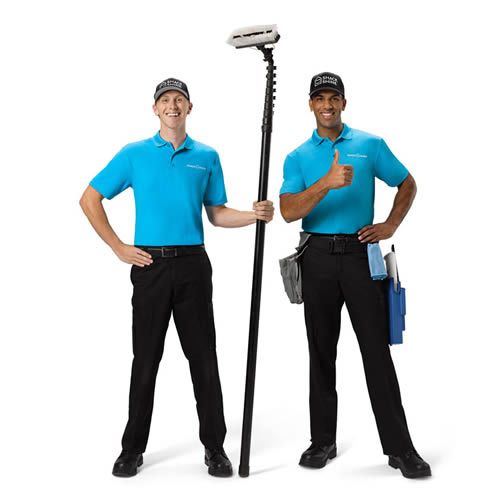 Exterior House and Window Cleaning Services in Edmonton and surrounding areas
In Edmonton, exterior house cleaning services from Shack Shine are just a phone call away.
If you are ready to have a home that's positively shiny, contact our smiling, friendly technicians today. We'll arrive in professional trucks from our fleet to provide a complete exterior cleaning of your home in just one detailed visit.
We know our customers are busy people with a long list of things to do, but you also care about maintaining your home. That's where our world-class customer service at Shack Shine comes in. You can book the exterior house cleaning services you need in a flash – and conveniently right online. We'll arrive and clean your home just the way you like it. Shining home, smiling family!
Professional Window Cleaning Services
Exterior window cleaning in Edmonton is one of our staple services. Our team uses a specialized squeegee tool to scrub the windows for you. This is attached to a carbon fiber, water-fed pole that helps us to clean the windows expertly from the ground. No ladders needed! We wipe down the frames and screens, too. You don't even have to be home – just make sure you close the windows before you leave. We'll take care of your residential window cleaning needs! Happy home, happy family.
Eavestrough Cleaning
Looking for a good eavestrough (gutter) cleaning service in Edmonton? You've come to the right place. The eavestroughs on your home must be debris-free to keep water moving away from the home, but that's a hard, dirty job that most homeowners don't have time to manage. With our high-powered vacuum, we will remove all of the debris before flushing it clean and wiping down the outside. You can trust our home detailer to provide you with easy-flowing eavestroughs that protect your home's roof and foundation.
Exterior House Washing
Do you want to have a like-new home? Perhaps the brick or siding is dirty or caked with debris. No problem! Our Shack Shine exterior house cleaning services in Edmonton can help. We use just the right amount of pressure along with environmentally friendly cleaning agents to strip it all away for good. Your home will look brand new and this may even extend the life of your siding.
Roof Cleaning
The roof is another area of the home that benefits from power washing. Shack Shine's team is shining your neighbourhood, one home at a time – starting right from the top. We'll wash away all of the debris, mildew, moss, and other surface items to create a like-new look. Our methods are very safe and will not damage the roof itself. However, this is an important way to protect your home's roof.
Home Pressure/Power Washing
Many of the exterior surfaces outside of your home can benefit from our pressure washing. In Edmonton, exterior house cleaning services from Shack Shine can include power washing concrete, decking, driveways, and much more. Let's talk about how to remove years of debris and grime build-up from your home's exterior. We're making your home smile through each one of these projects we tackle for you. For mobile power washing services near you, look no further than Shack Shine!
Christmas Light Installation
Is it that time of year? Are you getting your home ready for holiday gatherings? Give us a call if you're in need of a local Christmas light installation service! Shack Shine is ready to help you install your Christmas lights and make sure your house shines brightly to greet guests. 
We offer lights in a variety of colors and shapes. Everything is customizable, which means we measure and cut the lights to fit your unique roofline and windows. At the end of the season, we will return and take down and pack away the lights neatly for easy installation next year. The LED lights we use in our service are commercial-grade, bright and energy-efficient.
Get a Quote Today!
Team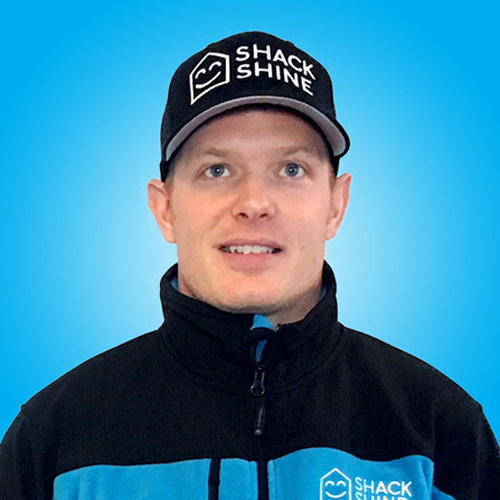 Shack Shine Edmonton
Dustin Grainger - Franchise Partner
My name is Dustin Grainger and I am the owner of Shack Shine Edmonton. I was born and raised in Saskatchewan but have been in Alberta for the last 10 years. I am a proud SAIT (Nuclear Medicine '07) and NAIT (Instrumentation Engineering Technology '15) alumni. My career in Nuclear medicine has enabled me to gain a great understanding of how to create great personal relationships along with a purpose to serve others. I have always had the entrepreneurial bug and it was through my experience with Instrumentation and a start-up company that I have gained the necessary hands-on skills and developed invaluable core fundamental business insight.
I jumped at the opportunity of being involved with Shack Shine because I firmly believe in its vision and core values: Passion, Integrity, Professionalism, and Empathy. House detailing is a fragmented industry with no clear leader and Shack Shine has the required leadership and systems to become the chosen brand in this market. I truly believe in its vision and culture of "People First".
I love the city of Edmonton and the proximity to the mountains. With skiing, snowboarding, golfing a favourite hobby away from work, it enables me to enjoy the benefits of being in the great province of Alberta. I can't wait to service Edmonton and surrounding areas and really put a smile on customer's faces when they see the incredible work we do and the attention to detail and service we provide!
Shack Shine Edmonton is located at
721 Wellington Lane
Sherwood Park, AB T8A 4H7
Cities Serviced
From cleaning your siding so it's like-new to making those hard-to-reach windows sparkle, we're ready to bring our top-notch services to you in the following areas:
Sherwood Park
St. Albert
Spruce Grove
Stoney Plain
Beaumont
Leduc
Services
Our range of exterior house cleaning services in Edmonton includes the following:
Roof Cleaning
Pressure Washing
House Washing
Christmas Light Installation