Exterior House Cleaning Services in Greenville, South Carolina
Your home needs care and attention to stay properly maintained and keep it looking (and feeling) great! However, it can be tough to schedule and keep on top of. Let Shack Shine Greenville take care of your home's maintenance work so you don't have to! We offer interior/exterior window washing, gutter cleaning, power washing, and Christmas light installation, all done by professionals who know how to treat your home right. 
We make it easy to keep your home looking its best. Call or book online today and we'll make sure you have the shiniest home on the block!
Cities serviced
Easley
Greer
Greenville
Travelers Rest
Five Forks
Mauldin
Tigerville
Fountain Inn
Simpsonville
Woodruff
Greenville
1-888-808-7751
Hours of operation:
8:00am - 6:00pm Monday to Sunday
Local leaders in power washing
Are you tired of the long list of things to do around the house? Let Shack Shine take care of some for you!
Shack Shine Greenville's house detailing services are just the thing to make your home twinkle, sparkle, and glow throughout the year. Our house washing services will remove the mold and mildew that builds up over the summer months, restoring your siding to its former glory again.
If you're wanting to soak up all of Greenville's sun, do it with clean windows! Our exterior window cleaning services will leave you with a streak-free shine that your neighbors will wish they had! No matter the glass, our team of professionals can make it shine again.
Are you wanting to spend a Saturday afternoon walking down Greenville's popular Main Street, but have to hang the lights for the holiday season? Call Shack Shine! You won't have to lift a finger (although, we will need your input on the custom lights display for your home). We' take care of everything from bringing the materials, to hanging the lights, and even removing them once the season is over.
Ready to make your home shine again? Call Shack Shine today for your free estimate! 
How it works
Step 1
Book your appointment online or by calling us at 1-888-808-7751

Step 2
On the day of your appointment, we'll arrive on time and complete the work in one detailed visit.

Step 3
Sit back, relax, and enjoy having the shiniest home on the block
Book Now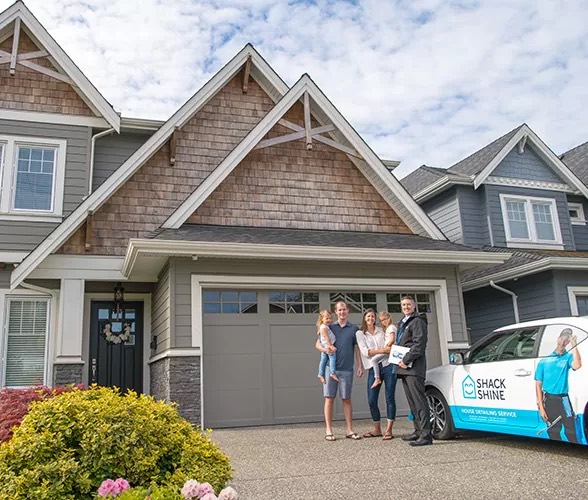 Shack Shine Greenville
Joseph Williams
Joseph and his family recently relocated to Simpsonville, South Carolina, from Tampa, Florida. They originally visited Simpsonville while on vacation, and realized they wanted to make this their permanent home! Joseph is excited to bring the Christmas spirit to the community and make the homes twinkle, sparkle, and glow in Greenville and the surrounding areas, while giving back to the community.