Overland Park leaders in window cleaning, gutter cleaning and more
Is your home looking a little worse for wear these days? Let Shack Shine and our friendly and professional crew of exterior home cleaners bring the shine back to your home. From pressure washing to window washing and gutter cleaning, we take the headaches out of maintaining all of your home's exterior surfaces.
We know how tempting it can be to put off those pesky outside chores. Why would you want to spend your limited time off scrubbing dirt and grime off your home? With Shack Shine, you can leave all of those annoying chores to us. The best part is, you don't even need to be home for us to be able to get to work. Simply enjoy your day away from home and come back to a shiny house, doesn't that sound nice?
Wouldn't you rather spend your time exploring the arboretum or checking out the museums Overland Park has to offer instead of scrubbing and cleaning? Leave all of that to us and take advantage of what the city you live in has to offer. Call Shack Shine today for zero-obligation quote.
Cities serviced
Leawood
Lenexa
New Century
Overland Park
Prairie Village
Shawnee
Spring Hill
Overland Park
1-888-808-7751
Hours of operation:
8:00am - 6:00pm Monday to Friday
Our services
Window Cleaning

Clean, sparkling windows are key to having the shiniest home on the block! Shack Shine offers interior and exterior window cleaning to keep your windows in great shape for years to come.

Gutter Cleaning

No one wants to spend the day up on a ladder cleaning out their gutters…except us! Shack Shine will get the job done safely and efficiently. We make gutter cleaning easier than ever.

Power Washing

If your patio, deck, driveway, sidewalk, or any other outdoor surfaces are looking a little dull, Shack Shine can help! Our power washing services will make it all look like new again.

House Washing

Keep the exterior of your home looking fresh with our house washing services. Whether it's siding, stucco, or any other surface, you can trust Shack Shine to make your home shine bright!

Christmas Light Installation

Want to make your home twinkle, sparkle, and glow this holiday season? Let us work our magic! We install custom-fit professional lights and will help you create the design of your dreams.
Easy, friendly service near you
Overland Park residents know just how much of a toll the icy winters and hot, humid summers can have on their outdoor surfaces. Lots of rain and snow can lead to a buidup of mold and mildew that can end up causing your home's walls to rot. On top of that, if your gutters are clogged, all of that water isn't being removed like it is supposed to be and could be pooling in areas such as your foundation. This pooling can lead to settling and erosion and possibly even cracks in your foundation if left too long.
Don't worry though! With one call to Shack Shine, we'll remove all of that built-up mildew, power wash the stains off your drive way, clean the grime off your roof, and clean your windows. You may not even recognize your home after our crew of experts has gotten hold of it. We're ready to do whatever it takes to make your home stand out as the shiniest on your block—all in just one detailed visit. Book your free, zero-obligation estimate with Shack Shine in Overland Park today! 
How it works
Step 1
Book your appointment online or by calling us at 1-888-808-7751

Step 2
On the day of your appointment, we'll arrive on time and complete the work in one detailed visit.

Step 3
Sit back, relax, and enjoy having the shiniest home on the block
Book Now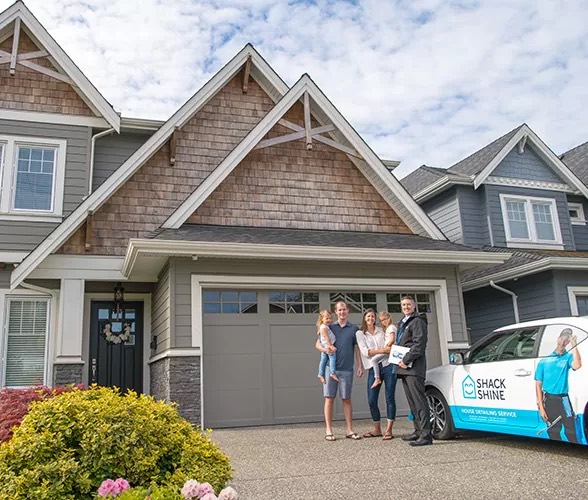 Shack Shine Overland Park
Richard Moritz
Richard Moritz is very excited about the home service industry in Kansas City.  One of the things he is looking forward to the most is bringing Shack Shine's high-quality professional service to this industry. He can't wait to service you!