House Detailing in Knoxville
Your home needs care and attention to stay properly maintained and keep it looking (and feeling) great! However, it can be tough to schedule and keep on top of. Let Shack Shine take care of your home's maintenance work so you don't have to! We offer interior/exterior window washing, gutter cleaning, power washing, and Christmas light installation, all done by professionals who know how to treat your home right. 
We make it easy to keep your home looking its best. Call or book online today and we'll make sure you have the shiniest home on the block!
Cities serviced
Aldenwood
Concord
Farragut
Hard Valley
Karns
Knoxville
Knoxville
1-888-808-7751
2601 Silent Springs Ln, Knoxville, TN 37931
Hours of operation:
8:00am - 6:00pm Monday to Saturday
Our services
Window Cleaning

Clean, sparkling windows are key to having the shiniest home on the block! Shack Shine offers interior and exterior window cleaning to keep your windows in great shape for years to come.

Gutter Cleaning

No one wants to spend the day up on a ladder cleaning out their gutters…except us! Shack Shine will get the job done safely and efficiently. We make gutter cleaning easier than ever.

Power Washing

If your patio, deck, driveway, sidewalk, or any other outdoor surfaces are looking a little dull, Shack Shine can help! Our power washing services will make it all look like new again.

House Washing

Keep the exterior of your home looking fresh with our house washing services. Whether it's siding, stucco, or any other surface, you can trust Shack Shine to make your home shine bright!

Christmas Light Installation

Want to make your home twinkle, sparkle, and glow this holiday season? Let us work our magic! We install custom-fit professional lights and will help you create the design of your dreams.
Professional window cleaning in Knoxville
Shack Shine is proud to serve Knoxville, home of the largest rubiks cube! Whether you are in need of professional window cleaning services or need to give the exterior of your home a new life with a power washing service, we can help. 
Our teams use the latest water purification technology when completing our window cleaning service. This allows a streak-free clean, that dries crystal clear. Some say after their appointment, their windows shine so bright they need to wear shades! 
If you're looking you enhance the curb appeal of your home, our power washing services could be just the thing you need. We can clean almost any surface from concrete to brick to vinyl and more! Once the service has been completed, your surfaces will look as good as new! 
You and your home deserve for it to shine. When you need us, we'll be here. Start your journey off by getting a free estimate today. Your home will love you!
How it works
Step 1
Book your appointment online or by calling us at 1-888-808-7751

Step 2
On the day of your appointment, we'll arrive on time and complete the work in one detailed visit.

Step 3
Sit back, relax, and enjoy having the shiniest home on the block
Book Now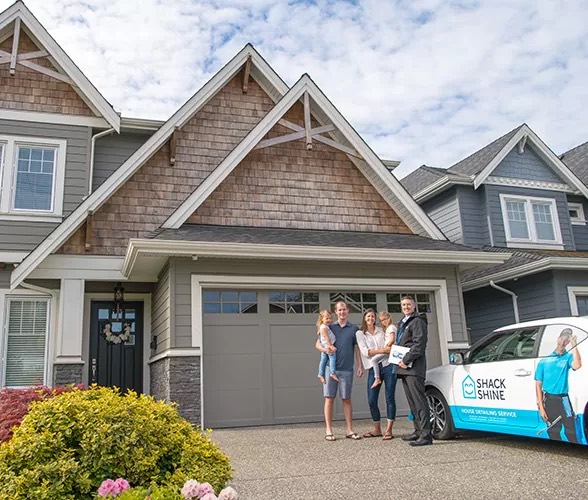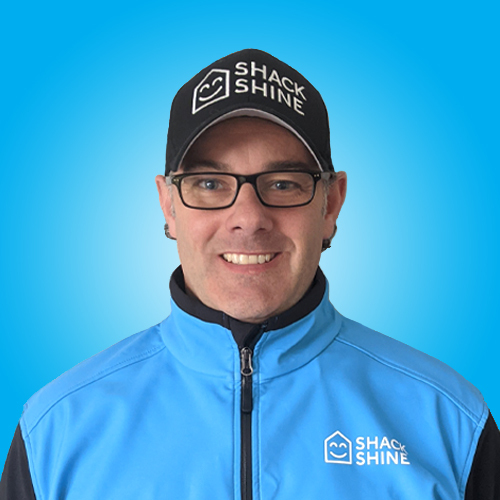 Shack Shine Knoxville
Joel Pouliot
My name is Joel Pouliot and I am the proud owner of Shake Shine in Knoxville, TN. My wife, son, and I just moved to Knoxville from Michigan, where I grew up and graduated from Oakland University with a Bachelor's Degree of Science in Biology.
My wife is an alumnus of the University of Tennessee and played four years for the lady vols soccer program. We have been coming to Knoxville for the past 20 years to visit friends. We fell in love with Knoxville with all of the people in the community and knew this was the place to raise our son and start my Shack Shine Business. My goal is to provide customers with clean, happy shining homes and exceptional service.
I have always been looking to start my own business and with my previous experience in sales, quality control, and a production manager I know this is where I should be. This has helped me with responsibility, leadership, and what it takes to provide great client service.
I knew Shack Shine with its support structure and systems in place, was the right fit for my family and me, but also Knoxville.
I can't wait to provide my services and build something special here in Knoxville with all the wonderful people. GO VOLS!