Making London shine, one home at a time
Are you searching for thorough and convenient pressure washing services near you? Look no further than your local crew at Shack Shine London! Remember that beautiful shine your home had when you first moved in? Sparkly entry, shiny driveway and a glow so bright it lit up the whole neighborhood? We're ready to help you bring your London home to its former glory and fall in love with it all over again—so give us a call today!
Don't let Ontario's cold, moist weather take its toll on your home's exterior. When you call Shack Shine, our professional power washing services can have your home's siding, deck, driveway and other outdoor surfaces looking like new again. The best part? It's all done in one detailed visit! Learn more about our pressure washing services below.
How it works
Step 1
Book Your Service in London Online or by Phone
Step 2
We'll Complete Your Service in One Detailed Visit
Step 3
Enjoy Having the Shiniest Home on the Block
Book London Power Washing
Professional pressure and power washing for a happy London home
Whether it's dirt, algae, moisture or just about anything in between, the elements can do a number on your home's exterior surfaces—and London residents know the area's humid summers and cold, wet winters are just about inevitable. Washing away all that grime not only keeps your house looking its very best, but helps to increase the longevity of these surfaces and save you money in the long run, too. Let our London crew keep your home's exterior in tip-top shape.
Our trained technicians will make every effort to minimize hassle and maximize convenience. They'll carefully move and replace any patio furniture or other belongings as needed to ensure thorough power washing in just one detailed visit. The best part is, you don't even need to be home for us to complete the service! We're all about making your life easier.
Eco-Friendly High-Pressure Washing
At Shack Shine, our power washing service is done without the use of harsh chemicals. Instead, we use the latest power washing technology to get incredible results without any harm to your landscaping or the surrounding environment.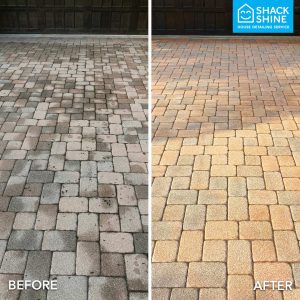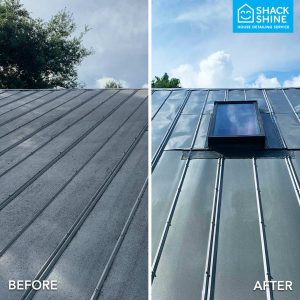 Surfaces we wash
If you need it cleaned, we'll get it taken care of. At Shack Shine London, we offer professional pressure washing services for an array of materials and surfaces to meet your home's needs, including: 
Driveways

Decks

Patios

Concrete

Brick

Stucco 

Vinyl 
Cities we service
Shack Shine London's crew of pressure washing pros provides service to the following cities: 
Bryon

London

Masonville

Nilestown

West London

Westmount

White Oaks
London Power washing FAQs
Q: Is there a difference between power washing and pressure washing?
While these two terms are often used interchangeably and are quite similar to one another, there is a slight difference between these two services. Both power and pressure washing use highly pressurized water to remove grime and other stains from outdoor surfaces, but power washing adds the benefit of heated water, which can often make cleaning these surfaces easier and more thorough. 
Q: How often should you power wash your house?
A: It's up to you! At the bare minimum, we recommend washing the core surfaces of your home (driveway, deck, siding etc.) at least once a year. With that said, depending on the climate conditions of your location, you may desire multiple services throughout the year to keep your home shining. 
Q: Why is power washing important in London? 
A: Ontario has very humid summers accompanied by cold, wet winters. The moist weather can cause a buildup of mold, algae and other contaminants on your home's outside surfaces in addition to the usual debris. These build ups cause a number of issues—from slipping hazards to premature wear. Not to mention, these surfaces will look much less than their best. 
Q: How much does pressure washing in London cost?
A: The cost of our pressure washing service will vary depending on the size of your home, how many surfaces need to be cleaned and if you need any other services from our crew during their visit to your home. If you'd like more pricing information, we're always happy to come and provide you with a free, zero-obligation estimate for our pressure washing service.
Q: How long does it take to power wash a house?
A: It all depends on the size of your home, but we promise to always get the job done in one detailed visit. 
Q: Can you power wash vinyl siding?
A: Yes! Our trained technicians are able to safely and efficiently wash softer surface areas, like vinyl siding.
Q: Can you damage concrete by power washing?
A: When done improperly, it is possible to damage any surface with a power washer. That's why it's important to hire the trained professionals at Shack Shine to make sure the job is done right.