Quick, professional rain gutter cleaning service in Markham
Are you looking for a professional and friendly crew to clean all of the muck and grime out of your gutters? Look no further! Shack Shine has the crew and know-how to clear out every inch of your home's gutters and make sure they are working properly. 
Doesn't walking through one of the many local parks or checking out the latest exhibits at the Varley Art Gallery of Markham sound better than being elbow deep in muck and grime? We've got you covered! Shack Shine and our friendly, uniformed technicians can handle all of your gutter cleaning needs safely and efficiently all in one detailed visit. Book an appointment with Shack Shine today!
Step 1
Book Your Service Online or by Phone
Step 2
We'll Complete Your Service in One Detailed Visit
Step 3
Enjoy Your Happy Home with Clean, Flowing Gutters!
Book Gutter Cleaning
Easy, friendly gutter cleaning in York and Markham
Believe it or not, your gutters are a very important part of your home. They take all that snowmelt and rainfall that happens throughout the year in Markham and funnels it to your street and other ares that are safe for drainage. However, when your gutters get clogged up, they are no longer directing that water away from the important areas of your home such as your foundation. If left too long, this water can leak into your foundation and other areas, causing expensive damage. Don't worry though, Shack Shine is here to help.
We'll use a proven combination of high-powered vacuums and good, old-fashioned elbow grease to clear out and unclog your gutters. Before we leave, we'll even run water through every inch of those gutters to make sure they working like they are supposed to. Schedule an appointment with Shack Shine today to get your gutters cleaned in one, no-effort day.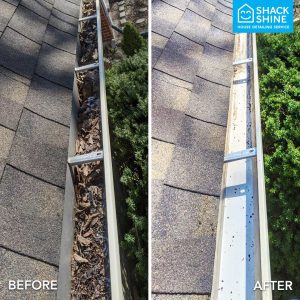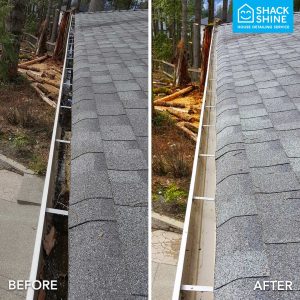 Cities we service
Concord

Kleinburg

Maple

Markham

Thornhill

Unionville

Richmond Hill

Vaughan

Woodbridge
Gutter cleaning services we offer
Interior gutter cleaning

Outside gutter washing

Soffit and fascia washing

Roof blowing for debris removal
Gutter cleaning FAQs
Q: How do you clean customers' gutters?
A: At Shack Shine, we clean gutters by hand and with good old fashioned scoops. For more stubborn build up, we can also break out the latest gutter cleaning technologies, including high-powered vacuums.
Q: Why is gutter cleaning important?
A: It is important to get your gutters cleaned to make sure the water coming off your roof ends up where it is supposed to go and away from important areas of your home like your foundation. Without gutters, the rain and snowmelt coming off your roof can end up damaging important parts of your home, like your foundation.
Q: How often should I have my gutters cleaned if I live in Markham?
A: We recommend having your gutters cleaned at least twice a year. However, if you notice they aren't working like they should be, give us a call before any costly repairs are needed.
Q: How much does gutter cleaning in Markham cost?
A: The final cost of our gutter cleaning service will largely depend on the size of your home and whether you need any other services from our friendly crew during their visit to your home. If you need more info on our pricing, we're always happy to come and provide you with a free, zero-obligation estimate for our gutter cleaning service in Markham and the nearby areas.