Exterior House Cleaning Services in Mississauga
Your home needs care and attention to stay properly maintained and keep it looking (and feeling) great! However, it can be tough to schedule and keep on top of. Let Shack Shine Mississauga take care of your home's maintenance work so you don't have to! We offer interior/exterior window washing, gutter cleaning, power washing, and Christmas light installation, all done by professionals who know how to treat your home right. 
We make it easy to keep your home looking its best. Call or book online today and we'll make sure you have the shiniest home on the block!
Mississauga
1-888-808-7751
140 Widdicombe Hill Blvd, Unit 621, Etobicoke, ON M9R 0A9
Hours of operation:
8:00am - 6:00pm Monday to Friday
Mississauga window cleaning professionals
Are you looking to have the shiniest home on your block, no matter the season? Look no further than Shack Shine Mississauga! Our team of friendly professionals will take care of the exterior of your home with our services like power washing, gutter cleaning, and window washing.
We use the latest technology to get your home sparkling clean, and you won't even have to lift a finger!
Doesn't a walk along the water at Bayfront Park or a meal with friends in Downtown Hamilton sound like a better way to spend your Saturday afternoon? Call us today to book your free estimate! 
How it works
Step 1
Book your appointment online or by calling us at 1-888-808-7751

Step 2
On the day of your appointment, we'll arrive on time and complete the work in one detailed visit.

Step 3
Sit back, relax, and enjoy having the shiniest home on the block
Book Now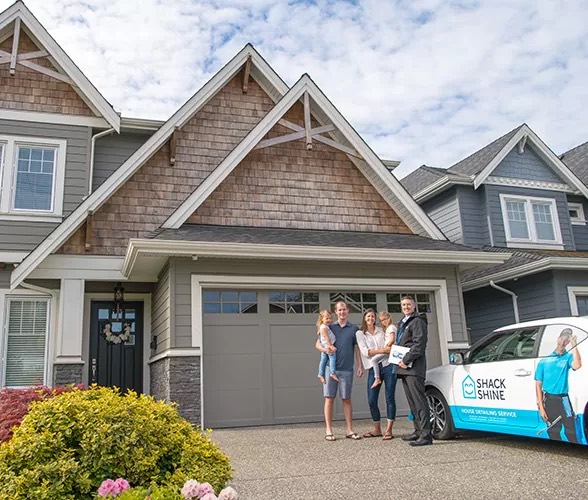 Shack Shine Mississauga
My name is Paul Molinaro, and I am the proud owner of Shack Shine Mississauga.
I grew up in Burlington and attended Wilfrid Laurier University where I graduated with a BBA. Despite choosing to study business in university, I never really saw myself as an entrepreneur until I got involved in College Pro Window Cleaning. It completely changed my perspective as I grew to learn much more about my strengths and weaknesses doing something real.
I heard about Shack Shine through Taleb Oubayan, Franchise partner of Shack Shine Hamilton. He had already been looking into the opportunity and felt a partnership might be an even better fit. It sounded like an excellent opportunity to capitalize on the skills I had worked so hard to develop in previous experiences. I love the brand and really believe it's going to be something enormous in the relatively near future.
I am very excited to be back in the driver's seat doing what I love after spending the better part of the last decade in corporate roles. Here's to the challenge!