Gutter cleaning, power washing and more in Nanaimo, BC
Looking for a crew of professional exterior home cleaners in or near Nanaimo, BC? We sure hope so, because you're in just the right place! At Shack Shine Nanaimo, we're making life better for the area's residents by making their neighbourhoods shine like diamonds—one stellar home service at a time. From gutter and window cleaning to power washing and everything that comes in between, we're ready to make your home stand out as the shiniest in the block in just one detailed visit.
Who wants to spend their limited free time outside cleaning the muck off their home's exterior surfaces? Let us handle it. A few visits a year from our friendly, experienced crew will not only keep your home looking its best, but increase its value over time and prolong the life of its exterior surfaces—saving you money in the long run. Doesn't a peaceful afternoon exploring Neck Point Park or Nanaimo Museum sound like a better way to spend your Saturday than scrubbing away muck? Our crew has you covered.
Cities serviced
Nanaimo
Parksville
Qualicum Beach
Nanaimo
1-888-808-7751
Hours of operation:
8:00am - 5:00pm Monday to Friday
Exterior home cleaners serving Nanaimo
Nanaimo residents see their fair share of rain throughout the year, and know as well as just about anyone that the elements can take their toll on a home's exterior surfaces. All of that moisture can cause a home that's not maintained to develop buildups of mold and mildew—opening the door for rotting in the walls and slippings hazards on outdoor walking surfaces. If you're caught with clogged gutters during a spell of rainy days, water can overflow and run down your walls, pooling around the foundation and leaving the potential for much costlier and time-consuming damage down the line. One detailed visit from Shack Shine, and all those worries go out the door.
Whatever your exterior cleaning needs are for your Nanaimo home, our expert crew is ready to get the job done right. Book your free, zero-obligation estimate with Shack Shine today!
How it works
Step 1
Book your appointment online or by calling us at 1-888-808-7751

Step 2
On the day of your appointment, we'll arrive on time and complete the work in one detailed visit.

Step 3
Sit back, relax, and enjoy having the shiniest home on the block
Book Now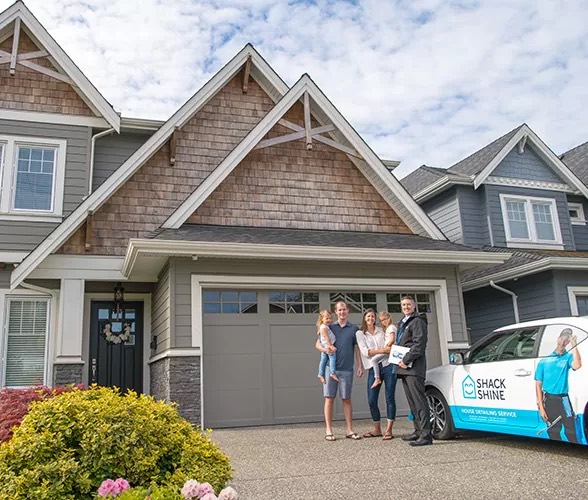 Shack Shine Nanaimo
Chris Mazerolle
Hello! My name is Chris, and I am the Franchise Partner for Shack Shine Nanaimo. I am looking forward to interacting with you (my customers!), and ensuring you have an exceptional experience on every job. Having a strong work ethic, my goals and standards will be the upmost priority throughout my journey.
I'm excited to put together a team that enjoys coming to work day in and day out.