Exterior House Cleaning Services in Kelowna
Your home needs care and attention to stay properly maintained and keep it looking (and feeling) great! However, it can be tough to schedule and keep on top of. Let Shack Shine Kelowna take care of your home's maintenance work so you don't have to! We offer interior/exterior window washing, gutter cleaning, power washing, and Christmas light installation, all done by professionals who know how to treat your home right. 
We make it easy to keep your home looking its best. Call or book online today and we'll make sure you have the shiniest home on the block!
Cities serviced
Kelowna
Vernon
West Kelowna
Kelowna
1-888-808-7751
Hours of operation:
8:00am - 6:00pm Monday to Friday
Our services
Window Cleaning

Clean, sparkling windows are key to having the shiniest home on the block! Shack Shine offers interior and exterior window cleaning to keep your windows in great shape for years to come.

Gutter Cleaning

No one wants to spend the day up on a ladder cleaning out their gutters…except us! Shack Shine will get the job done safely and efficiently. We make gutter cleaning easier than ever.

Power Washing

If your patio, deck, driveway, sidewalk, or any other outdoor surfaces are looking a little dull, Shack Shine can help! Our power washing services will make it all look like new again.

House Washing

Keep the exterior of your home looking fresh with our house washing services. Whether it's siding, stucco, or any other surface, you can trust Shack Shine to make your home shine bright!

Christmas Light Installation

Want to make your home twinkle, sparkle, and glow this holiday season? Let us work our magic! We install custom-fit professional lights and will help you create the design of your dreams.
Kelowna's professional power washing company
Kelowna, situated right in the heart of Wine Country, has intense winters, and hot summers. With the intense changes between seasons, it requires a lot of added things to do for your home, and sometimes those tasks are hard to keep up with! Besides… We know you'd rather be spending your weekends visiting the Okanagan Wineries than doing tasks around the house. 
Shack Shine Kelowna, we know you are busy, which is why we like to make our customers' lives easier! You can breathe a sigh of relief when Shack Shine leaves, and you see just how much your home can twinkle, sparkle, and glow! With our power washing services, we can clean almost any exterior surface of your home. You'll be satisfied to see just how much built-up dirt our team can remove from surfaces, all in one detailed visit.
Think Kelowna's fall leaves are a match for us? Think again! Our team of professionals will complete your gutter cleaning services with care, removing all the leaves, debris, and dirt that can pile up. Our roof cleaning services will also remove any unwanted debris and buildup on your home. You will rest easy knowing that your gutters will flow smoothly once the rain and snow start to fall. 
When you're ready, we'll be here! Give us a call for your free estimate. 
How it works
Step 1
Book your appointment online or by calling us at 1-888-808-7751

Step 2
On the day of your appointment, we'll arrive on time and complete the work in one detailed visit.

Step 3
Sit back, relax, and enjoy having the shiniest home on the block
Book Now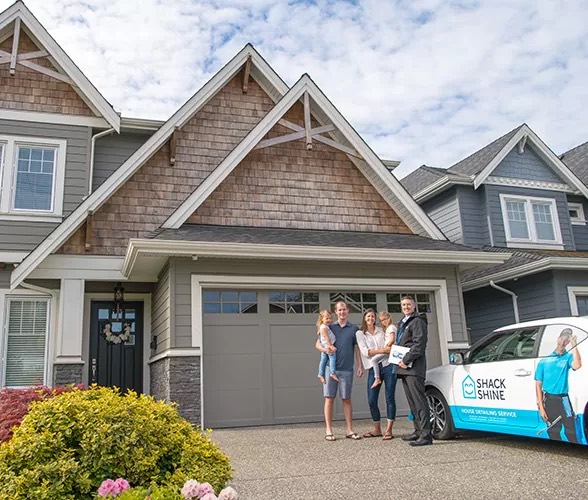 Shack Shine Kelowna
Shaun Walpole
Hi, my name is Shaun Walpole and I am the proud owner of Shack Shine Okanagan. I had long been looking for a great business opportunity and Shack Shine ticked all the boxes. With a world-class call center, exceptional systems in place and most importantly a dedicated staff with a great attitude and a focus on quality. I see amazing growth potential for Shack Shine to be the leader in the "House Detailing" services industry in our area. 
My professional background is 18 years of managing day-to-day operations in a high-tech "Lean Manufacturing" company. Before getting into the management side of the business I worked as a Red Seal Machinist & CNC Programmer with a focus on 3D solid modelling & reverse engineering.
In the summer months, I enjoy hiking, golf, and softball and in the winter I enjoy snowboarding up at Big White. In the past, I spent a significant amount of time volunteering in the community doing food drives, and fundraisers and also spent almost 7 years as a Volunteer Firefighter, "retiring" with the rank of Lieutenant.