Exterior House Cleaning Services in Kelowna
Your home needs care and attention to stay properly maintained and keep it looking (and feeling) great! However, it can be tough to schedule and keep on top of. Let Shack Shine Kelowna take care of your home's maintenance work so you don't have to! We offer interior/exterior window washing, gutter cleaning, power washing, and Christmas light installation, all done by professionals who know how to treat your home right. 
We make it easy to keep your home looking its best. Call or book online today and we'll make sure you have the shiniest home on the block!
Cities serviced
Kelowna
Lake Country
Vernon
West Kelowna
Kelowna
1-888-808-7751
Hours of operation:
8:00am - 6:00pm Monday to Friday
Kelowna's professional power washing company
Kelowna, situated right in the heart of Wine Country, has intense winters, and hot summers. With the intense changes between seasons, it requires a lot of added things to do for your home, and sometimes those tasks are hard to keep up with! Besides… We know you'd rather be spending your weekends visiting the Okanagan Wineries than doing tasks around the house. 
Shack Shine Kelowna, we know you are busy, which is why we like to make our customers' lives easier! You can breathe a sigh of relief when Shack Shine leaves, and you see just how much your home can twinkle, sparkle, and glow! With our power washing services, we can clean almost any exterior surface of your home. You'll be satisfied to see just how much built-up dirt our team can remove from surfaces, all in one detailed visit.
Think Kelwona's fall leaves are a match for us? Think again! Our team of professionals will complete your gutter cleaning services with care, removing all the leaves, debris, and dirt that can pile up. Our roof cleaning services will also remove any unwanted debris and buildup on your home. You will rest easy knowing that your gutters will flow smoothly once the rain and snow start to fall. 
When you're ready, we'll be here! Give us a call for your free estimate. 
How it works
Step 1
Book your appointment online or by calling us at 1-888-808-7751

Step 2
On the day of your appointment, we'll arrive on time and complete the work in one detailed visit.

Step 3
Sit back, relax, and enjoy having the shiniest home on the block
Book Now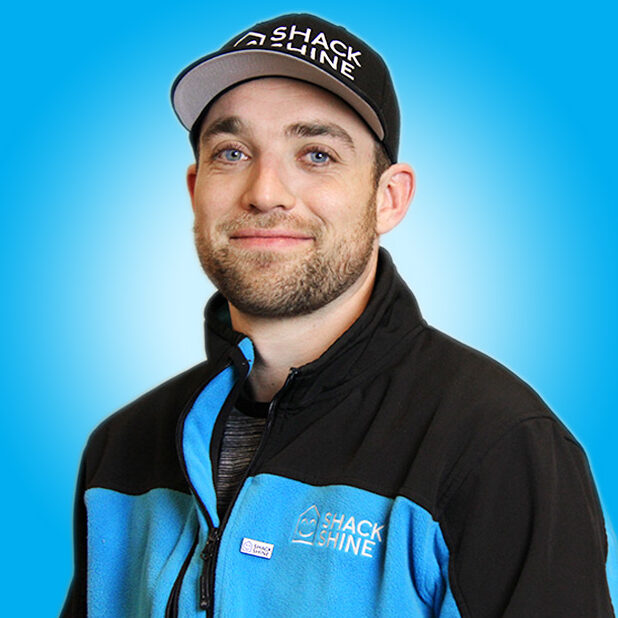 Shack Shine Kelowna
Dan Vrskovy
My name is Dan Vrskovy and I am the owner of Shack Shine Okanagan. I was born and raised in Calgary, Alberta, and graduated from the University of Calgary, before completing my CPA, where I specialized in finance. It was while working in the oil and gas sector that the entrepreneurial spirit came calling.
In the fall of 2015, I moved to Kelowna to be closer to my family and to open my own business. The decision to get involved with Shack Shine was a no-brainer: it has a fantastic track record and huge potential for growth. What I love most about being a business owner with this company is that it allows me to wear multiple hats rather than doing the same task all day. Plus I get to spend time outside and use my finance experience to manage operations.
Outside of work, I spend my time golfing at the Harvest Golf Club, snowboarding at Big White, and enjoying everything else that the beautiful Okanagan has to offer.