What We Do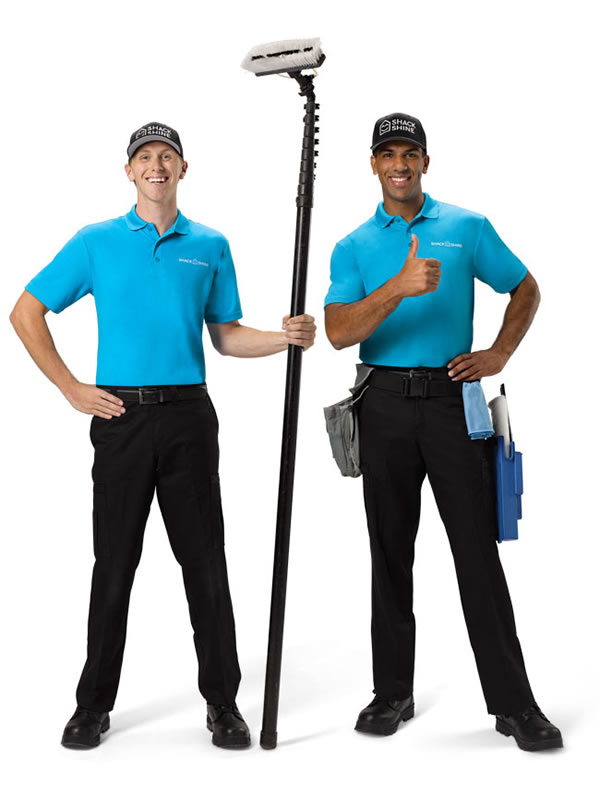 Exterior House Cleaning Services in Orangeville, ON
Orangeville residents can depend on Shack Shine for a comprehensive level of cleanliness!
Shack Shine is the exterior house cleaning service in Orangeville residents can count on to get their home to be the shiniest home on the block. Our smiling, uniformed technicians are happy to arrive at your home in shiny, organized trucks to scrub the exterior surfaces of your home in one detailed visit. We make it easy for you to get all of those tasks you need to complete done on time and without delay.
Window Cleaning
You deserve a sparkling view out of each of the windows on your home. We can make that happen for you. We offer interior and exterior window cleaning services that keep you off the ladder. Our team uses a powerful squeegee tool that helps to scrub your windows clean. We wipe down the frames and screens, too. Window cleaning services from Shack Shine are available even if you are not home. We'll take before and after photos to show you the work we've done for you.
Gutter Cleaning
You're busy and you have a long to-do list. That's when you call Shack Shine for house detailing in Orangeville. Our gutter cleaning service is the easiest way to remove all of that built-up grime and debris in your system. We use a high-powered vacuum attached to a large canister to remove all of the gunk and grime your home doesn't want. This ensures water can flow properly away from your home after every storm. Your home will love you for this service.
House Washing
A key component of our Orangeville exterior house cleaning service is house washing. We offer several methods to help you including a soft wash and hand wash option for more delicate surfaces. We use a moderate about of pressure washing to clean brick and vinyl. You'll have a like-new looking home without having to lift a finger. House washing is essential. It helps to prevent early fading and damage to siding and brick. And, we believe, a happy home creates a happy family.
Roof Cleaning
Roof cleaning ensures your roof tiles do not wear out too soon. Our technicians use just the right amount of pressure to wash away all of the buildup of materials on your roofing tiles. We remove mold and mildew buildup. We'll also remove all of the moss that could clog your eavestroughs. Your roof will look fantastic and your roof will sparkle.
Power Washing
To tackle all of the exterior surfaces around the exterior of your home, put Shack Shine to work for you. Our house detailing Orangevills ervice includes power washing. This is an eco-friendly way for us to remove grime and buildup from many of the surfaces around your home including driveways and pathways. Shining your neighbourhood, one home at a time – even one driveway at a time.
Christmas Light Installation
Let Christmas lights bring a bit of sparkle and festivity to your home. Our Shack Shine technicians can install 100% customized Christmas lights to ensure your house is shining brightly to greet guests this holiday season. We offer high-quality commercial Christmas lights that shine brighter, last longer, and are energy efficient. After the season, we will return to take down the lights and pack them away neatly for easy installation next Christmas.
Get a Quote Today!
Team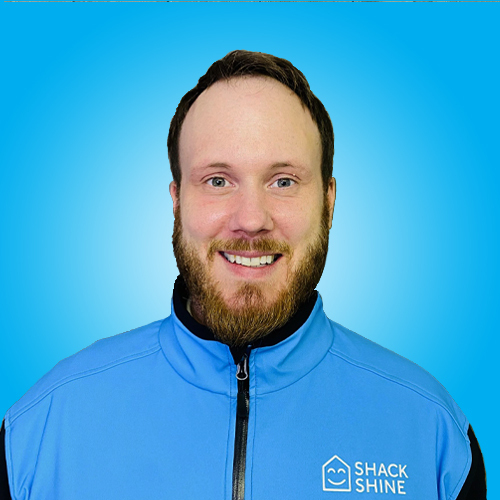 Jeremy Zeyl
Franchise Partner
My name is Jeremy Zeyl and I am the owner of Shack Shine North Peel Region. I love the home services industry and I jumped at the opportunity of being involved with Shack Shine because I firmly believe in its vision and core values: Passion, Integrity, Professionalism, and Empathy. House detailing is a fragmented industry with no clear leader and Shack Shine has the required leadership and systems to become the chosen brand in this market. I truly believe in its vision and culture of "People First".
My professional experience is in the area of exterior decking & fencing, customer service, franchise management, and the music industry.  All of these entrepreneurial endeavors align well with the skill set needed to serve our community well in the area of House Detailing.
I love the North Peel region of Ontario which includes Brampton, Caledon, Orangeville, and North Mississauga, particularly all of the hiking areas in Caledon.  My wife and kids and I have enjoyed many treks along the Credit River with our dog Iris. I love serving the North Peel Region and really putting a smile on customer's faces when they see the incredible work we do and the attention to detail and service we provide!
Cities Serviced
Brampton
Caledon
Orangeville
Services
Interior Window Washing
Exterior Window Washing
Gutter Cleaning
Pressure Washing
House Washing
Roof Cleaning
Christmas Light Installation