St Augustine pressure washing, gutter cleaning and more
Are you looking for a thorough, convenient and friendly exterior home cleaning service in or near St Augustine? You're in the right place! Here at Shack Shine, our goal is to make life a little bit easier for homeowners all over east Florida. How? By making their homes shine like diamonds, without any headaches or inconveniences. From our comprehensive gutter cleaning service to power washing and window cleaning to helping you install a dazzling Christmas light display, Shack Shine's expert crew is ready to help make your home stand out as the shiniest in the neighborhood. 
Nobody wants to spend their weekend taking care of all those pesky outside chores, and that's where we come in. We all know that taking care of these tasks keeps your home looking its best, but did you know that our services can actually increase the longevity of your home's exterior surfaces? This helps save money in the long run, and who doesn't love the sound of that? Let us knock the job out of the park so you can take back your weekend. Doesn't meeting up with friends at St. Augustine Distillery or a stroll through St. George Street sound like a better way to spend your Saturday afternoon than balancing on a ladder scooping muck out of your gutters? Leave all that to us!
Cities serviced
Flager Beach
Nocatee
Ormond Beach
Palm Coast
Ponte Vedra Beach
St. Augustine
St Augustine, FL
1-888-808-7751
Hours of operation:
7:00am - 7:00pm Monday to Sunday
Our services
Window Cleaning

Clean, sparkling windows are key to having the shiniest home on the block! Shack Shine offers interior and exterior window cleaning to keep your windows in great shape for years to come.

Gutter Cleaning

No one wants to spend the day up on a ladder cleaning out their gutters…except us! Shack Shine will get the job done safely and efficiently. We make gutter cleaning easier than ever.

Power Washing

If your patio, deck, driveway, sidewalk, or any other outdoor surfaces are looking a little dull, Shack Shine can help! Our power washing services will make it all look like new again.

House Washing

Keep the exterior of your home looking fresh with our house washing services. Whether it's siding, stucco, or any other surface, you can trust Shack Shine to make your home shine bright!

Christmas Light Installation

Want to make your home twinkle, sparkle, and glow this holiday season? Let us work our magic! We install custom-fit professional lights and will help you create the design of your dreams.
Your local home cleaning experts
Florida residents know as well as just about anyone that the elements can take a toll on your home's outside surfaces. All of that year-round rain and moisture can wreak havoc—opening the possibility for buildups of mold and mildew that can eventually cause rotting in your home's walls. If your gutters are clogged, this constant precipitation can also pool around the home's foundation, opening the possibility for damage to your foundation like cracks, settling or erosion. Make all of that a non-issue by calling our team today! We're ready and waiting to take care of all those pesky items on your to-do list.
Whatever your St Augustine home's needs are, we're ready and waiting to get the job done, and get it done right—all in just one detailed visit. Book your free, zero-obligation estimate with Shack Shine today!
How it works
Step 1
Book your appointment online or by calling us at 1-888-808-7751

Step 2
On the day of your appointment, we'll arrive on time and complete the work in one detailed visit.

Step 3
Sit back, relax, and enjoy having the shiniest home on the block
Book Now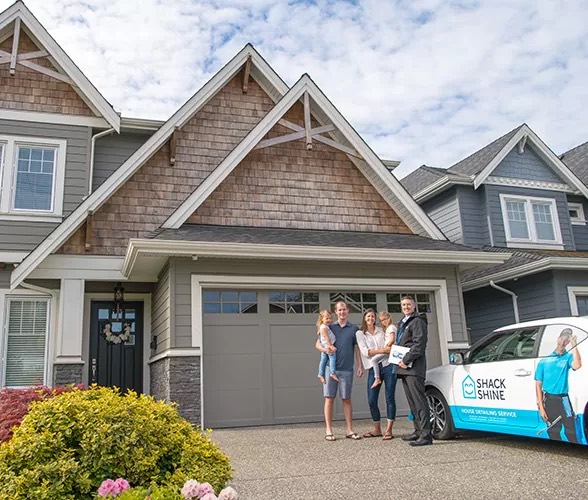 Shack Shine St. Augustine
Alex Blackwell
Welcome to Shack Shine – Florida East. After 33 years in the yearbook and commercial printing industry, I made the decision to spend my "second act" in the beautiful communities of Ormond Beach, Palm Coast and St. Augustine. Having children and grandchildren on the East Coast made this post-retirement transition even more of a no-brainer.
I spent my previous career as a sales, marketing and communications executive, providing customers with an outstanding experience while supplying needed services. This is my passion and Shack Shine was a natural fit to continue this work.
It is exciting to begin my entrepreneurial journey with this company. Shack Shine's commitment to giving customers exceptional service along with their positive culture and uncompromising values resonate with me and my family. I look forward to serving your family. My goal is to help you love your Florida East home even more.
I look forward to meeting you soon.