Gutter cleaning, power washing and more in Ottawa
Is your home looking a little less than its best? Not to worry! If you're in need of friendly, professional exterior home cleaners in or near Ottawa, look no further than Shack Shine. Our friendly crew is always on a mission to make life easier for homeowners—making your neighbourhoods shine like diamonds one job at a time. From comprehensive gutter cleaning and window washing to giving every last walking surface a thorough pressure wash, our crew is ready to get the job done right in just a single detailed visit. Ready to have the shiniest home on the whole block?
There are probably plenty of things you'd rather do this Saturday than scrub windows and scoop out gutters. Give Shack Shine a call so you can have your weekend back! Doesn't something interesting like a visit to Rideau Canal National Historic Site or a family trip to the National Aviation and Space Museum sound like more fun than knocking chores off your to-do list? Leave all that to us—we've got you covered!
Cities serviced
Gloucester
Kanata
Nepean
Ottawa
Sittsville
Ottawa
1-888-808-7751
Hours of operation:
8:00am - 6:00pm Monday to Saturday
Our services
Window Cleaning

Clean, sparkling windows are key to having the shiniest home on the block! Shack Shine offers interior and exterior window cleaning to keep your windows in great shape for years to come.

Gutter Cleaning

No one wants to spend the day up on a ladder cleaning out their gutters…except us! Shack Shine will get the job done safely and efficiently. We make gutter cleaning easier than ever.

Power Washing

If your patio, deck, driveway, sidewalk, or any other outdoor surfaces are looking a little dull, Shack Shine can help! Our power washing services will make it all look like new again.

House Washing

Keep the exterior of your home looking fresh with our house washing services. Whether it's siding, stucco, or any other surface, you can trust Shack Shine to make your home shine bright!

Christmas Light Installation

Want to make your home twinkle, sparkle, and glow this holiday season? Let us work our magic! We install custom-fit professional lights and will help you create the design of your dreams.
Exterior home cleaners in Ottawa & surrounding areas
Nature can take its toll on your home's exterior surfaces, especially in a place that receives as much rain and ice as Ottawa. All of that moisture throughout the year can cause buildups of mold and mildew on these surfaces, causing rotting and even working with ice to create a slipping hazard on walking surfaces. Got clogged gutters on a rainy day? They can overflow and cause water to pool around your home's foundation—leading to cracks, settling and erosion. These repairs are much costlier and more time-consuming than a quick visit from Shack Shine, so let's make it a non-issue together! Our crew can take care of any and all of your exterior home maintenance needs.
How it works
Step 1
Book your appointment online or by calling us at 1-888-808-7751

Step 2
On the day of your appointment, we'll arrive on time and complete the work in one detailed visit.

Step 3
Sit back, relax, and enjoy having the shiniest home on the block
Book Now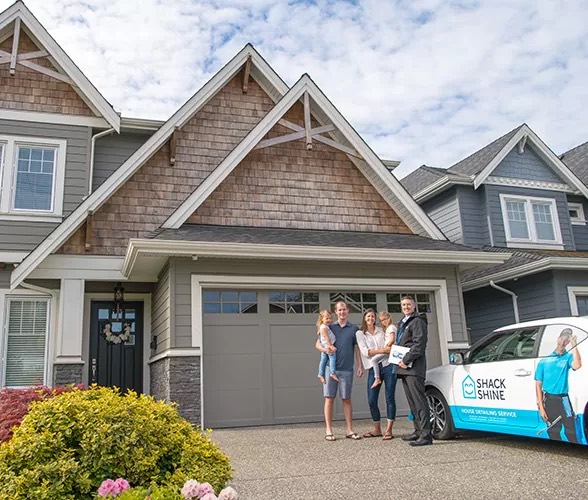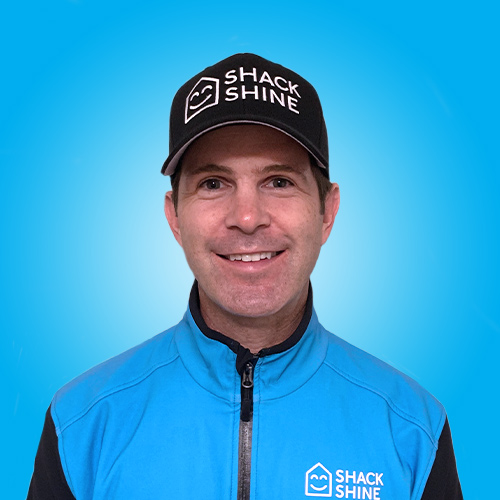 Shack Shine Ottawa
Craig Sanderson
Hi there – my name is Craig Sanderson and I am the owner of Shack Shine Ottawa.
Having grown up in the Ottawa region, I have a love for the city and a genuine admiration for the pride that our clients take in their homes. Shack Shine's vision and core values (Passion, Integrity, Professionalism, and Empathy) align with my own beliefs, and our team members ensure that we treat our clients' homes like they are our very own.
My personal experience includes small business management, client services, marketing, and building services & landscaping. I believe that House Detailing is an important step in maintaining aesthetics, along with providing preventative maintenance, for our property. I also understand how much time and effort goes into making our homes look their best, and I've seen firsthand how Shack Shine's services can help free up our clients' time to do the things they love, while still ensuring their houses continue to look amazing.
When I'm not working, I can usually be found with my wife and daughter enjoying the many ski hills, golf courses, and hiking trails (with our family dog leading the way) that the Ottawa region has to offer. Thanks for letting us help Ottawa shine!