Positively Shiny, Every Time
Your home needs care and attention to stay properly maintained and keep it looking (and feeling) great! However, it can be tough to schedule and keep on top of. Let Shack Shine take care of your home's maintenance work so you don't have to! We offer interior/exterior window washing, gutter cleaning, power washing, and Christmas light installation, all done by professionals who know how to treat your home right. 
We make it easy to keep your home looking its best. Call or book online today and we'll make sure you have the shiniest home on the block!
Cities serviced
Vero Beach
Fort Pierce
Port St. Lucie
Indian River County
Shack Shine Port St. Lucie
1-888-808-7751
Hours of operation:
Monday to Friday 8:00am to 6:00pm
Our services
Window Cleaning

Clean, sparkling windows are key to having the shiniest home on the block! Shack Shine offers interior and exterior window cleaning to keep your windows in great shape for years to come.

Gutter Cleaning

No one wants to spend the day up on a ladder cleaning out their gutters…except us! Shack Shine will get the job done safely and efficiently. We make gutter cleaning easier than ever.

Power Washing

If your patio, deck, driveway, sidewalk, or any other outdoor surfaces are looking a little dull, Shack Shine can help! Our power washing services will make it all look like new again.

House Washing

Keep the exterior of your home looking fresh with our house washing services. Whether it's siding, stucco, or any other surface, you can trust Shack Shine to make your home shine bright!

Christmas Light Installation

Want to make your home twinkle, sparkle, and glow this holiday season? Let us work our magic! We install custom-fit professional lights and will help you create the design of your dreams.
Professional power washing services near you!
Have you been looking for a way to bring more life to the look of your home? Shack Shine's house detailing services will do just that
At Shack Shine Port St. Lucie, we take care of your whole home, and do so in one detailed visit! Whether you are looking to make your windows sparkle and shine again, or remove the built-up dirt and grime from your outdoor living spaces, you'll be relieved you called Shack Shine. 
We want to give you the power to take your time back. Enjoy a meal at Fernando's Dockside Grille with some friends, and let Shack Shine do the hard work! 
How it works
Step 1
Book your appointment online or by calling us at 1-888-808-7751

Step 2
On the day of your appointment, we'll arrive on time and complete the work in one detailed visit.

Step 3
Sit back, relax, and enjoy having the shiniest home on the block
Book Now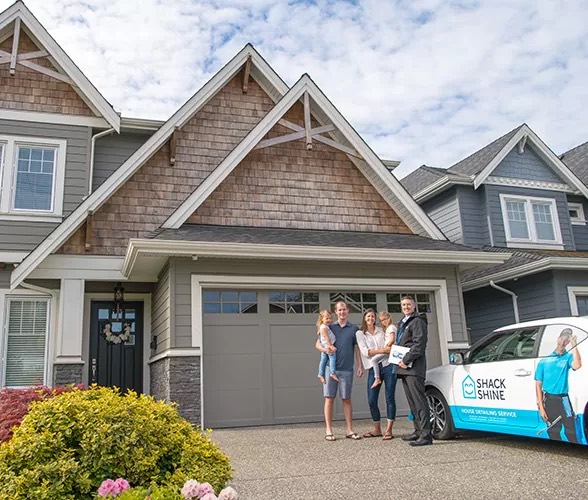 Shack Shine Port St. Lucie
David & Matt Imler
Brothers, Matt and Dave Imler, both come from backgrounds focusing on exceptional customer experiences. Matt has over a decade of experience in the hospitality industry, and spent 5 years working with his father in home renovations. Dave had the opportunity to serve church congregations in ministry for 15 years before establishing a thriving mortgage business in the Greater Toronto Area. They love how the Shack Shine culture inspires a passion and excitement for each and every day on the job. They look forward to bringing exceptional customer service to each and every client, as well as building relationships and giving back to their community.