Top-Notch gutter cleaning service in Richmond, BC and surrounding areas
Are you ready to say good bye to the hassle of gutter cleaning? 
We know cleaning your gutters is the last thing you want to do. It's messy, time-consuming, and often requires getting up on a ladder. But ignoring the task can lead to serious water damage and other costly problems.
At Shack Shine, we're here to take the hassle out of gutter cleaning for you. Our team of experienced professionals will handle the task quickly and efficiently, so you can spend your time on more enjoyable activities. After all, the city is chock-full of unique activities. We want you to experience everything from the Brittania Shipyards to the Gulf of Georgia Cannery to an afternoon of high tea at London Heritage Farm. Richmond awaits (but your gutters will not).
Don't let gutter cleaning take over your life. Contact us today to schedule your appointment and enjoy the benefits of clean, flowing gutters. 
Step 1
Book Your Service Online or by Phone
Step 2
We'll Complete Your Service in One Detailed Visit
Step 3
Enjoy Your Happy Home with Clean, Flowing Gutters!
Book Gutter Cleaning
Keep your gutters flowing with this cleaning service in Richmond, BC
Gutters play a vital role in protecting your home from water damage, but they can also get clogged with leaves, debris, and other unwanted materials. That's why it's essential to keep them clean and flowing smoothly. And that's where we come in! 
Shack Shine's professional cleaning process is designed to effectively remove any clogs, ensuring your gutters are functioning optimally. We use state-of-the-art tools and techniques to ensure your gutters are thoroughly cleaned and protected from future clogs.
Don't let clogged gutters ruin your peace of mind. Contact us today to schedule your cleaning appointment and enjoy the peace of mind that comes with a well-functioning gutter system.
Trust us to keep your gutters flowing and your home protected!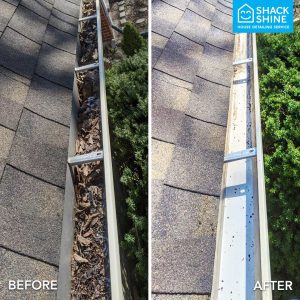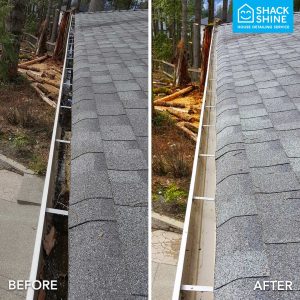 Cities we service
Shack Shine Richmond, BC is proud to offer expert gutter cleaning services to the following cities: 
Delta

Ladner

New Westminster

South Surrey

Tsawwassen

White Rock

 
Gutter cleaning services we offer
At Shack Shine Richmond, BC, we offer all the professional gutter cleaning services to meet the needs of your home
Interior gutter cleaning

Outside gutter washing

Soffit and fascia washing

Roof blowing for debris removal
Gutter cleaning FAQs
Q: How do you clean customers' gutters?
A: At Shack Shine, we clean gutters by hand and with good old-fashioned scoops. For more stubborn build-up, we can also break out the latest gutter cleaning technologies, including high-powered vacuums..
Q: Why is gutter cleaning important?
A: Gutter cleaning is essential in Richmond, BC for several reasons. It prevents water damage to your roof, walls, and foundation; It maintains aesthetic appeal and the overall appearance of your home; It protects against pests, such as mosquitos, rodents, and birds; And it increases the lifespan of your gutters.
Q: How often should I have my gutters cleaned if I live in Richmond, BC?
A: We recommend that customers get their gutters cleaned at least twice a year, in the spring and fall. In Richmond, BC, where rain and other precipitation is common, it's especially important to keep your gutters clean and functioning properly to prevent water damage and other issues.