Exterior House Cleaning Services in Scarborough
Your home needs care and attention to stay properly maintained and keep it looking (and feeling) great! However, it can be tough to schedule and keep on top of. Let Shack Shine Durham Scarborough take care of your home's maintenance work so you don't have to! We offer interior/exterior window washing, gutter cleaning, power washing, and Christmas light installation, all done by professionals who know how to treat your home right. 
We make it easy to keep your home looking its best. Call or book online today and we'll make sure you have the shiniest home on the block!
Cities serviced
Durham
Pickering
Scarborough
Scarborough
1-888-808-7751
380 Alliance Avenue, Unit 102, Toronto, ON M6N 2H8
Hours of operation:
8:00AM - 8:30 PM Monday to Friday
Hours of operation:
10:00AM - 6:30 PM Saturday and Sunday
Professional window washing in Durham Scarborough
Our friendly and knowledgeable technicians provide top-notch pressure washing, power washing, window cleaning, and gutter cleaning services that will leave your home looking like new. And with Shack Shine taking care of the hard work, you can spend your time exploring all the great things that Scarborough has to offer.
Take a stroll along the waterfront, visit the iconic CN Tower, or catch a Toronto Raptors game at the Scotiabank Arena. And with your home's exterior sparkling clean, you'll feel proud to welcome friends and family for a barbecue in your backyard. Shack Shine can help your home twinkle, sparkle, and glow like never before.
Discover why we're the top choice for house detailing services in Scarborough!
How it works
Step 1
Book your appointment online or by calling us at 1-888-808-7751

Step 2
On the day of your appointment, we'll arrive on time and complete the work in one detailed visit.

Step 3
Sit back, relax, and enjoy having the shiniest home on the block
Book Now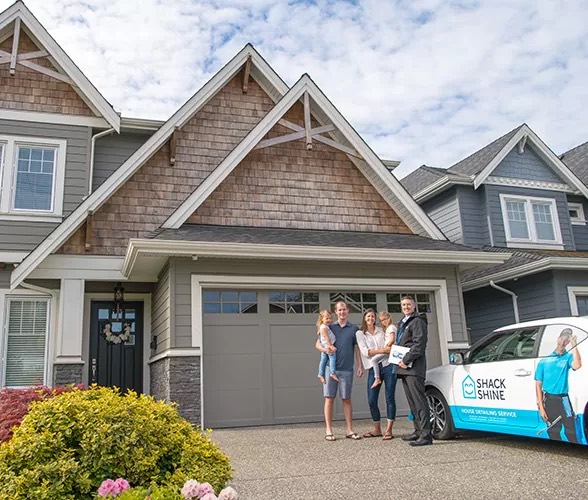 Shack Shine Scarborough
Kim Hanafi
Throughout my career there have been three common themes that I am truly passionate about and strive to uphold:
1. An unrelenting dedication to customer satisfaction
2. Delivering value through products, services, and advice
3. Maintaining the highest level of integrity
At Shack Shine, I have the opportunity to work with and lead a team of dedicated professionals who hold those same values, ensuring our customers are truly WOW'd with every interaction.
We take a consultative approach to working with our customers, ensuring they are informed about the work we will do, how we will do it, and only recommending the work that needs to be done.
We recognize that forging long lasting relationships with our customers and partners, built on a foundation of trust, is key to our success, and we look forward to building one with you.