Window cleaning experts serving Surrey
Do you need a skilled, efficient, and friendly window cleaning crew in or near Surrey? You've come to the right place! If streaked, damaged, or smudged windows are bringing your home down, our professionals can restore their luster. We can clean almost every window in your home, inside and out, including those hard-to-reach locations that would ordinarily require you to tip-toe on top of a ladder to clean.
There are numerous advantages to using Shack Shine for window washing in Surrey. We help you save time. We help you stay off those ladders. We let you spend your weekends doing something pleasurable while we do the dirty job. It can also save you money. What's more, you'll have sparkling clean windows that add value to your home. A happy home means a happy family. It's as simple as that.
Step 1
Book Your Service Online or by Phone
Step 2
We'll Complete Your Service in One Detailed Visit
Step 3
Enjoy Having the Shiniest Home on the Block!
Book Window Cleaning
Residential window cleaning in Surrey and the Fraser Valley
When you call Shack Shine, you can be confident that we will devote the same amount of time, care, and attention to detail to your home as we do to our own. We have the equipment to handle many window types, including single-pane, double-pane, french-pane, skylights, glass panels, storm windows, patio covers, solariums, and more! Our experienced staff can restore the luster and brilliance of glass.
We employ cutting-edge water-purification technology to ensure that after we restore the brilliance of your windows, there are no streaks, blotches, or water stains. We also use cutting-edge carbon fiber, water-fed poles to safely and efficiently clean those difficult-to-reach windows in your home. Every window we work on is inspected before and after cleaning, and any stubborn stains or grime are cleaned out by hand with a soft, microfiber cloth.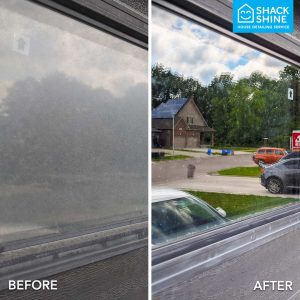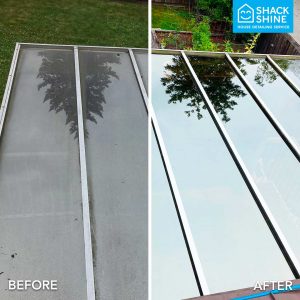 Cities we service
Cloverdale

Surrey

South Surrey

White Rock
Window washing services we offer
Exterior window cleaning

Interior window cleaning

Storm window cleaning

Glass rail panel cleaning

Skylight washing

Screen cleaning
Window cleaning FAQs
Q: How do you clean windows without streaks?
A: We employ a tried-and-true applicator and squeegee approach for inside windows, together with purified water and biodegradable window cleaning solution that does not leave hard minerals behind, resulting in windows that sparkle rather than streak. We use a telescopic water-fed pole rising up to five stories high with water filtered through our revolutionary four-stage water purification technology to assure crystal-clear and sparkling windows and frames.
Q: How often should I have my windows cleaned in Surrey?
A: You can have us clean as many times as you want! We recommend at least twice a year—in the spring and fall—to help extend the life of your home's window glass. Though we have comfortable weather in the summer, fall gives way to rainy, wet winters, often with heavy rainfall into early spring. All that moisture can leave windows streaky and stained, which calls for more cleaning. 
Q: How much does window cleaning in Surrey cost?
A: The final price of our window cleaning service will vary widely depending on several factors, including: 
The size of your home 

How many windows need to be cleaned

Whether we're taking care of both sides of the windows or just the outside

If you need any other services from our friendly crew during their visit to your home
If you need more info on our pricing, we're always happy to come and provide you with a free, zero-obligation estimate for our Fraser Valley window cleaning service.
Q: What window cleaning solution do you use?
A: We simply use filtered water with a touch of biodegradable window cleaning solution. The purified water ensures there's no streaks from minerals, and our biodegradable solution prevents any damage to the surrounding landscape.