Positively Shiny, Every Time
Your home needs care and attention to stay properly maintained and keep it looking (and feeling) great! However, it can be tough to schedule and keep on top of. Let Shack Shine take care of your home's maintenance work so you don't have to! We offer interior/exterior window washing, gutter cleaning, power washing, and Christmas light installation, all done by professionals who know how to treat your home right. 
We make it easy to keep your home looking its best. Call or book online today and we'll make sure you have the shiniest home on the block!
Cities serviced
The Woodlands
Shenandoah
Rayford
Tomball
Hufsmith
Klein
Louetta
Magnolia
Egypt
Karen
Stagecoach
Rose Hill
The Woodlands
1-888-808-7751
Hours of operation:
8:00am to 3:00pm Monday to Friday
Our services
Window Cleaning

Clean, sparkling windows are key to having the shiniest home on the block! Shack Shine offers interior and exterior window cleaning to keep your windows in great shape for years to come.

Gutter Cleaning

No one wants to spend the day up on a ladder cleaning out their gutters…except us! Shack Shine will get the job done safely and efficiently. We make gutter cleaning easier than ever.

Power Washing

If your patio, deck, driveway, sidewalk, or any other outdoor surfaces are looking a little dull, Shack Shine can help! Our power washing services will make it all look like new again.

House Washing

Keep the exterior of your home looking fresh with our house washing services. Whether it's siding, stucco, or any other surface, you can trust Shack Shine to make your home shine bright!

Christmas Light Installation

Want to make your home twinkle, sparkle, and glow this holiday season? Let us work our magic! We install custom-fit professional lights and will help you create the design of your dreams.
Your Local Power Washing Experts
Shack Shine is shining the area of The Woodlands, one house at a time! Whether you need your windows cleaned, or the exterior surfaces of your home power washed, Shack Shine The Woodlands is your answer! 
The Woodlands' hot and humid summers can cause a buildup of mold and mildew on your windows and make them lose their shine. With our Window Washing service, our team of professionals uses the latest water purification technology to remove all the dirt and grime from your window sills and windows in one detailed visit, leaving you with the shiniest home on the block!
If you've always dreamed of having the best Christmas lights display on your street during the holiday season, we want to make that dream a reality! With our Christmas lights installation service, you can work with our team of professionals to create the perfect display custom for your house. You can keep your two feet planted safely on the ground while our team installs your lights. 
We want to help you save time, so you can enjoy doing the things you love instead of spending a weekend completing pesky chores.  When you need us, we'll be here ready to provide you a free estimate. 
How it works
Step 1
Book your appointment online or by calling us at 1-888-808-7751

Step 2
On the day of your appointment, we'll arrive on time and complete the work in one detailed visit.

Step 3
Sit back, relax, and enjoy having the shiniest home on the block
Book Now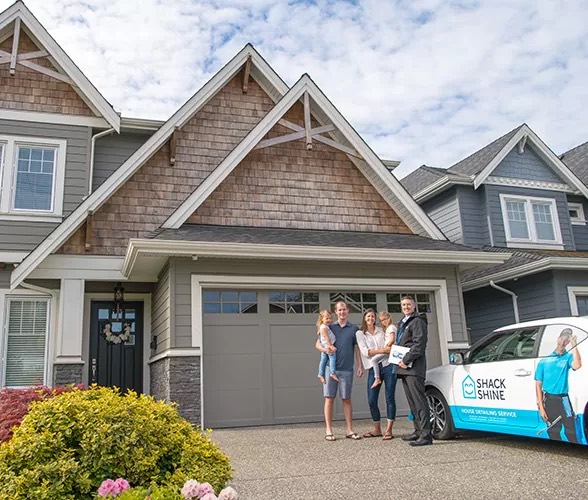 Shack Shine The Woodlands
Jorge Estevez
Hi! My name is Jorge Estevez, a proud owner of Shack Shine Houston Northwest. 
My wife Belen and I decide to begin our entrepreneurial journey with Shack Shine because we believe in its vision and core values: Passion, Integrity, Professionalism and Empathy and we are very excited to become part of this great community! 
I came from the Hospitality industry and have always been passionate about delivering exceptional customer service what I liked about Shack Shine is that we make the ordinary into exceptional!
House detailing is a fragmented industry with no clear leader and Shack Shine has all the required. Our goal is to become the most trusted house detailing and Christmas Lights company in the area and be part of our community and give back.
We offer interior/exterior window washing, gutter cleaning, power washing and Christmas lights! Our friendly, uniformed technicians provide exceptional service, using state-of-the-art equipment and complete all jobs in one detailed visit. With Shack Shine, you will have the shiniest house on the block! and your home will love you!
I enjoy outdoor activities and cycling, but my passion is to spend time with my family and friends! 
We are very excited to be part of Shack Shine and looking forward to supporting and shining our community, one home at a time!