Gutter cleaning made easy with the experts in Central Vancouver
Keep your home protected with a clean and efficient gutter system. Shack Shine's professional gutter cleaning services guarantee a thorough and safe clean, ensuring that your gutters are free from debris, leaves, and blockages.
At Shack Shine, we understand the importance of a clean and well-maintained property. That's why we offer a full suite of gutter cleaning services that are guaranteed to leave your gutters flowing freely. We use state-of-the-art equipment and eco-friendly cleaning solutions that can remove years of built-up dirt and grime. 
Vancouver has many enjoyable luxuries. Why spend your weekend on the ladder, scooping muck? Instead, take a walk on the wild side. The Capilano Suspension Bridge is known to stop hearts. Or how about a visit to a living museum? We're talking about the breathtaking botanical gardens! We can come up with hundreds of adventures for you—free of charge. That's how serious we are when we say we've got you covered. 
Learn more about our local gutter cleaning service below.
Step 1
Book Your Service Online or by Phone
Step 2
We'll Complete Your Service in One Detailed Visit
Step 3
Enjoy Your Happy Home with Clean, Flowing Gutters!
Book Gutter Cleaning
Say goodbye to clogged gutters
Cleaning rain gutters is a chore; and let's be honest, it's not the sexiest chore. In fact, it almost always gets ignored. Enter Shack Shine. Our professional crew delivers clean, free-flowing gutters in just one detailed visit. We have the tools, we have the time, and we have the energy. We're ready to take on this chore—so you don't have to.
But don't wait until it's too late. Clogged gutters can cause water to overflow, potentially damaging your roof, walls, and foundation. Additionally, standing water in gutters can create a breeding ground for insects and build ice dams in winter, which can cause further damage to your roof and walls.  
Once we have cleared your gutters and the water is free-flowing, we'll wipe down any mess the muck has left, ensuring the exterior of your home is clean and looking like new. 
Please don't settle for a property that's less than its best. Choose Shack Shine and see the difference clean gutters can make!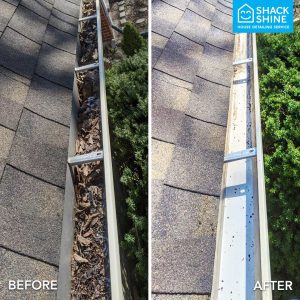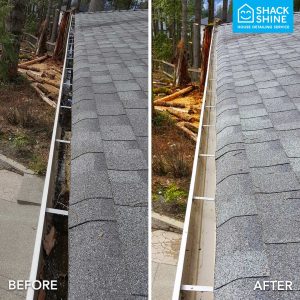 Cities we service
Shack Shine Central Vancouver is proud to offer our unmatched gutter cleaning services to the following cities: 
Gutter cleaning services we offer
At Shack Shine Central Vancouver, we offer all the professional gutter cleaning services to meet the needs of your home
Interior gutter cleaning

Outside gutter washing

Soffit and fascia washing

Roof blowing for debris removal
Gutter cleaning FAQs
Q: How do you clean customers' gutters?
A: At Shack Shine, we clean gutters by hand and with good old fashioned scoops. For more stubborn build up, we can also break out the latest gutter cleaning technologies, including high-powered vacuums.
Q: Why is gutter cleaning important?
A: Gutter cleaning is important because it helps prevent water damage to your home and foundation. Clogged gutters can cause water to overflow and penetrate the roof, walls, and foundation, causing leaks, mold, and other structural problems. Additionally, dirty gutters can attract pests and create a fire hazard if leaves and debris accumulate near rooflines
Q: How often should I have my gutters cleaned if I live in Vancouver, BC?
A: In central Vancouver, which has a moderate climate with a mix of rain and snow, it is recommended to clean gutters at least twice a year: once in the spring and once in the fall. This helps to ensure that leaves, twigs, and other debris do not accumulate and cause blockages that can lead to water damage. It may be necessary to clean gutters more frequently in areas with many surrounding trees or during particularly heavy seasons.