Help your clients shine up their home before selling.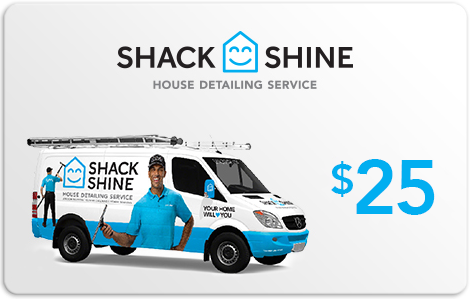 You know that curb appeal definitely helps a home sell faster. Help your clients get their homes ready to go by giving them this great discount on house detailing services. Shack Shine offers interior/exterior window washing, gutter cleaning, power washing and Christmas light installation – all in one detailed visit from our technicians. You'll have the shiniest house on the block!
When they use promo code ROYAL25 they'll receive a $25 off house detailing services.
Booking is easy – call us at 1-888-808-7751 or or book online. Don't forget to mention the promo code!
*Promo code will be applied at time of estimate. Some locations are not serviced. Check to see if we're in your area by entering your postal code in our online booking engine.
Terms & Conditions
Redeemable from Shack Shine participating franchises. Promotion Code must be applied at the time of booking, online or through the sales centre. The truck team will deduct $25 from your job pre-tax. This offer cannot be combined with any other Shack Shine offers and is not redeemable for cash. Limit one per customer per job. Not valid on promotional items. Use promo code ROYAL25.
Shack Shine, not Royal LePage, is responsible for the terms and conditions applicable to this offer. Please direct all questions regarding this offer to Shack Shine at customerexperience@shackshine.com.
Offers valid until December 31, 2019. Subject to change.