Shack Shine Arrives in Tampa
Zachary Tyler is one of Shack Shine newest Franchise Partners. While he was passionate about his previous career in the online gaming industry, he always had a dream to be an entrepreneur and discovering Shack Shine helped turn that dream into a reality.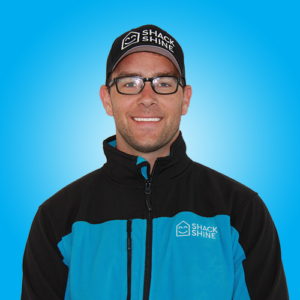 Why did you choose to join Shack Shine?
Exterior house cleaning is an industry that desperately needs to be professionalized. When I came across Shack Shine, I fell in love with how they packaged a variety of services that homeowners need into one detailed visit. I loved their branding and their focus on completely rethinking how exterior house cleaning services should be delivered to the customer.
What was your background prior to Shack Shine?
Prior to Shack Shine, I was doing digital marketing for an online gaming company. While I enjoyed what I was doing, Shack Shine provided me with an opportunity to pursue my entrepreneurial dream, and to connect more closely with my customers.
What are you looking forward to most about being a Shack Shine business owner?
I'm excited to professionalize and bring a fresh solution to a problem that many homeowners in my area deal with. From a personal standpoint, it's exciting to know that every ounce of energy I put into the business is ultimately paving my way towards a successful career serving customers, and working for myself.
What are your passions outside of work?
I love golfing and being outside. Living in Tampa allows me to enjoy the outdoors all year round. When indoors, I like to pursue creative projects that have to do with web design.
How are you involved with your community?
I like to explore different restaurants and events around Tampa with my wife and dog. It's such a   young city that it's exciting to discover new things it has to offer. Professionally, I like to remain close to the local chamber of commerce. My goal is to build a strong reputation amongst the city and to ultimately look to give back to local charities and events when I can.
Do you have any role models or key motivators in your life?
I'd say my path in life would have been much harder if my Dad hadn't taught me the value of hard work, commitment, and grit. He's definitely been a role model and someone I couldn't thank enough for his hard work, and the principles he's shared with me throughout my life. My Mom has also been such a staple in my life. I like to be sure that whatever I'm doing, it's something I know they'd be proud of.
What makes Tampa unique?
Tampa is a complete gem of a city. It seems as though there's a new restaurant, hangout, or festival that's sprouting up every week. It's practically always sunny, it's located right on the water, and the people are very friendly. What more could you ask for? I couldn't be happier living here. I like to say it's the San Diego of the east coast.
Fun facts about you, or anything else you'd like to share?
My favorite sport is baseball, I played it all the way through college. Growing up in the northeast, I became a fortunate diehard fan of Boston sports. One very odd fact — I've never had a headache. I should probably see a Doctor…
Help us welcome Zachary to the Shack Shine family!
Read More News