A new life as a franchise owner in the USA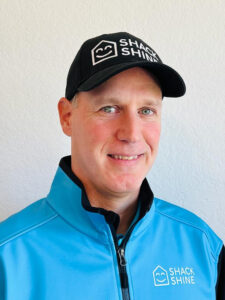 Opening a Shack Shine franchise in Fort Worth, Texas made Fernando Elicagaray's dream of moving to the USA from Brazil a reality – and the small city, active, outdoor lifestyle that he and his wife were looking for.
Q: What made you want to own a business?

I already had my own business in Brazil for some years before I closed the company. Then I started working in an industry that sold professional, custom equipment. The company would create tailor-made products and I used to sell them to businesses like hotels, hospitals, restaurants and bars. But I wanted to develop a new company outside of Brazil. I wanted to move to the USA and then try to have my own business here with my wife. So basically, I wanted to restart the journey of being a business owner, in a new place.
Q: Why did you decide to go down the franchising route?
As we were coming from another country, we felt it would be easier to start a franchise because we would have all the support that we need. This was really important to us, but it also helped make the Visa application process easier for us too. If you're developing your own business from scratch, it can make that process more difficult. Having a brand, something that is already known, really helps.
Q: Why now, what was it that made you take the leap? What did you do before this?

This is a longtime dream that is becoming reality!
For a long time, we couldn't figure out the best way for us to get to the USA. We had some friends living in Texas, so we started looking into that area. Our friends invited us to come and visit, take a look around. We really liked the city, and we were looking for somewhere with opportunities for our franchise.
The franchise broker presented us Shack Shine, and we saw there were a lot of houses in the area, and a really high household income, so it seemed like a good opportunity to develop a Shack Shine for this area. Everything just came together perfectly!
Q: How did you hear about us originally?
We first heard about Shack Shine through the franchise broker we were working with. He presented us with all kinds of different possibilities, but Shack Shine just stuck with us. We loved the brand! From the first time we saw it – the happy, smiling house, the colors – we just knew it would be good.
Q: What are you looking forward to most about being an owner? What's your big goal – where do you see yourself taking this business?
I want to be the best company in this area offering house detailing services. We like to take care of people, we like to build things ourselves. My wife is an architect, and so she is a very detail oriented person. We just want to provide a good service to our customers.
We saw a lot of opportunities here and we'd like to grow in four years and try to go into another territory. And that would be enough for me – to add another territory, maybe 6 more vans, I would be so happy with that.
Q: Tell us about your territory – what makes it unique?
We wanted to make sure we were in a place that had good numbers, but was also going to be a good place to live. We didn't want to move to a big city, we wanted to go to a smaller city that also had a higher income, leading to more opportunities for jobs. We were really open to anywhere, as long as it matched those two criteria. So, it was very appealing to us when this area was presented as there was very high household income, and Flower Mound turned out to be a small city in the area that we really liked and could see ourselves living.
There are a lot of opportunities for professional services around here – there are lots of landscapers and pool guys, so why not house detailing? And if we come in and do a really good job, and offer a really high quality experience for the customers, we are going to be successful.
Q: What do you like to do outside of work – what are your interests and passions?
My wife and I like to stay really active. We love to run, we are big runners. We love tennis, and we are both firearms instructors. We also like a lot of sports. I especially like football, which is weird for a Brazilian guy! We just love having an active, healthy lifestyle, and being outdoors. So Texas is a great place for us because of that.
Thank you and congratulations on your business, Fernando!
Find out more about our franchise opportunities here.
Read More News