Shack Shine is Open For Business in Austin!
A passionate family man, with a keen eye for detail, Nathan Wingate is the proud owner of Shack Shine Austin. Read more below to learn a little bit about Nathan and how he decided that Shack Shine was the Franchise for him.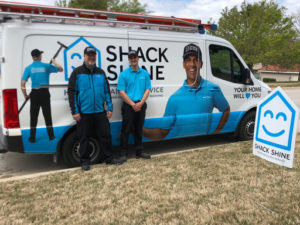 Why did you choose to join Shack Shine?
I've looked at a lot of franchises over the past few years and without fail they are either sold out or they aren't worth investing in. Shack Shine was unique in that it was new enough to have open territories but by being part of the O2E family of brands, it had the backing of an established brand like 1-800-GOT-JUNK?
I also really believed in the business model of home detailing. Before I found Shack Shine, had been thinking about starting my own business in the space.
Finally, I did a ton of research on Shack Shine as a brand. I read Google and Yelp reviews from all over the country and time and time again the reviews were positive and customers were raving about the service they received. I knew this was a company I could partner with to create something great in Austin.
What was your background prior to Shack Shine?
My background is a mix of technology and construction. I've worked in IT, built homes, and created a number of businesses over the years. I've done everything from painting homes to creating software for contractors. I love bringing new technology and systems to the old industry of contracting.
What are you looking forward to most about being a Shack Shine business owner?
I'm most passionate about providing great customer service to our clients. That's what drew me to the Shack Shine brand in the first place. I know that if we put our customers at the center of our business, and treat them well, then everything else will fall into place.
What are your passions outside of work?
I'm married and I have four kids. Any time I get to spend with them is what gets me most excited.
How are you involved with your community?
I serve at my local church in the children's ministry. I've been doing that for about 10 years and I love it.
Do you have any role models or key motivators in your life?
When it comes to business, I believe in people over profits and treating others better than yourself. When you can have that mentality with your customers and employees everything else falls into place.
What makes Austin unique?
Austin is one of the more unique places to live in the country. It's a great mix of friendly people and a laid back culture. Not to mention the amazing food and music. I may be partial but I think it's one of the best places to live in the country.
Read More News