Trusting His Timing; A Marketing Executive Takes An Entrepreneurial Leap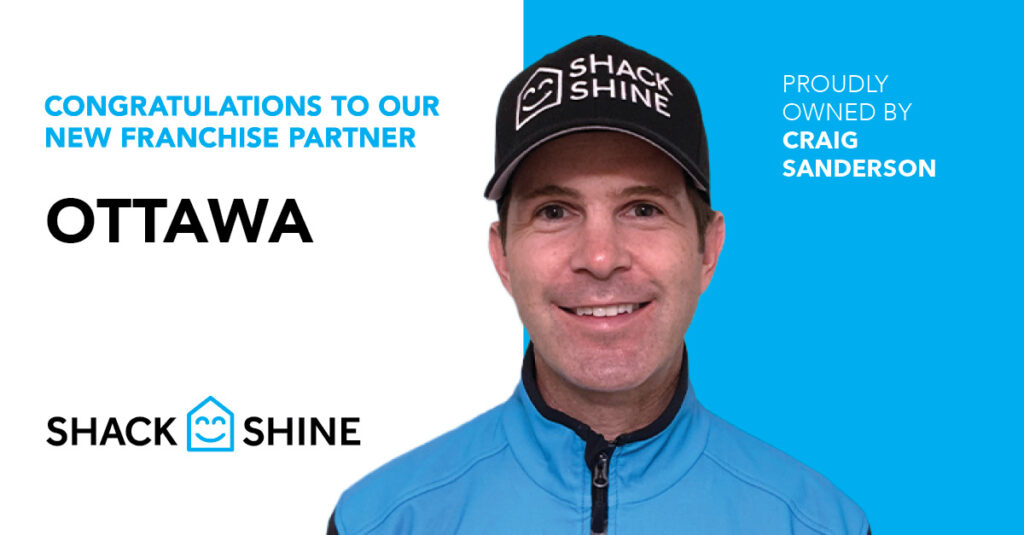 Statistically speaking, the majority of our Franchise Partners don't initially consider franchising when they start looking into business ownership opportunities. That, however, was not the case with Craig Sanderson. As a marketing professional, he had worked with owners in the franchising world throughout his career and had always been intrigued by the opportunity to build a business with existing brand strength and start-up support.
Craig knew franchising was his ticket into entrepreneurship and, hes taken the leap as a Shack Shine Franchise Partner in Ottawa, Ontario, Canada since 2021.
While building his career in the corporate world, the multidimensional and multi-responsibility nature of entrepreneurship was of deep curiosity to Craig. Supporting business owners, entrepreneurs and franchise owners, he was intrigued by their day-to-day; how they moved between customer service conversations to marketing strategy to finances – the prospect of jumping between tasks always excited him. He saw that same opportunity as a chance to challenge his own skillset, and so started a nearly 10-year search for the right opportunity to step into business ownership.
The time in his search served him well. While Craig found different potential businesses along the way, he never felt fully aligned; whether it was the focus of the business itself, the culture or something else. When the ShackShine opportunity crossed his lap(top)/inbox, he knew he was ready: he was happy and confident with the amount of experience he'd gained from the corporate world, and felt like he had lots of time to continue to learn and grow in business. In his words: 'I was right on the sweet spot.'
Shack Shine hit home for Craig as a 'perfect customer' himself; a busy professional with a full work and family life, who knew (and knows!) the value and importance of house detailing, yet lacked the equipment or skill to do it well. And he knows he's not the only one; he sees a whole demographic of people looking to offload this particular kind of service, and a massive market gap for the service itself.
Now two years into business ownership, Craig is thriving as a leader invested in the people in and supporting his business; team members, customers, and the franchise development team. This opportunity really opens the door for different relationships and stakeholders. His business supports the Ottawa area, where he grew up and returned to shortly before launching his franchise.
His reminder for anyone visiting or living in Ottawa: remember not to take the history for granted that's entwined within the city! It's a town with something for everyone; whether you seek access to the outdoors or are an avid sports-lover like Craig. Sure, the winters are intense, yet it's a place you can pursue something you're passionate about—whether that's filling a market gap with an exciting franchise opportunity like Craig did, or seasonless access to sporting life like his family—all year long.
Read More News