How Our Professional Gutter Cleaning Service Makes Your Gutters Shine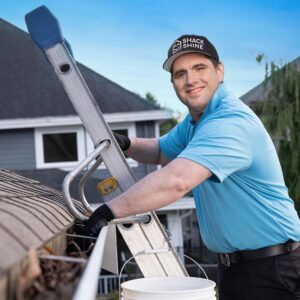 Too old to believe in magic? One look at your gutters after our professional gutter cleaning experts will make you a believer! 😀
Just because our gutter cleaning services are magic doesn't mean there is a trick involved! When it comes to gutter cleaning, the only secret is the hard work our experienced technicians put in to ensure your home is positively shiny in just one detailed visit. If you can't remember the last time you had your gutters cleaned, be sure to give our technicians a call! A clogged gutter can easily damage your home, roof, and gutters. It can even welcome all sorts of critters to call your gutters their home!
Here are three reasons why Shack Shine's gutter cleaning service is the best on the block.
Professional Training
It might not be wizarding school per say, but every one of our friendly, uniformed technicians are professionally trained in the magical arts of making your home smile! Between a full training course and detailed in-field training, when our team is hired to clean out gutters, you can be sure you are getting a true, bonafide gutter cleaning expert.
One Detailed Visit Is All It Takes
When you book a gutter cleaning appointment with Shack Shine, there are no return or follow up visits to finish a job—we make your home shine with just one detailed visit, every time. It's that level of consistency that makes our gutter cleaning services special. We do the job once, and we do it right—no tricks here, simply passion and dedication to our craft. 
We Care About What We Do
In everything from our uniforms to our shiny vans (which are always shiny) and our one detailed visit guarantee, we want to show the world just how much we care about what we do. Your home is important to you, and making your home look its best is important to us. There is no special trick to cleaning out gutters, but we take pride in our work and making your home smile. When you hire us for your gutter cleaning, we always bring the magic.
Gutter Cleaning with Shack Shine: Positively Shiny Every Time
Is your home in need of gutter cleaning? Our friendly, uniformed technicians are expertly trained to ensure that your home and gutters are positively shiny every time. One detailed visit is all it takes to have your home positively smiling. Contact us to book an appointment for our professional gutter cleaning today!
Read More News