Fairfax leaders in window cleaning, gutter cleaning and more
Looking for an exterior cleaning service for your Fairfax home? Look no further than your neighborhood Shack Shine. Our crew of experienced professionals will bring every inch of your exterior surfaces back to their original condition all in one day. Whether your windows are dirty or stained, your gutters are blocked up, or your outdoor walkways are looking a little dingy, Shack Shine has the tools and the know-how to get everything back to tip-top shape.
Who wants to spend their limited time off working on hard, annoying chores anyways? Leave them to Shack Shine and don't worry about a thing. We'll get right to work restoring your home and its surfaces back to their former glory. The best part is, we'll get it all done in a single day and you don't even need to be home. All you need to do is spend the day out enjoying yourself and leave the work to the professionals.
Wouldn't you rather spend the day exploring Mount Vernon or one of the many natural areas around Fairfax? Call Shack Shine today to schedule a zero-obligation quote and let us check off those tasks on your to-do list for you.
Cities serviced
Aldie
Ashburn
Brambleton
Centerville
Fairfax
Fairfax
1-888-808-7751
Hours of operation:
8:00am - 6:00pm Monday to Friday
Our services
Window Cleaning

Clean, sparkling windows are key to having the shiniest home on the block! Shack Shine offers interior and exterior window cleaning to keep your windows in great shape for years to come.

Gutter Cleaning

No one wants to spend the day up on a ladder cleaning out their gutters…except us! Shack Shine will get the job done safely and efficiently. We make gutter cleaning easier than ever.

Power Washing

If your patio, deck, driveway, sidewalk, or any other outdoor surfaces are looking a little dull, Shack Shine can help! Our power washing services will make it all look like new again.

House Washing

Keep the exterior of your home looking fresh with our house washing services. Whether it's siding, stucco, or any other surface, you can trust Shack Shine to make your home shine bright!

Christmas Light Installation

Want to make your home twinkle, sparkle, and glow this holiday season? Let us work our magic! We install custom-fit professional lights and will help you create the design of your dreams.
Easy, friendly outdoor cleaning services near you
Fairfax residents know just how much of a beating your outdoor surfaces take throughout the year. Between the year long rain and snow and high summer humidity, there's no wonder your outdoor surfaces start to look worse for wear after only a year or two. Excess moisture on your surfaces can cause a build of mildew and mold that can lead to rot in the worst cases. Plus, if your gutters are clogged, the water coming off your roof won't drain properly. This can cause pooling that can lead to a crack in your foundation or your neighbor's if left for too long.
Don't worry though, Shack Shine is here to help! We use the latest technology to remove all of the build up to leave your house looking like new. We'll even unclog your gutters and test that they are working correctly to make sure things stay looking new for longer. To get the shiniest home on the block, book your free, no-obligation estimate with Shack Shine in Fairfax today!
How it works
Step 1
Book your appointment online or by calling us at 1-888-808-7751

Step 2
On the day of your appointment, we'll arrive on time and complete the work in one detailed visit.

Step 3
Sit back, relax, and enjoy having the shiniest home on the block
Book Now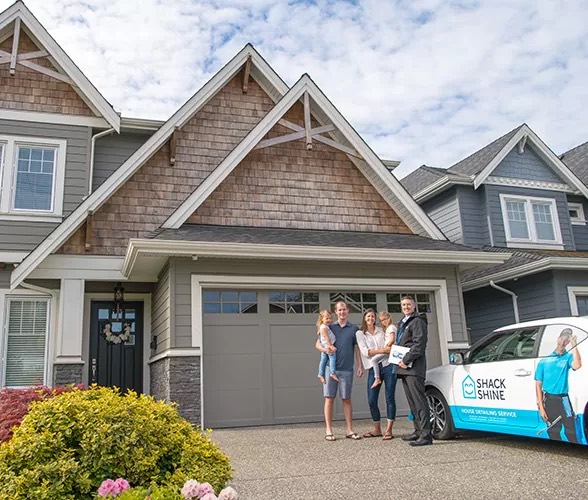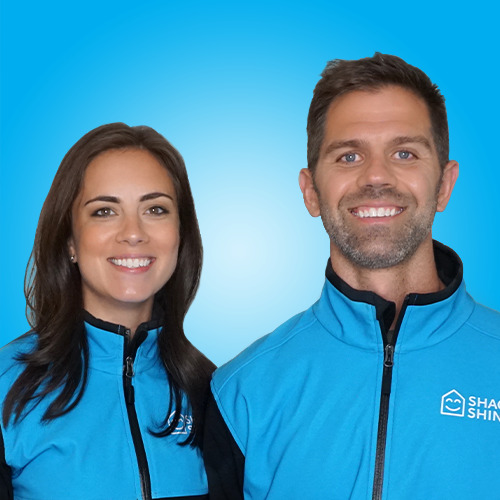 Brent and Rachel Dittman
We are Brent and Rachel Dittman and we are the proud owners of Shack Shine – Northern Virginia. Ever since we got married we have talked about starting our own business, and once we learned about Shack Shine and their exceptional house detailing services and core values, we took the exciting leap into entrepreneurship. We look forward to servicing the Northern Virginia community, making our neighbors smile, and their homes SHINE!