Northbrook leaders in window cleaning, gutter cleaning and more
Are you in need of a thorough, professional and friendly crew of exterior home cleaners to make your Northbrook home shine like new again? You've come to the right place! Here at Shack Shine, our Glenview-based franchise is ready and waiting to take all the stress and headaches out of maintaining all of your home's exterior surfaces. From our window and gutter cleaning services to pressure washing ground surfaces and even helping you install christmas lights, trust Shack Shine to make your home stand out as the shiniest on the block! 
It's tempting to put off some of those pesky outside chores. Who wants to spend their weekend scooping muck out of their gutters and cleaning high, out-of-the-way windows? (Besides us, that is!) However, getting all these tasks taken care of will not only keep your home looking its best, but can increase the longevity of its exterior surfaces—saving your money in the long run. 
We're sure there are plenty of things you'd rather do this weekend than scrubbing and cleaning, so give your local experts at Shack Shine a call today! Doesn't a peaceful stroll through River Trail Nature Center or Techny Prairie sound like a better way to spend your Saturday? Take some time to enjoy your weekend—we've got you covered. 
Cities serviced
Deerfield
Glenview
Highland Park
Lake Forest
Northbrook
Wilmette
Winnetka
Northbrook, IL
1-888-808-7751
Hours of operation:
7:00am - 7:00pm Monday to Friday
Easy, friendly service near you
Between the icy winters, humid summers and all of that year-round rain, Northbrook residents know as well as anyone that the elements can take their toll on your home's exterior surfaces. All of that moisture increases the risk for buildups of mold and mildew—which can ultimately cause rotting in your home's walls. All of that precipitation can also wreak havoc on your home's foundation if the gutters are clogged—cause water to pool around it and cause settling and erosion. Our friendly crew of exterior cleaning experts is ready to take all these tasks off of your to-do list! 
From cleaning smudged windows inside and out to pressure washing decks and driveways to helping you install a breathtaking Christmas light display, we're ready to do whatever it takes to make your home stand out as the shiniest on your block—all in just one detailed visit. Let's get to work—book your free, zero-obligation estimate with Shack Shine in Northbrook today!
How it works
Step 1
Book your appointment online or by calling us at 1-888-808-7751

Step 2
On the day of your appointment, we'll arrive on time and complete the work in one detailed visit.

Step 3
Sit back, relax, and enjoy having the shiniest home on the block
Book Now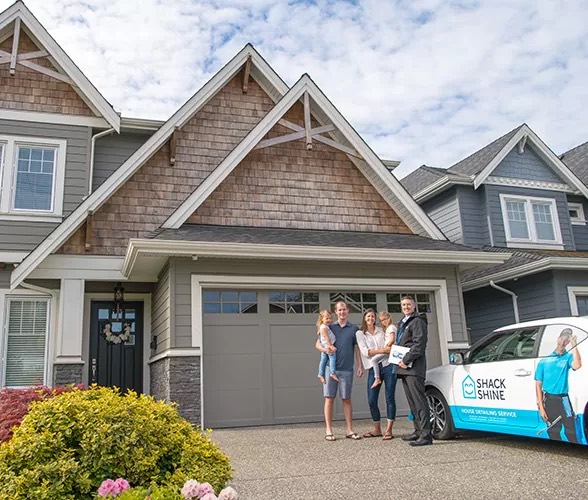 Shack Shine Northbrook
Matthew Razey
Proud to be the primary exterior house cleaning solution on the North Shore of Chicagoland. We provide window washing, gutter cleaning, house and roof washing, driveways, porches, decks, and now Christmas lights