Quality pressure washing, roof cleaning, and window cleaning in Olathe, KS
Looking for a knowledgeable team of exterior house-cleaning experts in Olathe, KS? You've made the right choice! Our skilled teams at Shack Shine specialize in all facets of exterior home cleaning. Whether you need your gutters cleared, your Christmas lights hung, or anything in between, Shack Shine has the knowledge to complete the task quickly and effectively.
We know how challenging it can be to find the drive to complete those outdoor activities. There are so many exciting things to do in and around Olathe, KS, why would you want to spend your weekend doing manual labor? Fortunately, Shack Shine can handle everything for you so you won't have to worry about choosing between completing chores and having fun. We'll refresh your property, extending the life of its exterior surfaces and making it the shining jewel of the neighborhood.
Shack Shine can help whether you need your roof cleaned, your exterior walkways power washed, or your Christmas lights strung. Give us a call right now so you can stop working on your house and go outside and enjoy the Kansas sunshine.
Cities serviced
Leawood
Lenexa
New Century
Olathe
Prairie Village
Shawnee
Spring Hill
Olathe
1-888-808-7751
Hours of operation:
8:00am - 6:00pm Monday to Friday
Our services
Window Cleaning

Clean, sparkling windows are key to having the shiniest home on the block! Shack Shine offers interior and exterior window cleaning to keep your windows in great shape for years to come.

Gutter Cleaning

No one wants to spend the day up on a ladder cleaning out their gutters…except us! Shack Shine will get the job done safely and efficiently. We make gutter cleaning easier than ever.

Power Washing

If your patio, deck, driveway, sidewalk, or any other outdoor surfaces are looking a little dull, Shack Shine can help! Our power washing services will make it all look like new again.

House Washing

Keep the exterior of your home looking fresh with our house washing services. Whether it's siding, stucco, or any other surface, you can trust Shack Shine to make your home shine bright!

Christmas Light Installation

Want to make your home twinkle, sparkle, and glow this holiday season? Let us work our magic! We install custom-fit professional lights and will help you create the design of your dreams.
Friendly, welcoming service near you
Olathe, KS, residents know how hot and muggy summers and cold, snowy winters can affect your outdoor surfaces. Severe weather such as storm cells carrying tornadoes can also leave behind damage.
With harsh winds, hail, snow and heat, your home could use a good cleaning to prevent damage. Gutters should be cleaned out so rainwater won't build up and overflow, causing water damage. Roof washing can also remove algae, debris, dirt, dust, mildew, mold, and moss that can build up on your home.
We're masters at revitalizing homes. We have the equipment and expertise to restore your home's original beauty, whether it needs roof cleaning, power washing, or more. Don't delay; schedule your free, no-obligation estimate with Shack Shine in Olathe, KS, right away!
How it works
Step 1
Book your appointment online or by calling us at 1-888-808-7751

Step 2
On the day of your appointment, we'll arrive on time and complete the work in one detailed visit.

Step 3
Sit back, relax, and enjoy having the shiniest home on the block
Book Now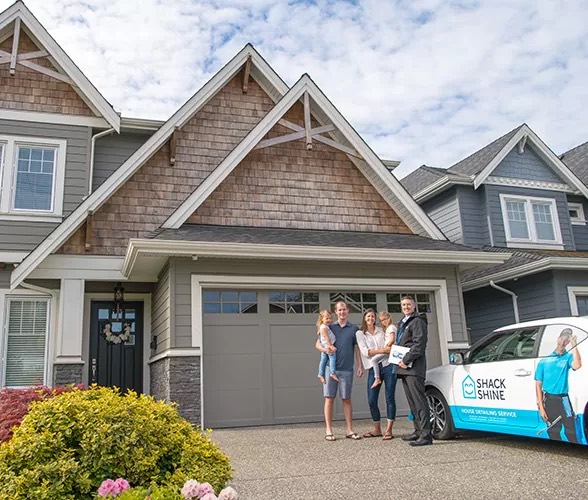 Shack Shine Olathe
Richard Moritz
Richard Moritz is ver excited about the home service industry in Kansas City.  One of the things he is looking forward to the most is bringing Shack Shine's high-quality professional service to this industry. He can't wait to service you!