Eavestrough cleaning, power washing and more in Aurora
Are you looking for a friendly, professional crew of experts to clean the exterior surfaces of your home in Aurora or a nearby area? You're on the right track! At Shack Shine, we're making Aurora neighborhoods shine like diamonds one home at a time. From our comprehensive gutter cleaning service to window washing and even helping you put up a beautiful Christmas light display, our crew is ready to make your home stand out as the cleanest, best-looking on the block. 
Who wants to spend their weekend outside cleaning all those surfaces alone? Our crew is ready to knock the job out of the park so you don't have to! A couple of visits a year from our crew not only keeps your home looking it's very best, but it can also increase the longevity of the surfaces we clean—saving you money in the long run. Doesn't a peaceful family day at Aurora Arboretum or Willow Farm sound like a better way to spend your Saturday than washing windows and hosing down the driveway? Leave all that to us—we've got you covered.  
Cities serviced
Aurora
Ballantrae
Holland Landing
King City
Loretto
Mt Albert
Nobleton
Schomberg
Sharon
Stouffville
Uxbridge
Aurora
1-888-808-7751
3897 19th Avenue, Markham, ON L6C 1M1
Hours of operation:
8:00am - 6:00pm Monday to Friday
Our services
Window Cleaning

Clean, sparkling windows are key to having the shiniest home on the block! Shack Shine offers interior and exterior window cleaning to keep your windows in great shape for years to come.

Gutter Cleaning

No one wants to spend the day up on a ladder cleaning out their gutters…except us! Shack Shine will get the job done safely and efficiently. We make gutter cleaning easier than ever.

Power Washing

If your patio, deck, driveway, sidewalk, or any other outdoor surfaces are looking a little dull, Shack Shine can help! Our power washing services will make it all look like new again.

House Washing

Keep the exterior of your home looking fresh with our house washing services. Whether it's siding, stucco, or any other surface, you can trust Shack Shine to make your home shine bright!

Christmas Light Installation

Want to make your home twinkle, sparkle, and glow this holiday season? Let us work our magic! We install custom-fit professional lights and will help you create the design of your dreams.
Exterior home cleaners in Aurora & surrounding areas
The elements can take their toll on your home's exterior surfaces, especially in a place with cold winters, humid summers and year-round precipitation like Ontario. All of that moisture through the year can open up the possibility for buildups of mold and mildew on these surfaces, causing rotting to the walls and creating a slipping hazard on walking surfaces. Got clogged gutters? A rainy Aurora day can cause them to overflow and water to run down the walls and pool around your home's foundation, which can lead to cracks, erosion or settling. Give us a call today, and let's make it a non-issue! We're ready to take care of any and all of those chores on your list. 
Whatever your Aurora home's needs are, you can always count on Shack Shine to get the job done right in just one detailed visit. Book your free, zero-obligation estimate today—we look forward to working with you!
How it works
Step 1
Book your appointment online or by calling us at 1-888-808-7751

Step 2
On the day of your appointment, we'll arrive on time and complete the work in one detailed visit.

Step 3
Sit back, relax, and enjoy having the shiniest home on the block
Book Now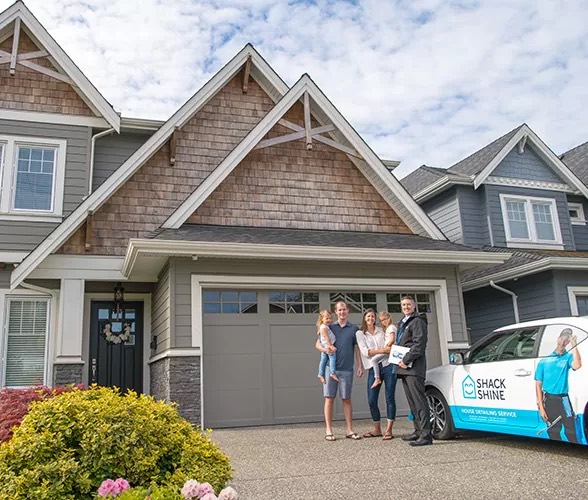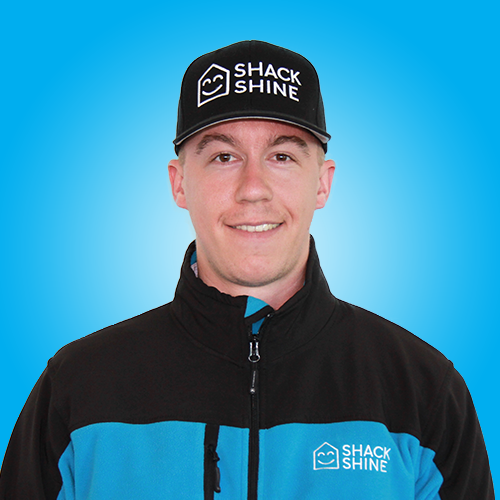 Shack Shine Aurora
Rich Watson
Hello, my name is Rich Watson and I am very excited to be running a business in your neighbourhood. I ran a summer painting business for two years while going to University and have worked for a large company in the transportation industry for the past three years. Having a taste of running my own business, I am looking forward to the opportunity of running a high-value home detailing business and growing it in your community for years to come.