Exterior House Cleaning Services in Vaughan, Ontario
Your home needs care and attention to stay properly maintained and keep it looking (and feeling) great! However, it can be tough to schedule and keep on top of. Let Shack Shine Vaughan take care of your home's maintenance work so you don't have to! We offer interior/exterior window washing, gutter cleaning, power washing, and Christmas light installation, all done by professionals who know how to treat your home right. 
We make it easy to keep your home looking its best. Call or book online today and we'll make sure you have the shiniest home on the block!
Cities serviced
Concord
Kleinburg
Maple
Thornhill
Unionville
Vaughan
Woodbridge
Vaughan
1-888-808-7751
30 West Beaver Creek Road, Unit 5, Richmond Hill, ON L4B 3K1
Hours of operation:
8:00am - 6:00pm Monday to Friday
Our services
Window Cleaning

Clean, sparkling windows are key to having the shiniest home on the block! Shack Shine offers interior and exterior window cleaning to keep your windows in great shape for years to come.

Gutter Cleaning

No one wants to spend the day up on a ladder cleaning out their gutters…except us! Shack Shine will get the job done safely and efficiently. We make gutter cleaning easier than ever.

Power Washing

If your patio, deck, driveway, sidewalk, or any other outdoor surfaces are looking a little dull, Shack Shine can help! Our power washing services will make it all look like new again.

House Washing

Keep the exterior of your home looking fresh with our house washing services. Whether it's siding, stucco, or any other surface, you can trust Shack Shine to make your home shine bright!

Christmas Light Installation

Want to make your home twinkle, sparkle, and glow this holiday season? Let us work our magic! We install custom-fit professional lights and will help you create the design of your dreams.
Local window washing in Vaughan
Is your home in need of a little revival? Shack Shine Vaughan's team of professionals is just the thing you need! If not taken care of properly, Ontario's warm, humid summers and cold crisp winters, can deteriorate the exterior of your home – so take care of it!
Shack Shine Vaughan's house washing service will bring new life to the exterior of your home. Many homes in the area are built from stone and brick, which can disguise the amount of dirt and grime attached to the exterior. Our team of professionals will remove all the dirt, leaving your home with an exceptional shine!
To add even more sparkle to your home, we suggest our professional window cleaning service. Our water purification system and good old fashion elbow grease will leave your windows with a crystal clear shine. The best part is – you won't even have to lift a finger!
Sometimes, the snow season can hit Vaughan earlier than expected. Why not start the holiday party when this happens? Shack Shine can make your home twinkle, sparkle, and glow with our Christmas Lights installation services. Having the brightest home on the block sounds great, right?
Are you ready to take your weekends back, and spend more time doing things like hitting up a local farmers market, or a local brewery? Our team is ready to help you, give us a call!
How it works
Step 1
Book your appointment online or by calling us at 1-888-808-7751

Step 2
On the day of your appointment, we'll arrive on time and complete the work in one detailed visit.

Step 3
Sit back, relax, and enjoy having the shiniest home on the block
Book Now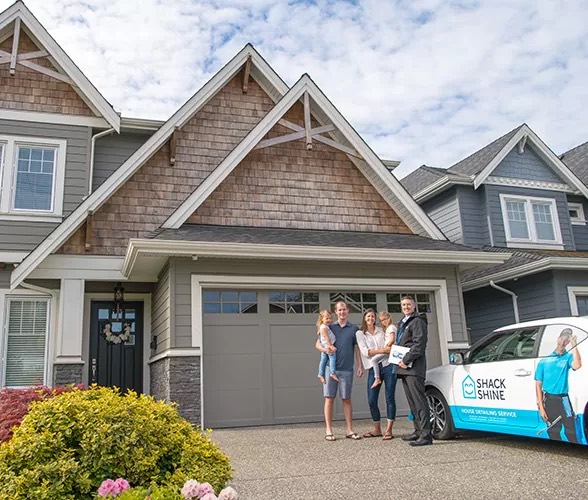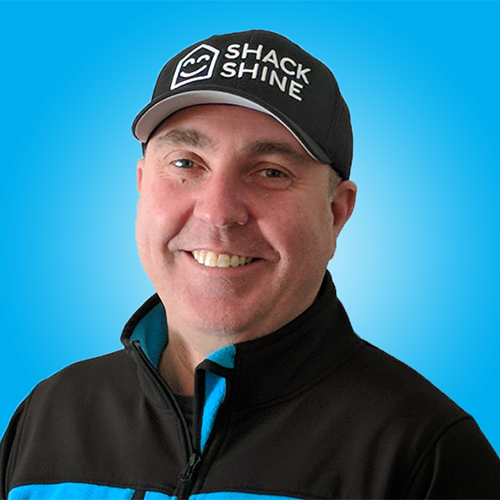 Shack Shine Vaughan
Bryan Anthony
My name is Bryan Anthony and I am the owner of Shack Shine York Region. I was born and raised in Toronto and along with my wife Sanda, made Unionville in York Region our home in February 2014. I have spent the last 10 years in business management and accounting in Markham, where I have seen the value of serving your community.
In 2016, with the support of my wife, I made the call to open my own business. Enter Shack Shine, the world's first international "house detailing brand" focused on providing an exceptional customer experience. I was hooked!
I'm thrilled to be able to provide quality and dependable service as part of the Shack Shine team. My team and I can't wait to make your home shine!